What is the Difference Between a Fabric Tensioned Membrane Structure Carport and a Traditional Carport
June 28,2022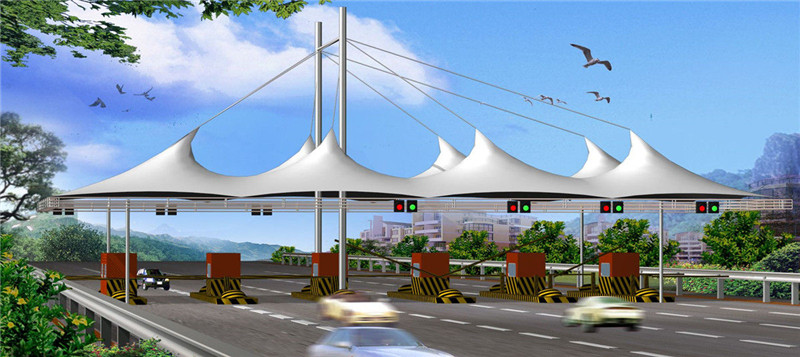 In practical applications, the membrane structure charging pile carport can not only protect the charging pile, but also protect the vehicles under the membrane structure charging pile carport. It not only has a waterproof sunshade structure in the sun and rain and snow. As a new type of charging pile carport, the membrane structure charging pile carport not only brings a lot of convenience to our travel, but also compared with the traditional carport, it is not only simple in construction, but also very beautiful in appearance, stretching The structural strength of the building materials used in the membrane structure is also very high, which can not only shield the charging piles and vehicles from wind and rain, but also add a beautiful color to the city due to its aesthetics. Membrane structure, also known as fabric structure, is widely used not only in commercial buildings, transportation facilities, sports fields, gymnasiums and other places.

Artistic: membrane structure modeling and color Relying, it can combine natural conditions and ethnic customs, and create curve shapes that are difficult to achieve in traditional buildings according to the architect's creativity. Membrane structure is an architect's romantic vision, enjoying a romantic space like nature.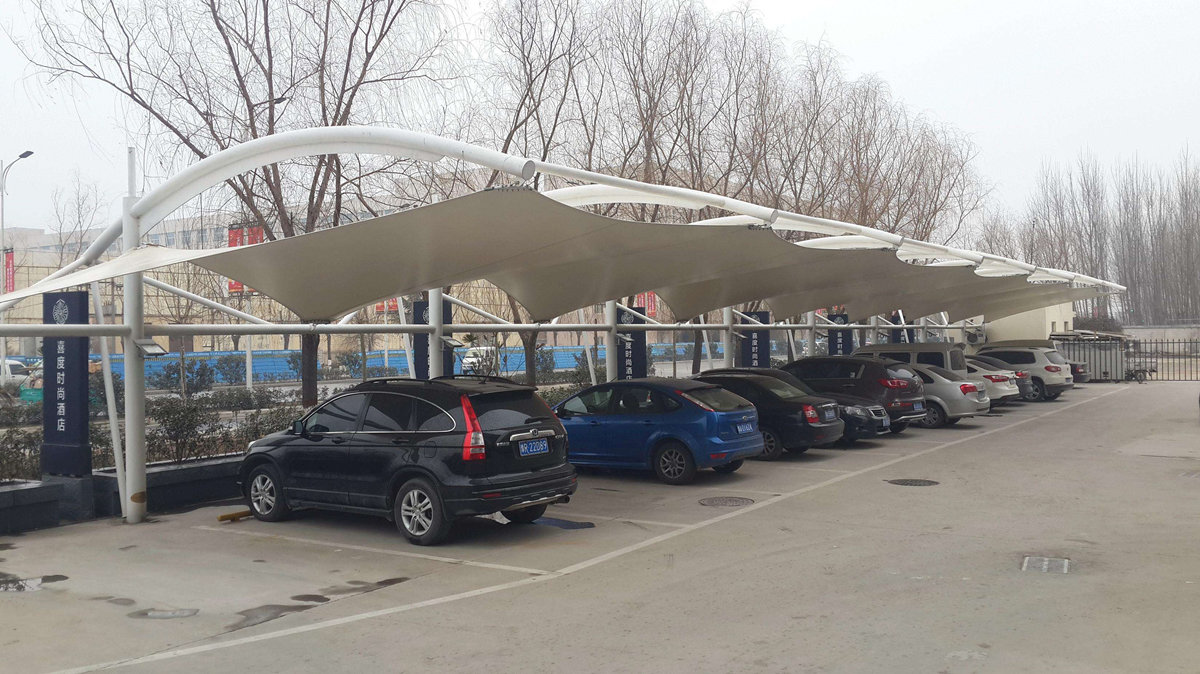 Economy: The fabric structure has a certain light transmittance, which can reduce the lighting intensity and time during the day, and can save energy well, which also makes the membrane structure a very environmentally friendly building.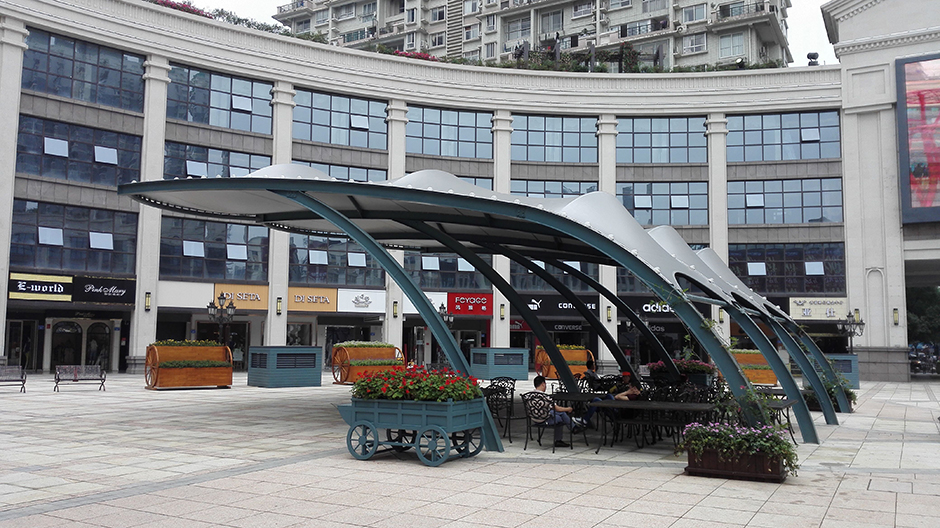 Large-span: The tensile structure can fundamentally overcome the difficulties encountered by traditional structures in the realization of large-span (unsupported) buildings, create a huge unobstructed visual space, and effectively increase the space usable area.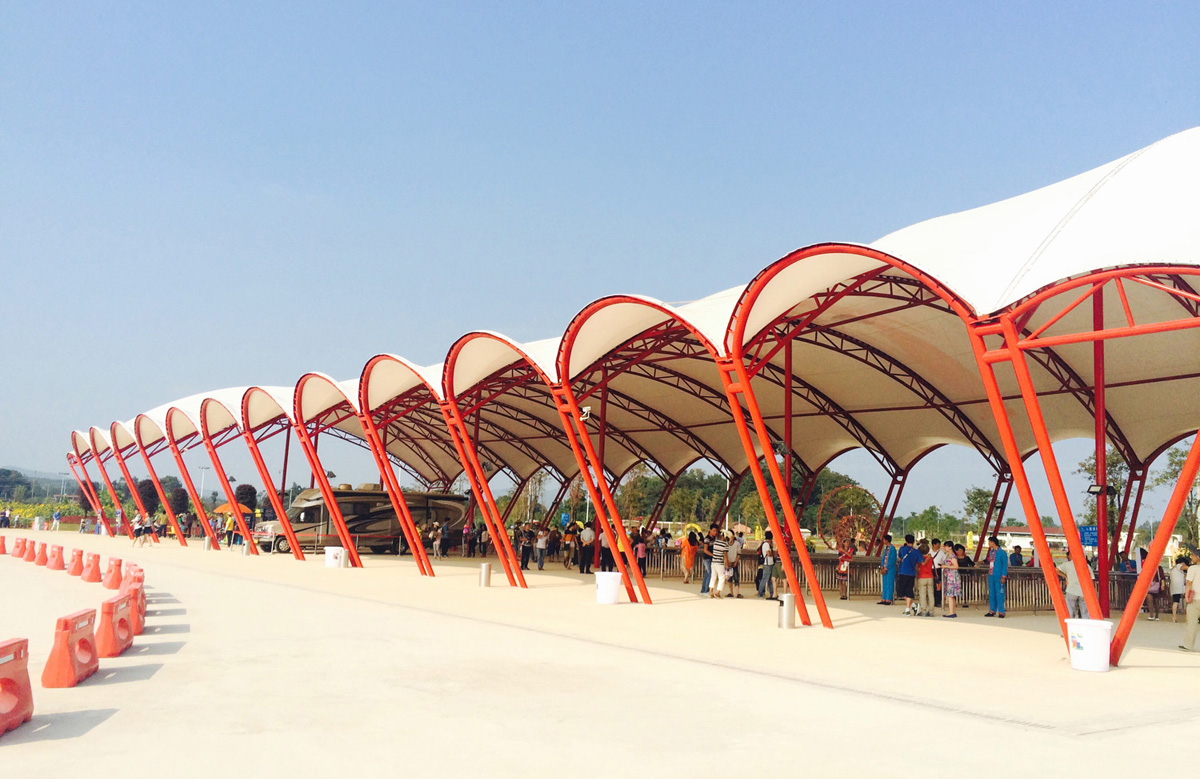 Self-cleaning: Steel building materials use membranes with protective coatings, which can make buildings have a good self-cleaning effect and ensure their service life.
Short construction period: Due to the particularity of the fabric tension structure, their construction period is greatly shortened compared with ordinary buildings, which improves the work efficiency
Hot Search:
Previous: Fabric structure canopy of pedestrian bridge - a beautiful landscape in the city
Next: Sunshine Valley & China is First Cable Membrane Structure
News at BDiR
How to Find a Camping Tents That Fits Your Style?
June 29,2022
If you're looking for a camping tent that will make you truly memorable, consider a custom glamping tent. These tents offer complete customization from exterior to interior. They are fully customizable to suit any personal taste, from those who prefer rus
Does The Construction of the Hotel Tent Affect the Ground?
June 22,2022
Hotel tent is a new type of decorative building. What is a suitable building? Buildings assembled on site from prefabricated components are called prefabricated buildings. According to the form and construction method of prefabricated components, it can b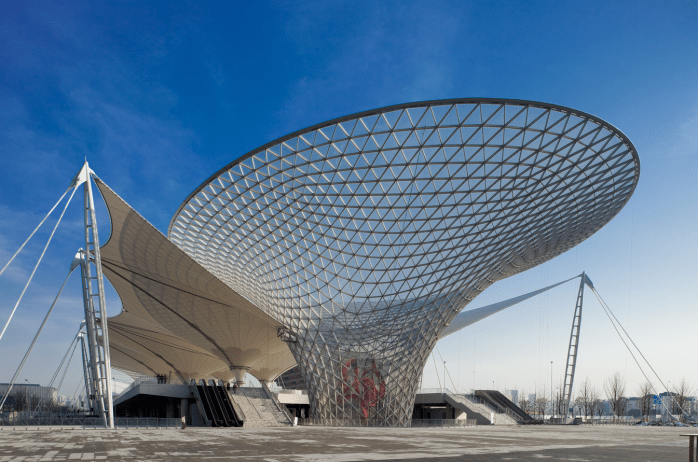 Sunshine Valley & China is First Cable Membrane Structure
June 16,2022
China's first cable membrane structure, Sunshine Valley, is located at the Expo source in the core area of Shanghai World Expo Park. "Aorta".Speaking of the 6 giant "Sunshine Valleys", "it is composed of 13 large masts, dozens of cables and huge membrane
Watch Our Videos
Luxury Eco Friendly Tent Structures Lodges for Tea Garden Holiday Hotel
Luxury Sustainable Hospitality Eco Tent Structure Villas