Help
Need help about your tensile fabric membrane structures projects from BDiR Inc.? This help pages is here to help you get answers to your questions. This page contains the FAQ, Payment Details, Packing Details, Shipping & Delivery, Projects Process etc.
If you want to know more details of your fabric structures projects, you can also contact our project managers. They will tell you all the answers you want to know.
How to Bulid a Project?
Services Process:
Customer inquiry -- Communication specific requirements -- Sketch design -- 3D Modeling -- Design confirmation & signing contract -- 50% Down payment -- Building information modeling (BIM) design -- Architectural design(The initial form analysis) -- load effect analysis -- Membrane Cutting Analysis -- wind tunnel simulation testing -- Construction process simulation -- Detailed and approved shop drawings for manufacturing -- Steel structure manufacturing -- Mambrane streuture manufacturing -- Installation testing before shipping -- Membrane Structures Packing -- Final payment -- Shipping & Delivery -- Building structure foundation -- Steel structures installation -- Membrane installation -- Acceptance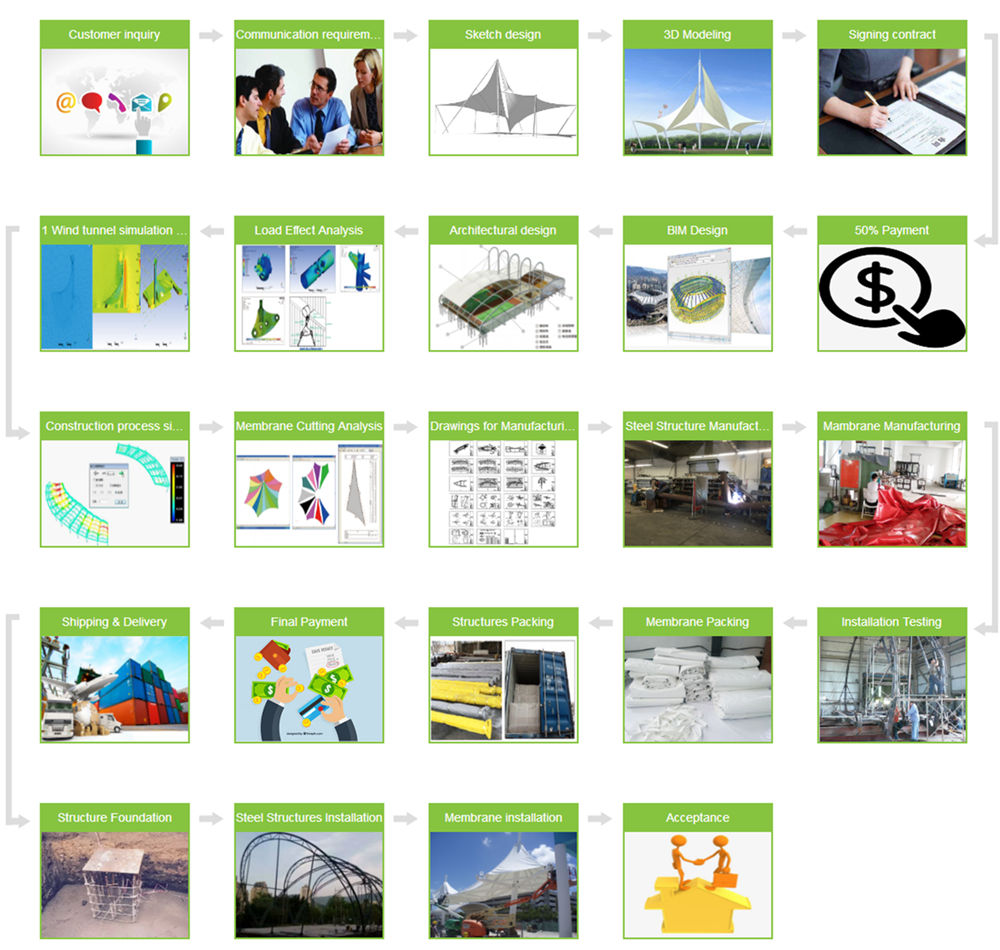 Consultation survey:
1. Communicate with the customer to understand the customer's demand for the membrane structure, the geographical location of the membrane structure and the surrounding environment, and record it and submit it to the engineering department.
2. The business and technicians cooperate with each other to achieve the creative design consensus through the customer's on-site environmental picture, on-site layout.
Personalized needs:
The foreign trade business gives the customer information to the designer. The designer designs 2-3 sets of renderings to the customer according to the customer's needs and the on-site environment. and communicates with the customer to determine the design plan.
Collaboration:
1. After the design plan is verified and confirmed, the technical manager shall prepare a construction plan based on the design calculation instructions, and give the project budget form.
2. After the two parties communicate and determine the price, sign the construction contract and reach a cooperation.
Project implementation stage:
1. According to the construction plan, the project manager organizes materials, personnel, equipment, etc. to carry out steel structure processing and on-site construction and installation.
2. The membrane cutting diagram, and then Manufacture fabric membrane according to the membrane cutting diagram. After the finished fabric membrane enters the field, the installation team implements the membrane installation.
Project acceptance phase:
1. During the project period, each stage inspection will enable the customer to understand the progress of the project in real time and ensure the construction progress and the quality of each link.
2. After the completion of the project, it is necessary to conduct an engineering test for 72 hours to check whether the overall membrane structure is 100% safe and in place, and it can be delivered to the customer without any trouble.
Maintenance:
1. During the two-year warranty period, the company is responsible for the free warranty for problems and defects caused by the construction and material quality.
2. If there is a project quality problem in the later stage, the professional and technical personnel will communicate with you about the repair&maintain within 48 hours.