Help
Need help about your tensile fabric membrane structures projects from BDiR Inc.? This help pages is here to help you get answers to your questions. This page contains the FAQ, Payment Details, Packing Details, Shipping & Delivery, Projects Process etc.
If you want to know more details of your fabric structures projects, you can also contact our project managers. They will tell you all the answers you want to know.
Professional & Full Design
BDIR Inc has a team of professional designers who provide customers with creative design solutions for free. Our design services include sketch design, scheme design, construction drawing design, membrane material cutting drawing design, camp layout design, interior design and so on. The company has advanced EASY membrane design software, 3D3S steel structure design engineering software, membrane structure design software Fonten2000, Staad Pro 2006; the company's outstanding designers provide customers with innovative, unique, practical, harmonious and perfect membrane structure engineering.

The Dome tent design includes: camp layout plan, camp rendering, interior design, tent construction drawing, etc.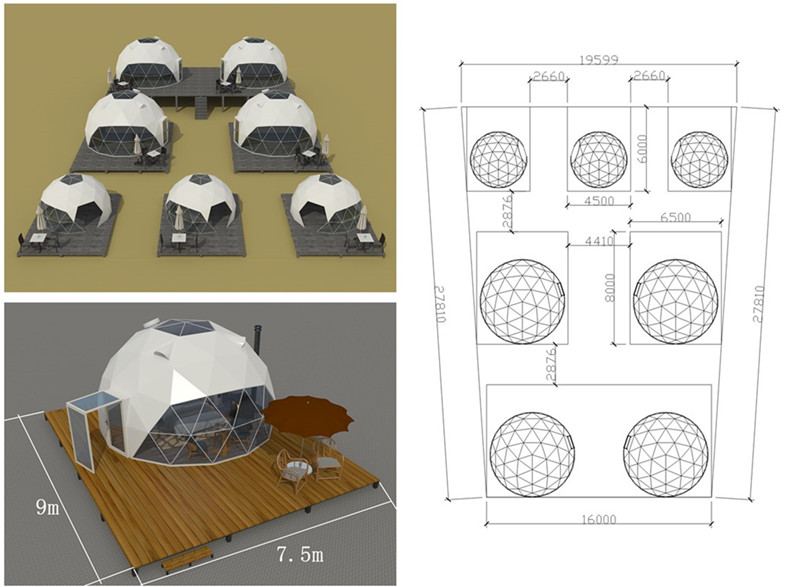 Glamping Hotel tent design includes: plan design, 3D renderings, camp layout plan, camp renderings, interior design, tent construction drawings, etc.
Tensile Structure design includes: scheme design, 3D rendering, steel structure construction drawings, parts processing drawings, membrane material processing drawings, etc.