PVDF Fabric Membrane Structure Tent House for Luxury Jungle Camping
| | |
| --- | --- |
| Structure Frame Material | Q235 steel, wood, aluminum alloy, stainless steel |
| Fabric Roof Material | PVC/ PVDF/ PTFE with color optional |
| Wall Material | PVC fabric membrane, glass wall, wooden wall |
| Floor Material | wood floor, wood deck |
| Door & Window | glass door & window, standard zip-up windows and doors |
| Fabric Tensile Strength | 2500-4400N |
| Fabric Tear Strength | 520-580N |
| Fire Rating | DIN4102 B1/SGS M2 |
| Delivery Time | About 30 Days after confirm deposit |
| Quality | ISO9001, MSDS, CE, BV, TUV, SGS |
| Place of Origin | Shenzhen, China |

INQUIRY NOW

DOWNLOAD: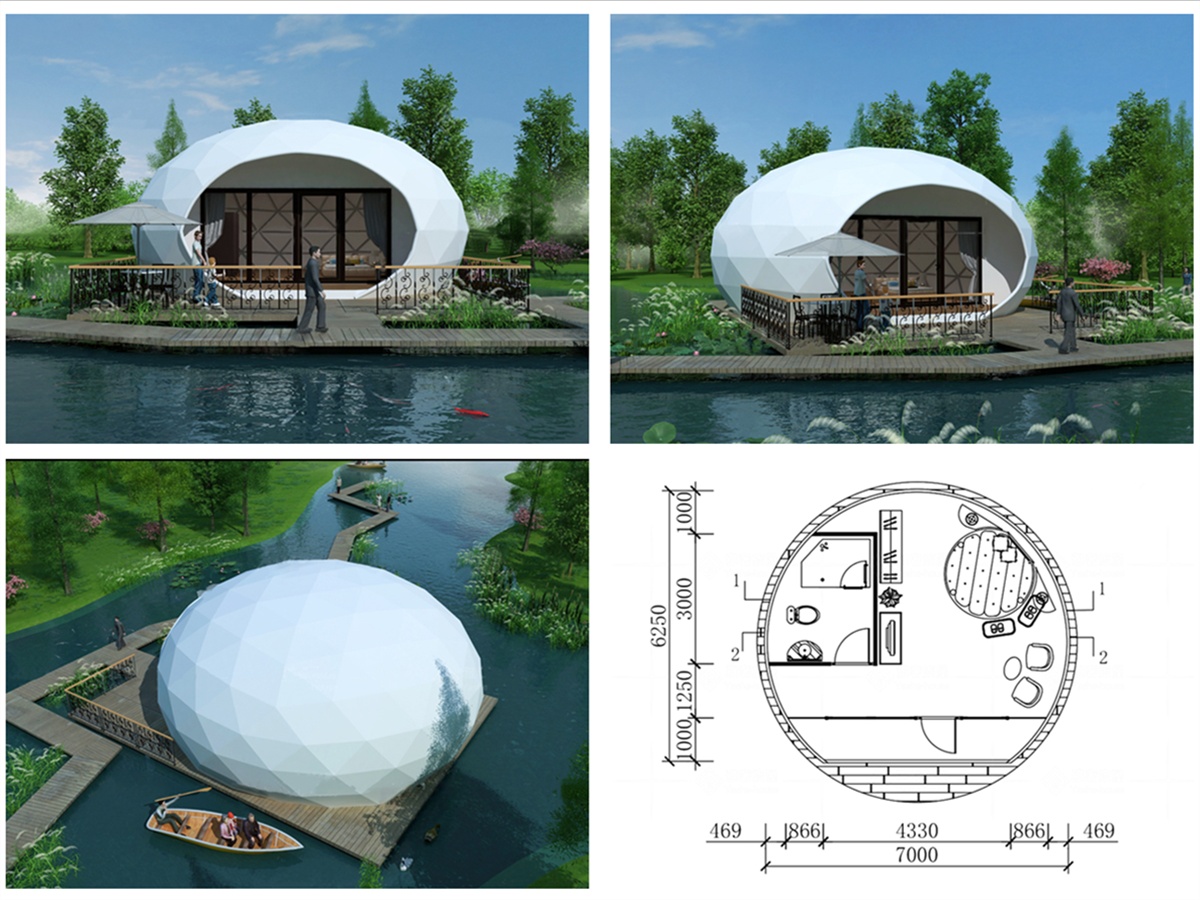 The best safari hotels on the Rock is located in the Gapyeong area on the outskirts of Seoul, famous for its botanical gardens, pine forests and mountainous landscapes.
The eco friendly house, retain and celebrate its natural features, while providing modern facilities and comfortable accommodation for those seeking to escape the city. When people visit the camp, they should experience nature first and should not be disturbed by the nature of destruction.
The tent house structures to create an opportunity for people to have a chance to experience nature more closely, while providing a uniquely designed building and comfortable venue: a place where nature, ecological value, comfort and modern design are balanced.
For the best ecotourism resorts, the architect introduced two types of dwelling units, called Rock Flower and Dynamic Triangle, which are made of a metal frame that is covered on a protective film. The round windows at the top of the Rock Flower home are filled with natural light and offer views of the surrounding treetops. Each eco house building has a covered balcony facing the adjacent forest. The Dynamic Triangle has an asymmetrical sloping roof canopy that surrounds the living area and extends to the outdoor dining space on the deck. The translucent nature of the outer surface film of the sunshade causes large living tents to glow like a lantern when illuminated from the inside at night.
BDiR Inc. offers luxury glamping tents, hotel tents, eco-lodges and camping tents at very reasonable prices. We ship tented camp accommodation worldwide for all purposes. No matter where your tent, hotel, resort or camp will be located - be it on water, rocks, desert, sand, a grassy plain, tropical beach, ice field or in dense rainforest - we will ensure it is built to last.
Specifications
What is the sustainable green living tented house configuration?

Integrated tent house: A range of tent systems are integrated into the tent huts to meet the needs of customers for different tent hotels. The luxurious tent hotel system includes a Voile system, a thermal insulation system, a lighting system, an anti-mosquito system, a partition system, a viewing system, a power supply system, and a bathroom system.

The integrated system tent lodge is not only fully equipped, but also can be customized and designed to meet the needs of each customer. At the same time, it also eliminates the waste of any resources, thus outputting a tailor-made, professional tent hotel solution for customers.

√. Voile system: sheer Voile Roof, Voile curtains, etc. It is used for decoration, partitioning and shading in the interior of the tent.

√. Insulation and cold protection system: Because the hotel tents are mostly used in the wild, the problem of heat insulation and warmth is particularly prominent. The double-layer PVC/PVDF fabric membrane effectively blocks the heat & cold, making the tent hotel comfortable in both hot summers and cold winters.

√. Lighting system: Night lighting According to the power situation of the customer's hotel address, the series of lights or camping lights are used to ensure the illumination of different terrains. The walls of the tent hotel can be fitted with daylighting windows or glass curtain walls to ensure daytime lighting.

√. Anti-mosquito system: Tent's with Screening windows and doors can effectively prevent mosquito interference.

√. Partition system: By dividing the partition, you can effectively use the various areas in the tent to increase its practicability & Privacy. Divided material: Fabric membrane, Voile, glass/wooden wall etc.

√. Viewing system: The atmosphere of blending with nature is the core of the entire tent hotel operation. The leisure space created by the observation deck, transparent canopy and lounge chairs allows you and your friends to talk in the nature before going to sleep.

√. Power supply system: In order to provide effective power in the field, water can be heated by electric water heaters or solar panels with corresponding power to provide energy for night lighting.

√. Bathroom system: The tent house can be installed with a shower room, toilet, wash basin etc.

---

Eco tent lodges features:

1: High strength and Light weight

2: Waterproof, UV resistant and Heat insulation

3: Self-cleaning and Beautiful view

4: Easy and Short time installation

5: Sustainable Eco Friendly

6: Windproof, Snow resistant, Earthquake resistant

7: Modular assembly structures, Can be built in environmentally sensitive areas

8: Energy-saving, Artistic, Economical, Self-cleaning

---

Why choose BDiR eco friendly lodges ?

Safety:We adhere to strict safety standards. Our materials are selected and designed into integrated systems to meet different condition regional, structural and fire safety requirements.

Comfort: Lightweight fabric structures lodges can be as comfortable as traditional buildings. Our design team with most advanced membrane structures technology to create low energy, high comfort, eco-friendly tented structures buildings.

Lifespan: Our performance textiles and frame structural components are engineered to ensure product longevity (and good client return on investment) with fewer maintenance cycles.

Experience:We design, supply, and install high performance fabric structures tent house for luxury safari, camping/glamping site and resort markets at very reasonable prices around the world. No matter where your tent or camp will be located - be it on water, rocks, desert, sand, a grassy plain, tropical beach, ice field or in dense rainforest - we will ensure it is built to safety and last.

---