Oman Most Luxurious Iconic Desert Tent Resort, Canvas Desert Tents
| | |
| --- | --- |
| Structure frame material | Q235 steel, wood, aluminum alloy, stainless steel |
| Fabric roof material | PVC/ PVDF/ PTFE with color optional |
| Wall material | PVC fabric membrane, glass wall, wood wall |
| Floor material | wood floor, wood deck |
| Door & window | glass door & window, standard zip-up windows and doors |
| Fabric Tensile Strength | 2500-4400N |
| Fabric Tear Strength | 520-580N |
| Fire Rating | DIN4102 B1/SGS M2 |
| Delivery Time | About 30 Days after confirm deposit |
| Quality | ISO9001, MSDS, CE, BV, TUV, SGS |
| Place of Origin | Shenzhen, China |

INQUIRY NOW

DOWNLOAD: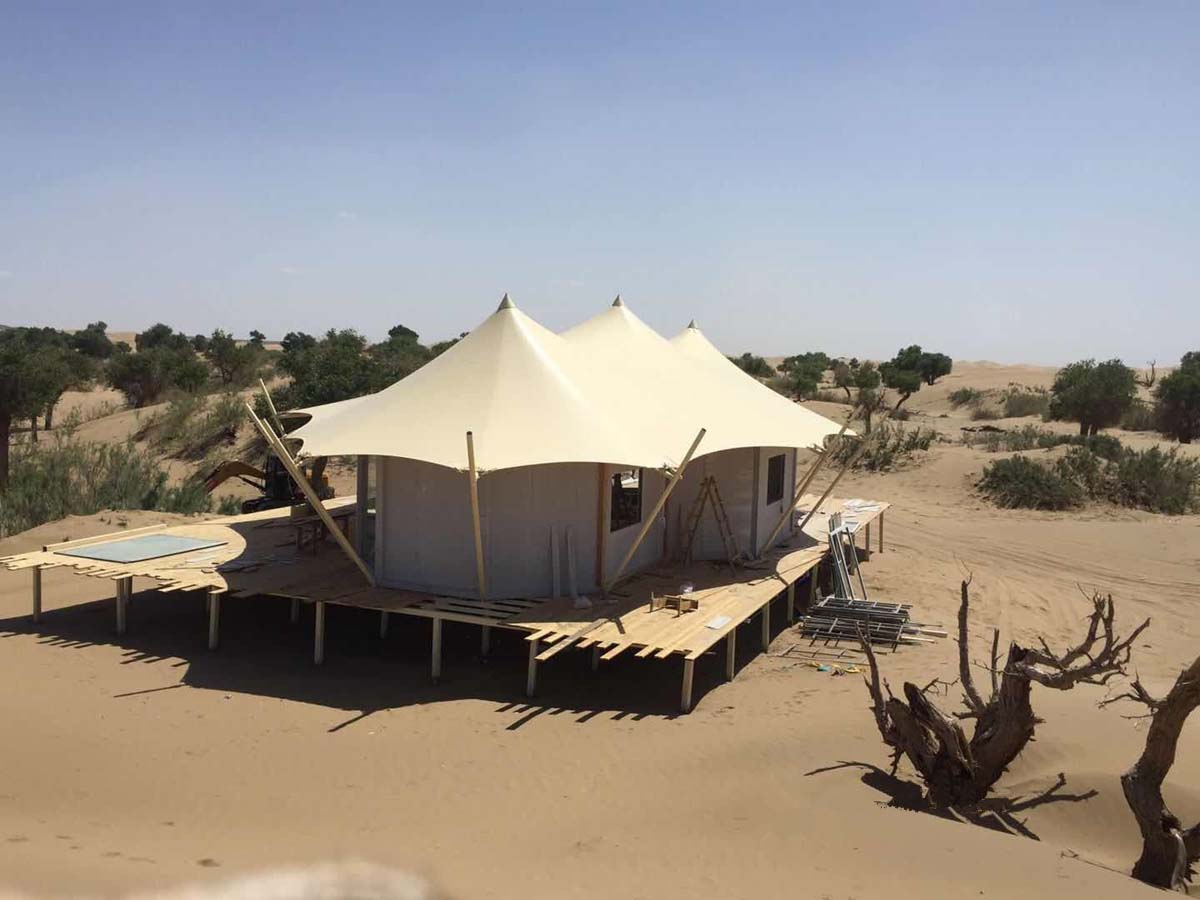 The aerial view of The Dunes by Al Nahda is similar to a surreal canvas painting that can inspire the curiosity of the most tired eyes. The lodge cabin tent here are equipped with rich and old-fashioned decorations to make your stay a pleasant one. This iconic tented resort is filled with luxurious safari tents, including a palace, ultra-luxurious bedrooms, interior design and individually controlled air conditioning throughout, making the accommodation more comfortable. These glamping canvas tents are designed as palaces and are decorated for every whimsy of yours. Rich plush interiors, satin draped curtains and large beds are just some of the highlights.
The color of the canopy camping tent is integrated with the color of the dunes!
The plains camp tented safari lodge offers three types luxurious tent suites, each tent cabins decorated with gold plating cultural, original oil lamps, kaleidoscope embroidered carpets and bedspreads. You will experience a refreshing morning, the sun shining through the glass window, with slightly draped satin curtains.
1. Each african safari resorts has a total area of 39 square meters, independent and spacious, providing you with a separate seating area, a complete private bathroom and a luxurious environment. Perfect for couples, singles or families Look for quality time throughout your stay.
2. Suite Tent cottages with a total area of 85 square meters features a common entrance foyer that leads to two separate tented luxury bedrooms, each with a private entrance, flat-screen TV, individually controlled air conditioning and full en suite bathroom, as well as other modern travelers. Comfortable facilities. All environmentally friendly hotels also have a private patio area where you can enjoy cool night air and spectacular views.
3. Royal tent villa, with a total area of 138 square meters, is almost like the four custom canvas tents. There is a large foyer at the entrance to greet you, taking you into the luxurious living room or one of the two bedrooms (one with a king-size bed and two with two single beds) - three tents Each comes with TV, fully equipped bathroom, individually controlled air conditioning.
BDiR Inc. offers wide range of luxury desert tents, glamping tents, eco-lodges and resort tents at very reasonable prices. We ship canvas tents worldwide for all purposes. No matter where your luxury glamping tents, hotel, resort or camp will be located - be it on water, rocks, desert, sand, a grassy plain, tropical beach, ice field or in dense rainforest - we will ensure it is built to last.
Specifications
What is the hotel tent materials?

1. Frame - High-strength steel: Q235 steel, high strength, anti-seismic and typhoon, anti-corrosion and cracking deformation.

2. Wall - Ecological wall panel: light weight, energy saving 60% than concrete wall insulation, American Class A fire resistance standard, sound insulation and moisture resistance, load bearing capacity and high seismic performance, all environmentally friendly building materials.

3. Roof - PVC/PVDF membrane, fireproof and thermal insulation rock wool board, OSB board, waterproof membrane fiberglass tile, all made of new environmentally friendly materials, meet the international standard fire level, full-function moisture-proof sound insulation.

4. Wall surface - environmentally friendly plastic wood: a combination of solid wood and plastic, with good moisture, acid and alkali, anti-fungal, anti-static, anti-insect and anti-UV properties.

5. Flooring - PVC eco floor / solid wood flooring. It has the characteristics of strong decoration, quick construction, environmental protection, non-toxic regeneration, comfort, wear resistance, non-slip, fireproof, waterproof, moisture-proof, sound-absorbing and anti-bacterial.

6. Form - glass and broken bridge aluminum alloy (plastic) composite window, high-strength anti-explosion, anti-earthquake and radiation protection, greatly reduce indoor and outdoor heat energy transmission, and achieve high standard energy-saving effect.

7. Others - Fireproof insulation cotton, waterproof paint, galvanized sheet, fluorocarbon paint, etc., adopting green and high-standard building materials.

---

Why choose eco tented lodges?

1. Flexible and convenient, ecological and environmentally friendly

In some terrains where permanent buildings are not easy to build, such as on hillsides, in jungles, in sea beach, in rivers and lakes. Because the hotel tents use modular assembly structure, it can be built easily and quickly in most natural environmentally sensitive areas. During the construction process, the surrounding natural environment is rarely excavated and destroyed, and it can be better integrated into the ecological environment.

2. Rapid construction, safe and stable

The hotel tents are made of modular steel-wood frame, which can be safely and stably used in different terrains. The tents can adapt to the temperature range of -30° to 70°, and can withstand 8-10km/h winds in the outdoor environment, carrying rain and snow. The eco lodges roof is made of ultra-light PVC, PVDF, PTFE and other materials, with good waterproof, UV-resistant, tear-resistant properties, as well as B1/M2 fire resistance. Most of the hotel tent Manufactured process is completed at the factory, which can reduce construction time.

3. Artful, luxurious and comfortable

The tent hotel uses the membrane structures as the roof. The membrane structures is based on styling and color science. Combining the natural environment, ethnic customs and human geography, according to the architect's creativity, the curve and shape that are difficult to achieve by traditional construction are built. The tent hotel with its beautiful and unique shape is full of fashion charm and blends with nature. The interior of tent is decorated with bedrooms, bathrooms, rest area and other areas. The tent cottages offers luxurious furniture, comfortable flooring, smart lighting and other facilities. You can experience the comfort of a five-star hotel in the wild.

4. Durable life and low maintenance cost

The tent lodge is constructed of high-strength aluminum alloy, stainless steel and carbon steel. It is matched with high-strength, fully waterproof PVC or PVDF fabric membrane to ensure product life and reduce maintenance intervals.

---

Why choose BDiR's eco friendly lodges ?

Safety: We adhere to strict safety standards. Our materials are selected and designed into integrated systems to meet different condition regional, structural and fire safety requirements.

comfort: Lightweight fabric structures lodges can be as comfortable as traditional buildings. Our design team with most advanced membrane structures technology to create low energy, high comfort, eco-friendly tented structures buildings.

Lifespan: Our performance textiles and frame structural components are engineered to ensure product longevity (and good client return on investment) with fewer maintenance cycles.

Experience: We design, supply, and install high performance fabric structures tent house for luxury safari, camping/glamping site and resort markets at very reasonable prices around the world. No matter where your tent or camp will be located - be it on water, rocks, desert, sand, a grassy plain, tropical beach, ice field or in dense rainforest - we will ensure it is built to safety and last.

---