Swiss Eco Friendly Domes Resort with 15 Geodesic Dome Tent Pods Lodges
Cover

white

PVC/PVDF, transparent PVC

Walls

PVC wall, ABS wall, tempered glass wall

Windows

transparent PVC windows, mesh windows, glass windows

Doors

glass door, aluminum door, rolling shutter,

standard zip-up door

Floor

wood floor

Decoration

ceiling lining, curtain

fixing tool

ground anchors, weight plate, expandable bolts, drilling steel

Colors

beige, orange, green, yellow etc.

Delivery Time

About 30 Days after confirm deposit

Quality

ISO9001, MSDS, CE, BV, TUV, SGS

Others

Air conditioner, Table, chair, Lamp, Carpet, Bed, Bathroom

INQUIRY NOW

DOWNLOAD: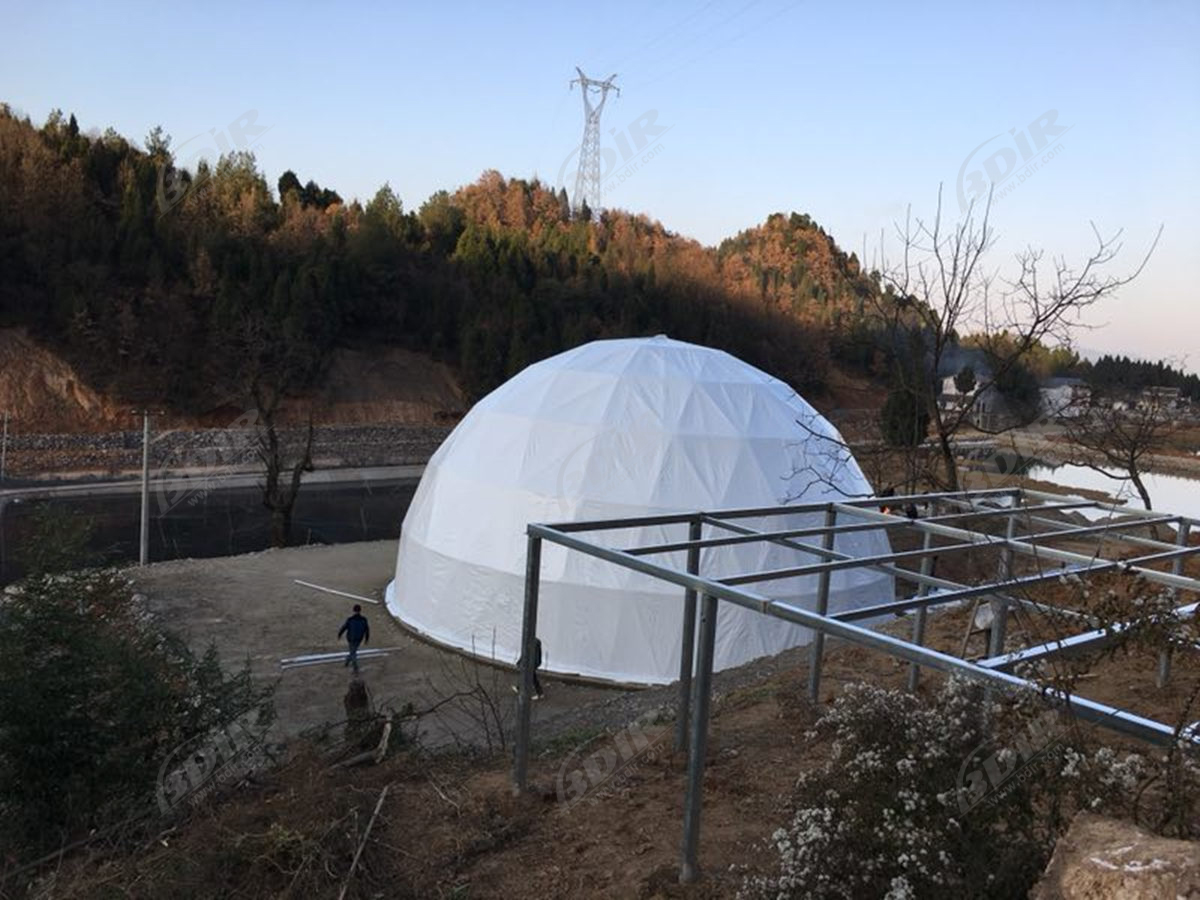 The Swiss eco friendly resort consists of 15 geodesic dome houses. Each dome pod is fixed to a wooden deck and offers a furnished terrace with far-reaching views. Standard grow domes room with one large bed, fully equipped bathroom with toilet and shower, wood burning stove, kettle and mezzanine floor, can accommodate an extra single bed. The family campmaster dome tents has the same facilities and the mezzanine can accommodate 2 extra beds for children. Each pod can comfortably accommodate 2- 4 people, and the green PVC fabric covers on the exterior seems to blend in with the surrounding environment; it is removed during the winter, leaving a white appearance on the dome roof structure design, blending with the snow .
The geometry of the glamping dome is called a geodesic: a spherical structure consisting of a network of triangles. The triangles form a self-supporting frame that provides structural strength while using as little material as possible. Geodetic terminology comes from Latin, meaning the separation of the Earth. Our garden greenhouse are the same size. 7 m in diameter, 40 m2 surface area, 4.3 m ceiling height, 220 kg dome.
Energy saving, little impact on nature. There are two reasons for geodesic tent design energy saving. First, the ambient airflow within the dome is continuous, with no stagnant corners, requiring less energy to circulate the air and maintain a uniform temperature. The energy required to heat and cool the geodesic dome construction is about 30% less than that of conventional buildings. The second is the ratio of high capacity to surface area, requiring less building material to enclose more space. The lower the ratio of the perimeter of the building to its enclosed living area, the less energy is needed for construction, heating and cooling.
BDiR Inc. is custom geo dome tent designer and manufacturer, provides 3m - 100m best quality complete dome tents for living home, glamping tent house, camping pods, greenhouse, branding, product launches, commercial receptions, outdoor concerts and business annual celebrations, festival, performance, trade show booth, corporate events and conferences, product launches and promotions, Art installations, floating domes, igloo and rooftop lounges, movies, private parties, special occasions, etc. all over worldwide.
Specifications
1. What's the specification of the geodesic dome tent?

| | |
| --- | --- |
| Size | Customizable: 6m-100m diameter |
| Structure material | Stainless steel tube / steel coated white tube / hot-dip galvanized steel tube / aluminum alloy pipe |
| Structure details | 25mm to 52mm diameter, according to the size of the dome |
| Fabric material | White PVC, transparent PVC fabric, PVDF fabric |
| Fabric weight | 650g/sqm, 850g/sqm, 900g/sqm, 1000g/sqm, 1100g/sqm |
| Fabric feature | 100% waterproof, UV-resistance, flame retardation, Class B1 and M2 of fire resistance according to DIN4102 |
| Wind load | 80-120 km/h (0.5KN/sqm) |
| dome weight & package | 6m dome weight 300kg 0.8 cubes, 8m dome 550kg with 1.5cubes, 10m dome 650kg with 2 cubes, 12m dome 1000kg with 3cubes, 15m dome 2T with 6 cubes, 30m dome 11T with 23 cubes, 50m dome 20T with 59 cubes… |
| Dome application | branding, product launches, commercial receptions, outdoor concerts and business annual celebrations, every festival, performance, trade show and trade show booth, corporate events and conferences, product launches and promotions, Art installations, festivals, floating domes, ice bars and rooftop lounges, movies, private parties etc. |

---

2.Do you have more domes for option?

BDiR Inc. provides tourist attractions with unique and custom designed geodesic dome tent with Dimension from 6m to 80m . Below are some standard product specification:

| | | | | | |
| --- | --- | --- | --- | --- | --- |
| Dimension(m) | Area(Square Meter) | Ridge height(m) | Structure Diameter | Capacity | Wind load(km/h) |
| 6m/20ft | 28.2 | 3.50 | Φ25*1.5mm | 28-30 | 100 |
| 8m/27ft | 50.0 | 4.80 | Φ25*1.5mm | 50-60 | 100 |
| 10m/33ft | 78.5 | 5.80 | Φ32*2.5mm | 65-100 | 100 |
| 15m/ 50ft | 176.6 | 7.80 | Φ42*2.5mm | 135-300 | 100 |
| 20m/67ft | 314.0 | 10.0 | Φ42*2.5mm | 250-550 | 100 |
| 25m/84ft | 490.6 | 12.0 | Φ48*2.5mm | 500-950 | 100 |
| 30m/100ft | 706.5 | 15.0 | Φ48*3.0mm | 650-1200 | 100 |
| 50m/167ft | 1962.5 | 25.0 | Φ60*3.0mm | 1800-3500 | 100 |

---

3.What is main features of dome tent?

√. Fast assembly - Our domes are affordable and the assembly time is fast. The costs of purchasing and installing geodesic domes for glamping are typically recouped in as little as one season. They can be installed repeatedly and lasts 10+ years, ensuring your return-on-investment for years to come.

√. Eco friendly - Geodesic glamping structures can be built almost any location with minimal impact to the surrounding environment.

√. Energy efficient - With the dome-shaped design, eco-living dome allows for effective air movement and constant temperatures, maximizing the sun's light and warmth meanwhile reducing cooling and heating costs.

√. One-stop design - You can add on a cozy bed, kitchenette, separate bathroom and an extra decking or complete the interior design your way.

√. Wide application - Besides being a guest accommodation, our living dome tent is also applicable to school camps, remote and regional housing, garden studio, then mining and resources etc.

√. Excellent safety - The unique geodesic tent structure provides excellent safety. The spherical dome tent can withstand the wind of 80-100km/h, even in the harsh weather such as heavy snow, wind and rain. Geodesic dome construction in such soft buliding foundation (like the grassland, desert and beach) is also quite stable.

---
Ps:

BDiR Inc. is dome designer and manufacturer, provides 3m - 100m best quality complete dome tents.