Why Choose Yoga Geodesic Dome Tent?
November 07,2019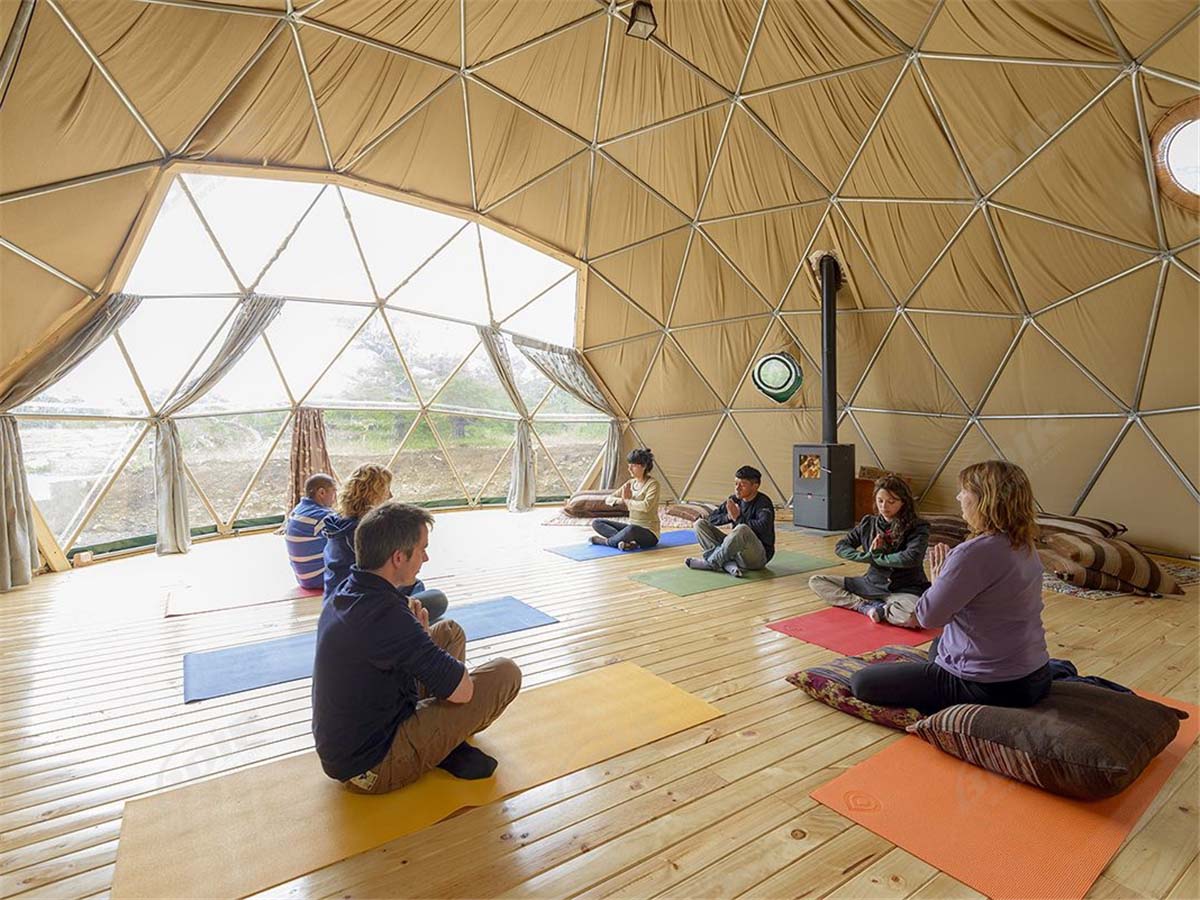 For busy modern people, a relaxed and spiritual practice, a journey of self-cultivation, and a chance to meditate are actually rare but necessary. Have you ever thought that this can be a yoga practice in a natural scenic spot?
Yoga is not just a simple set of popular or trendy fitness exercises. Yoga is a very ancient method of energy knowledge cultivation that combines philosophy, science and art.
The foundation of yoga is based on ancient Indian philosophy. For thousands of years, psychological, physical and spiritual disciplines have become an important part of Indian culture. Ancient yoga believers developed a yoga system because they were convinced that by exercising the body and regulating breathing, you can control your mind and emotions, as well as maintain a healthy body.
Many people practice yoga and feel that they don't need to pay attention to the space environment, but when you are in the natural scenery, I believe that there is another realm in mind. BDiR Inc. geodesic dome tents provide a different outdoor practice for the majority of yoga enthusiasts.
Far away from the bustling market, the yago dome tents are convenient to transport and easy to set up. The characteristics of temporary buildings allow them to be built and used in scenic spots, camps and resorts. The spherical tent adopts prefabricated components. The construction process does not require deep digging of foundations, does not require complicated water and soil engineering, does not cause damage to the environment, and can naturally be integrated into the scenic spot. This feature is in line with the concept of sustainable development.
The geodesic spherical dome tent adopts galvanized steel pipe as the frame, and is made of waterproof coated PVC fabric as covers. It is stable and durable, and has excellent characteristics such as windproof, waterproof, ultraviolet protection, sound insulation and heat insulation. Yoga lovers can meditate in the spherical tents, thinking, stretching, looking up and seeing the scenery outside the window, everything changes quietly, and the melodious music in the tent reverberates, and the outside world is not in the ear.
BDiR Inc. offers spherical tents with a diameter of 3-50 meters, suitable for space needs of different places and different groups of people. For individuals or families, if you have a balcony or a small garden, you can choose to build a spherical tent with a diameter of 4-6 meters. It is good choice to practice yoga, read books, chat, and watch the stars in the tent during leisure time. In scenic spots, resorts or gymnasiums, you can choose medium and large spherical tents (above 10 meters in diameter), you can set up yoga classes to let people feel the joy of yoga together.
The spherical geodesic dome tent is equipped with yoga, which really adds a touch of color to the journey. However, yoga is not suitable for everyone, but almost everyone will have a heart that wants to be close to nature! The singular spherical tent has a wide range of applications, including outdoor activities, as well as tent hotels, holiday accommodation, catering and entertainment, exhibition banquets and other uses. I am willing to go out with you to experience an unprecedented luxury life.

Hot Search:
Previous: Classification and Advantages of Tensile Membranes
Next: How to Judge the Quality of the Car Parking Shade Tensile Structure?
Archives
News at BDiR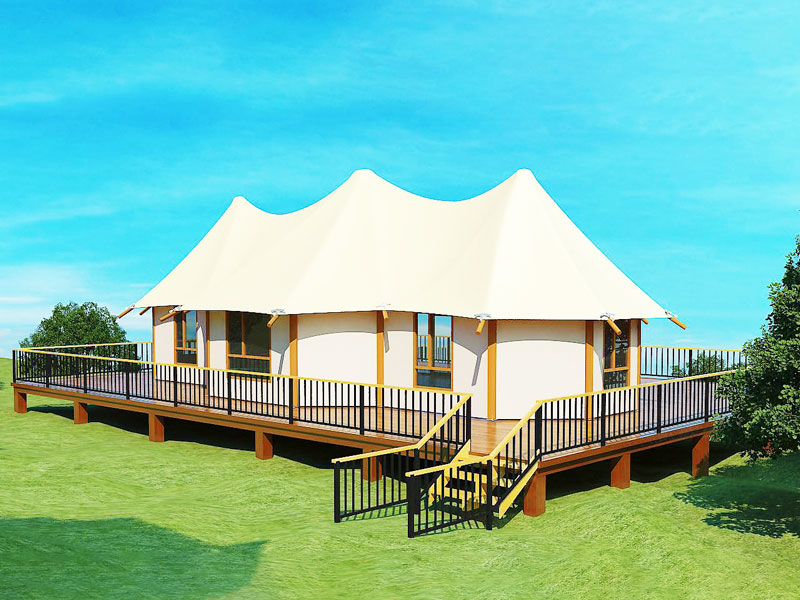 How to Customize Your Own Glamping Tent
July 29,2022
Glamping tents are available in a variety of styles, perfect for your next family vacation. Choose from beautiful, custom-designed tents or demos. Many luxury tents feature an on-site spa, full 5' sidewalls and steel D-rings at the eaves. Having 6+ foot s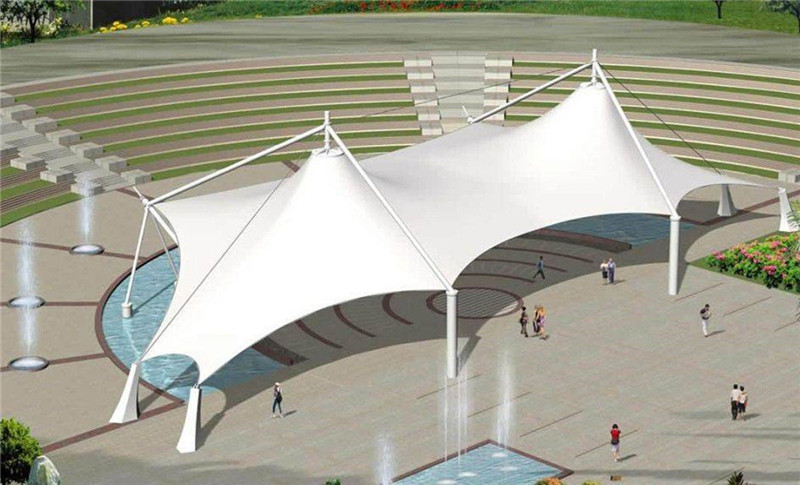 Tensile Structure Uses and Advantages
July 27,2022
A tensile structure is a lightweight fabric structure that carries loads by utilizing tension. Stretch Structures Fabric Structures describe various stretch film structures and the current state of knowledge. Tensile fabric structures are commonly used in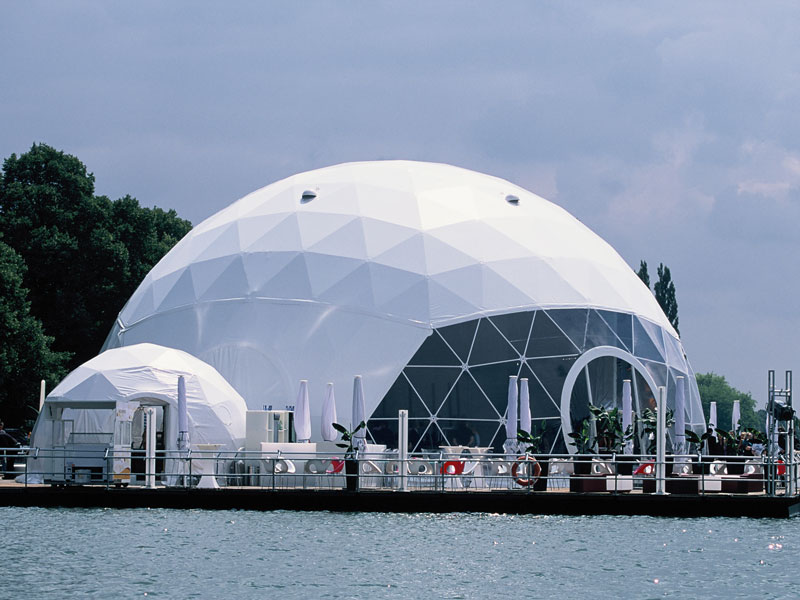 Geodesic Dome Tents Suitable for Living and all Types of Activities
July 22,2022
Geodesic domes have become popular venues for events. They are perfect for a variety of uses including exhibitions, wedding banquet halls, press product launches, makeshift classrooms, ice rinks, and even swimming pool yurts. You can even build one yourse
Watch Our Videos
Luxury Eco Friendly Tent Structures Lodges for Tea Garden Holiday Hotel
Luxury Sustainable Hospitality Eco Tent Structure Villas