Chongqing Huaba Rose Valley Tent Hotel
February 03,2021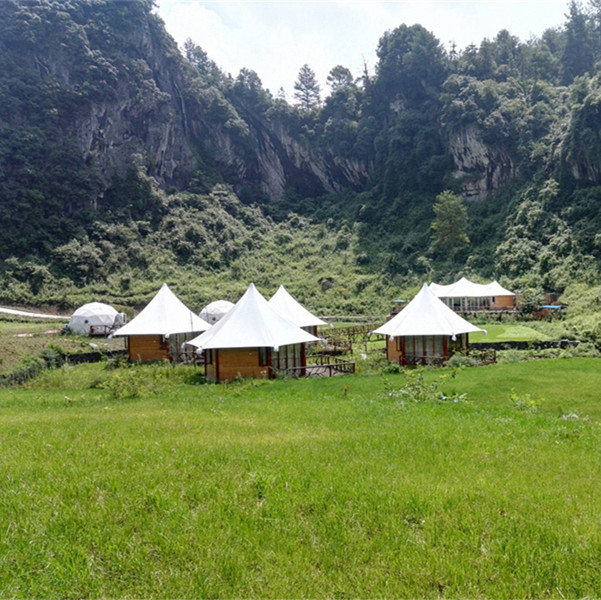 The first nature glamping tent hotel in Chongqing was unveiled in the Rose Valley of Chongqing Qijiang Huaba Tourist Resort. Rose Valley is a quiet valley hidden between two mountains. One side is a lush forest and the other is a towering stone mountain range surrounded by dense forests. , Strange stones are like beasts, caves are deep and mysterious, peaks and valleys are painted, quite the artistic conception of "I don't know the true face of Mount Lu, I am only in this mountain"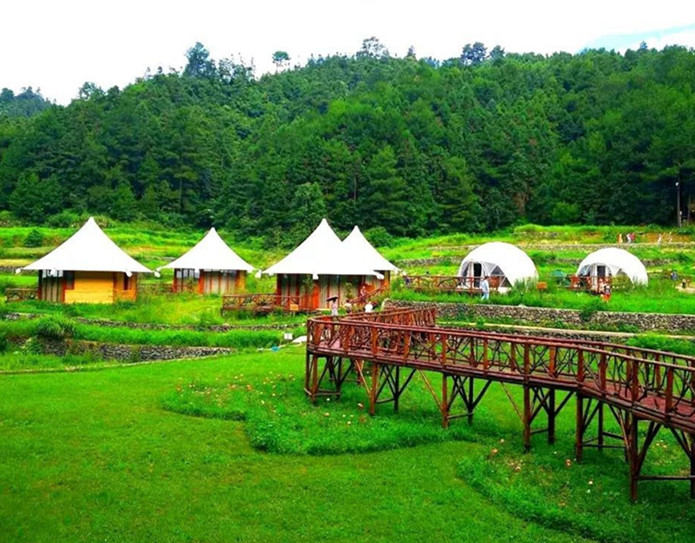 The tree-hung ball tent hidden in the dense forest, the little moon, is a round ball tent hung in mid-air by the use of trees. You can see the panorama of Rose Valley from the tent.
Outside the phantom dome tent and the country-style tent hotel is a rose garden with the fragrance of roses and the crisp cicadas. Make a cup of hot tea, smell the fragrance of roses, listen to the calls of insects and birds, and enjoy a relaxing time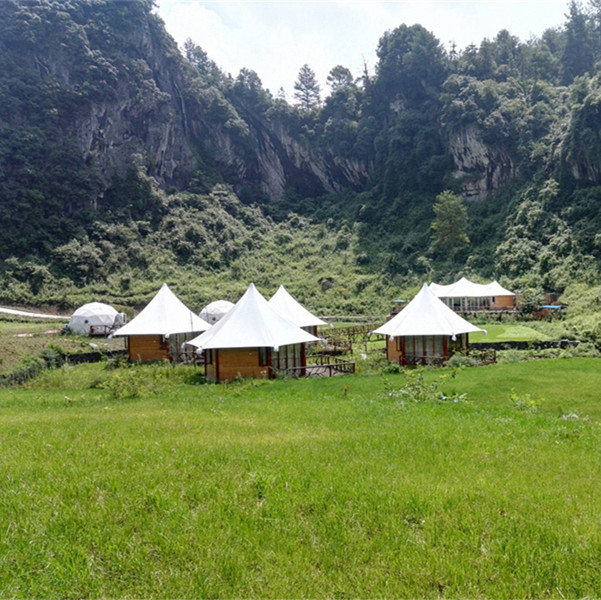 In a small pond outside the Nordic-style tent hotel, the creek was tumbling, and the water reflected the reflection of the distant mountains. Being in it gave people a feeling of being in the mountains and waters of Guilin. The people who love me listen to the gurgling water, and look at the clouds in the sky.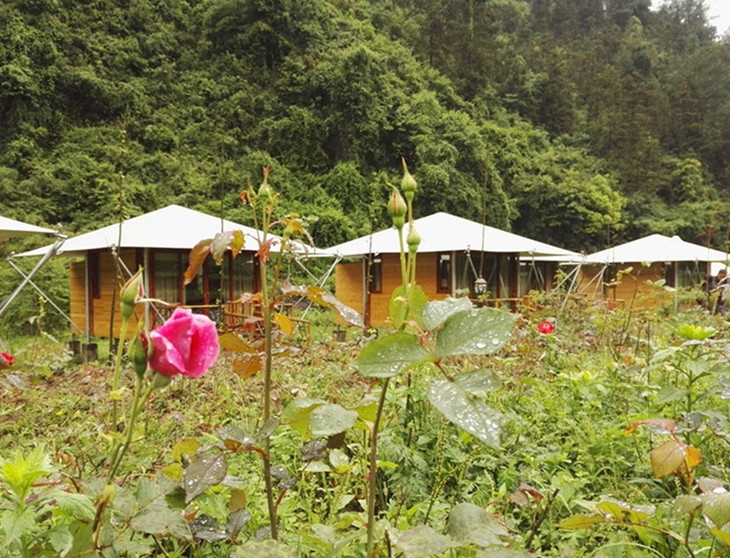 In modern society, people's reliance on mobile phones has increased, and communication with people around them has gradually decreased. In the tent hotel, we do not provide WIFI, put down the mobile phone, here is to walk into nature, get close to nature. Fully communicate and get along with family members and enjoy the rare and leisure time
Hot Search:
Previous: What Kind Of Fabric Is The Tarp Of A Luxury Glamping Tent
Next: Happy Year of the Ox
Archives
News at BDiR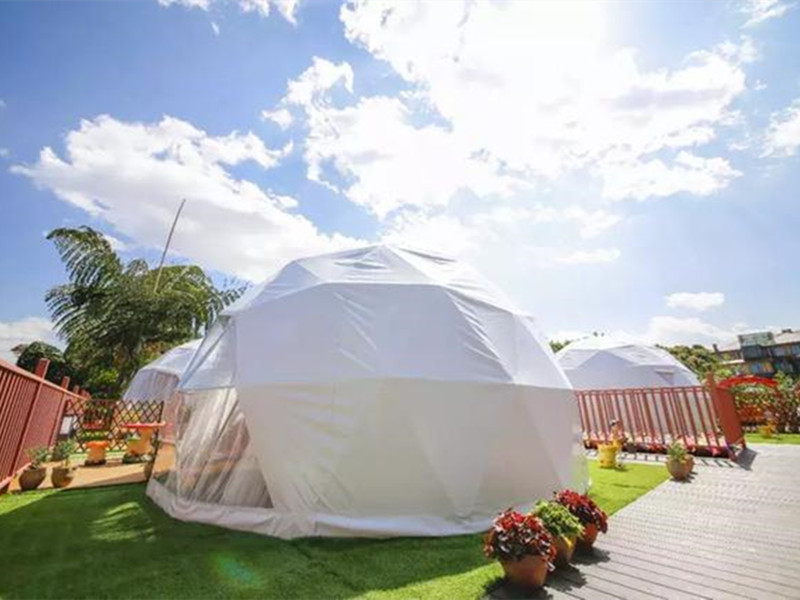 8m Camping Dome Tents Designed by BDiR
March 05,2021
BDiR Inc. is a dome tent designer and manufacturer,  provides 3m - 100m best quality complete dome tents for living home, glamping tent house, camping pods, etc. 
Why Tensile Structures are Becoming More Popular Around the World?
March 03,2021
Tensile structures are great for tent making. They make the tent more stable and durable. They're cost-effective and easy to manage. Tensile membrane structures are structural features that are sustained by tension, not compression or bending. The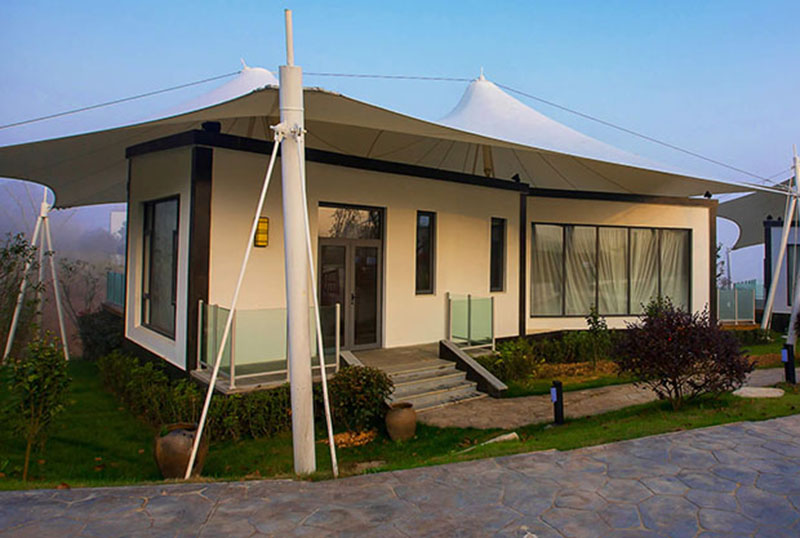 Luxury Glamping Tent is Built in The Wild Environment, How is It Insulated?
March 02,2021
The birth of Luxury glamping tent will undoubtedly add a splendor to the scenic camp. With the increase of tourists, the usage rate of camping tent will also increase greatly. In 365 days a year, the weather is unpredictable, high and low temperatures rep
Watch Our Videos
Luxury Eco Friendly Tent Structures Lodges for Tea Garden Holiday Hotel
Luxury Sustainable Hospitality Eco Tent Structure Villas
News Hot Search