Dwell Camping Dome House Bubble Hotel for Eco Tourism Leisure & Resorts
| | |
| --- | --- |
| Indoor Area | 28 Square meters |
| Tent Area | 6m diameter, 3.6m height |
| Deck Area | 56 Square meters |
| Steel Pipe Parameter | Galvanized + white paint |
| External Cover Membrane | 850gsm colourful PVC & 950gsm Transparent PVC |
| Internal Cover Membrane | Fiber insulation cotton or Stretch fabric |
| Door Material | Glass & Wood door |
| Indoor Flooring | WPC Floor or SPC Floor |
| Fire Rating | DIN4102 B1/SGS M2 |
| Wind Loading Rating | 120KM/H |
| Quality Assurance | ISO9001, MSDS, CE, BV, TUV, SGS |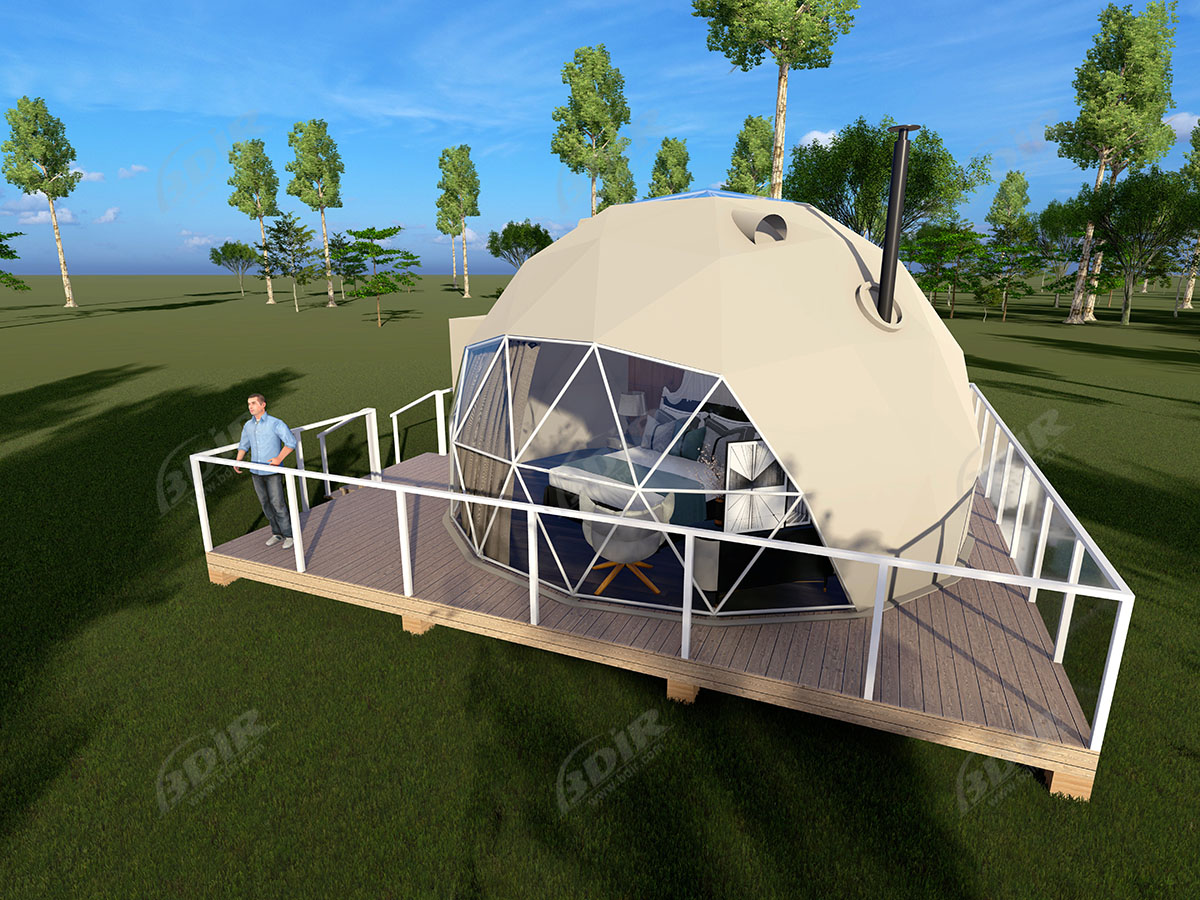 Ecological Home Design dwellings are our forte, and many of our Dome Shelters are used as Eco-Resort dwelling places, and Home Construction Developers looking to construct environmentally conscious and sustainable housing solutions.
A Geodesic Dwell Dome can hold snow, wind and rain with the best designs in architecture. Environmentally conscious home owners, eco-resorts and glamping retreats incorporate our Dome Houses because they are the strongest structure known to man. Our insulation, wood stove and climate control options make them a shelter for all seasons.
There are 28 square meters space for accommodation layout inside, and ecological wood-plastic floor can be better integrated into the surrounding environment and provide flat terrain, and can also be used as an outdoor viewing platform. The interior of the tent is also laid with wooden floors, and the tables, chairs, beds, decorations all adopt the same wooden style design, which forming a warm feeling. Starry sky tents can also add insulation liners and stove to resist the cold climate at night or winter, it brings a comfortable accommodation for all seasons, and we have added curtains in the transparent part of the tent to protect the intrernal privacy, which can let you relax in the dome tent hotel, enjoy the simple rural life, and get rid of the fast-paced lifestyle of the city!
size
Model

Area

Height

Guests

Assembly Time

Platform Size

DIA-5m

19 m

2

3 m

1-2People

1-2Hours with crew of 2

6m*7m

DIA-6m

28 m

2

3 m

2-3people

2-3hours with crew of 2

7m*8m

DIA-7m

38 m

2

3.5 m

3-4people

3-4hours with crew of 2

8m*9m

DIA-8m

50 m

2

4 m

3-4people

3-4hours with crew of 3

9m*10m

DIA-10m

79 m

2

5 m

4-6people

7-8hours with crew of 3

12m*14m
Specifications
STANDARD FEATURES:

Steel framework with letter-coded structure struts

Complete set of screws, washers and cap nuts (+ spare parts)

Steel structure feet with screws and nuts

Membrane outer cover with 3x air vents and transparent bay window

Membrane cover stretch system: elastic rope with fasteners and hooks

Diamond-shaped membrane zip-door

Anchorage Kit (steel ground pins)

Complete Assembly Toolkit

Installation Manual

ADDED FEATURES:

Wooden or Glass or Aluminium Doors

Inner Floor

WPC Deck

Solar Fan Ventilation

Bathroom Module

Deck design:

Our geodesic dome tent needs a wooden deck, or a concrete base. The tent needs to be fixed on a solid base, which is easy to achieve. Our deck uses Q235 steel frame structure to connect with the ground foundation, the light steel keels are added to the steel framework, with a interval space of 40cm, and then covered with a 25mm thick wood-plastic floor.

The geodesic dome tent main frame:

We usually use Q235 for the main frame with Eco environmental paint. it can be fully applied in any coastal climate that may have high erosion or high humidity and rain forest climate.

Tent roof:

Usually we use 850gsm PVC fabric and 950gsm transparent PVC as the roof, and can also use elastic cloth as the interior decoration to make the interior of the dome more flat and perfect.

Floor design (we have three options, or customers can buy it themselves):

PVC floors tend to make tents seems cheap and easy to have abrasion. Usually our indoor floors have options: composite floor - SPC stone-plastic floor - BPC bamboo fiber floor. You can make the choice among them, or use other flooring that you like, such as solid wood flooring, ceramic tiles, etc.

How to solve the cold protection problem?

Our Glamping tents are doing very well in winter. In order to obtain the best experience in cold climate, we recommend applying 8-12mm insulation material and a complete wood-burning stove (chimney kit) or air conditioner to keep it warm.

How to solve the heat problem?

By default, the color of the white outer membrane helps reflect sunlight, while the inner membrane and insulation liners can also prevent heat penetrating into the tent interior. The combination of heat insulation and solar fan (heat exhaust) is an effective way to keep the dome cool even in hot climates. If your dome tent is exposed to direct sunlight throughout the day, you may consider adding a separate air conditioning unit. The use of refrigeration equipment such as small air conditioners and electric fans in combination with thermal insulation materials can provide thermal comfort in hot climates.

Where can you put the tents?

we can customize the tents to handle any environment - 100% Waterproof, Extreme Cold, Against strong wind & earthquake etc. No matter where the tent, hotel, resort or camp will be located - desert & rock, mountains & forest, tropics & beaches, grassy plain, ice field or dense rainforest - we will ensure it is built to last.