Eco Glamping Tent Villa | Luxury House Villages Resort - Design & Manufacturer
| | |
| --- | --- |
| Indoor Area | 42 square meters |
| Tent Area | 80 square meters |
| Deck Area | 63 square meters |
| Steel Frame | Q235 Steel |
| External Roof | 1100GSM PVDF Fabric |
| Internal Ceiling | 650GSM PVC Canvas |
| Wall Material | WPC Wall or Glass Wall or Canvas Wall |
| Indoor Flooring | WPC Floor or SPC Floor |
| Fire Rating | DIN4102 B1/SGS M2 |
| Wind Loading Rating | 120KM/H |
| Quality Assurance | ISO9001, MSDS, CE, BV, TUV, SGS |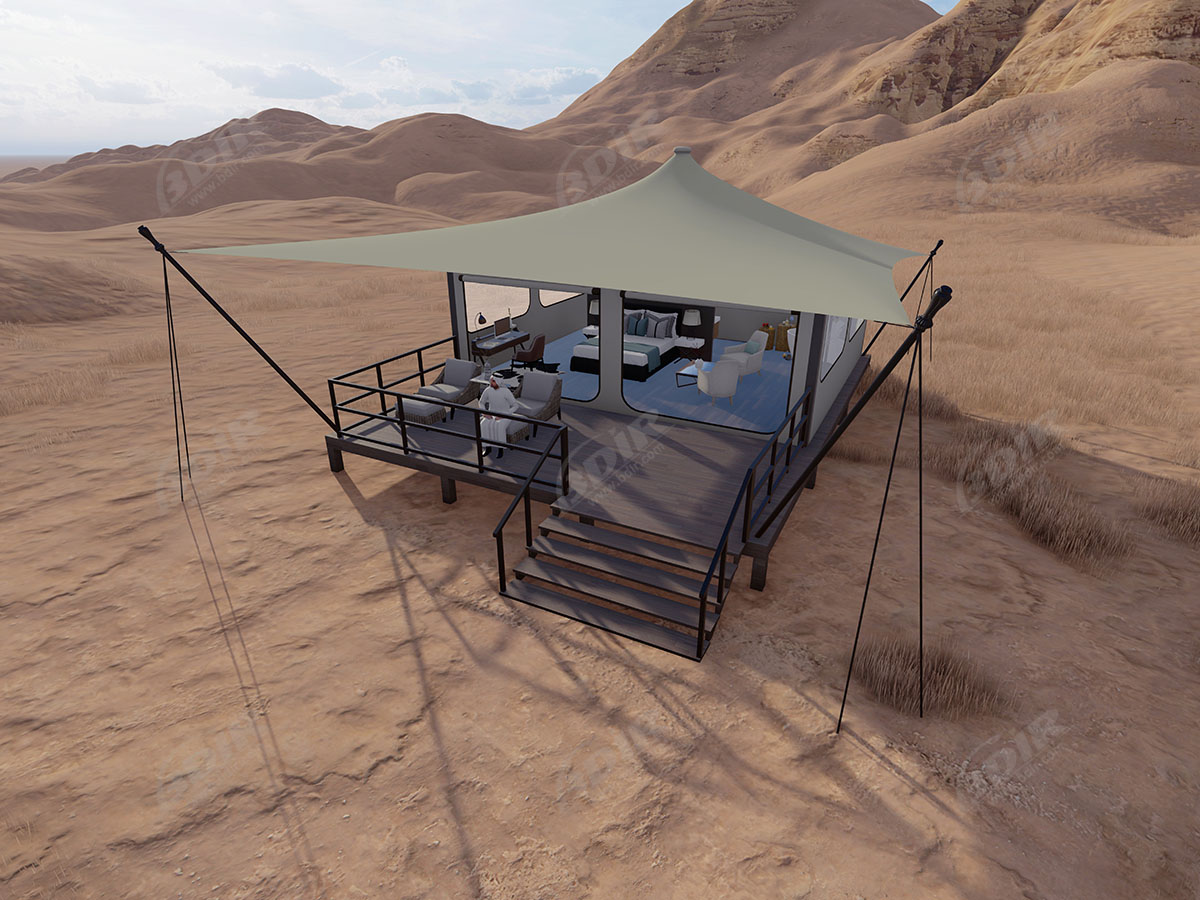 Our Luxury Tensile Membrane Tent Villa Suite is a very popular design because of its simple and rectangular shape, covered with a 50cm extended covering around all sides. It does capture the essence of the outdoors. This is a square open design. It is very airy and transparent on all sides, giving an amazing feeling. This is the first model in our high-end eco wildlife lodge series. Making an open layout or use a screen wall to separate bedroom and bathroom are ideal choice.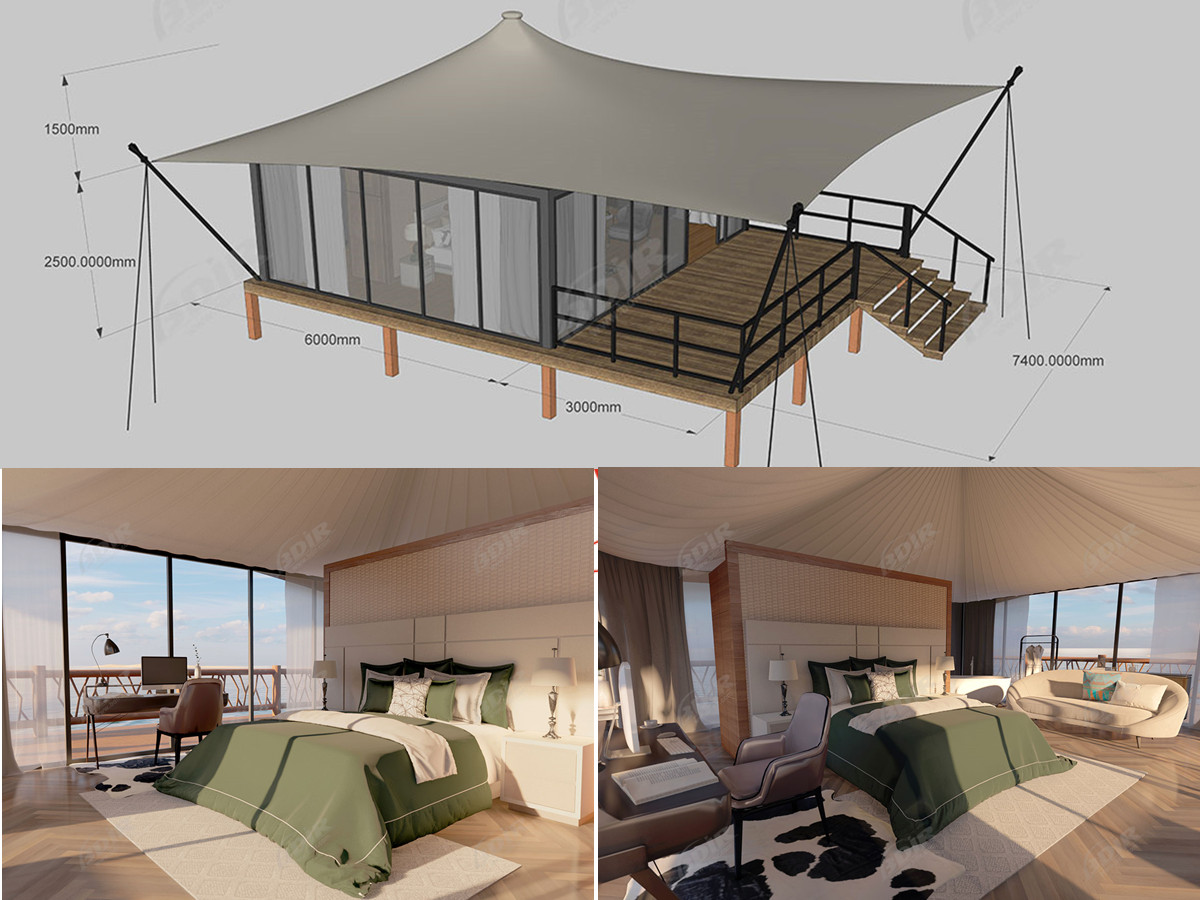 Our temporary tent structures is designed for single or couple accommodation, with an area of 42 square meters. It can be equipped with a 1.8-meter luxury king-size bed, with dark wood furniture, equipped with advanced independent toilets, conjoined bathroom and bathtub, it's clean and comfortable, soundproof and noise protection, the cold and warm air conditioning, making the air refreshing and delightful. The luxurious villa suite has a super spacious open private balcony, so that the whole space can always get enough natural light. Our tent uses a tensile membrane roof design, which makes the tent shape more diverse and unique.
Specifications
STANDARD FEATURES:

Q235 Steel Frame to fit onto customer's Concrete foundation structure

650GSM PVC & 1100GSM PVDF Double Roof

360 Views Glass Wall & Body

Inner Ceiling

Curtains

Square Tubing, Body Poles and Cable straps

ADDED FEATURES:

Wooden or Glass or Aluminium Doors

Canvas Tent Body - 650 GSM waterproof & wearable Canvas

PHDF Shade Net Roof

WPC Deck

Wooden Floor

Insulation

Deck design:

Our tent needs a wooden deck, or a concrete base. The tent needs to be fixed on a solid base, which is easy to achieve. Our deck uses Q235 steel frame structure to connect with the ground foundation, the light steel keels are added to the steel framework, with interval spaces of 40cm, and then covered with a 25mm thick wood-plastic floor.

Tent main frame:

We provide Q235 steel framework, hot dip galvanized steel, stainless steel. We recommend using hot-dip galvanized steel or stainless steel in any coastal climate where high erosion may occur. If you are in a climate with high humidity or rain forest, please use hot-dip galvanized steel or stainless steel. Whether to use hot dip galvanized steel or stainless steel, it's according to your budget. Generally the main frame uses Q235 hot-dip galvanized steel with eco-friendly paint.

Tent roof (3-4 layers roof):

We have a double layers of heat insulation, which can be used for tent roof. Usually we use 1100gsm PVDF fabric as outer roof and 650gsm as inner roof. We can also choose the most suitable fabric according to customer needs and budget, such as PVC, PVDF, PTFE, etc. Shading nets on the roof and interior curtains in the room are optional.

Tent wall (4 options):

Our most commonly used wall's materials are tempered glass, PVC canvas, Sandwich panel and ecological plastic wood wall (double layer). In the corresponding place, we can install aluminum alloy & glass door/windows.

Floor design (we have three options, or customers can buy it themselves):

PVC floors tend to make tents seems cheap and easy to have abrasion. Usually our indoor floors have options as: composite floor - SPC stone plastic floor - BPC bamboo fiber floor. You can make the choice among them, or use other flooring that you like, such as solid wood flooring, ceramic tiles, etc.

How to solve the cold protection problem?

Our glamping tents are doing very well in winter. In order to obtain the best experience in cold climate, we recommend applying 8-12mm insulation material and a complete wood-burning stove (chimney kit) or air conditioner to keep it warm.

How to solve the heat problem?

In default, the white color of outer membrane helps reflect sunlight, the inner membrane and insulation liners can also prevent heat penetrating into the tent. The combination of heat insulation and solar fan (heat exhaust) is an effective way to keep the dome cool even in hot climates. If your dome tent is exposed to direct sunlight throughout the day, you may consider adding a separate air conditioning unit. The use of refrigeration equipment such as small air conditioners and electric fans in combination with thermal insulation materials can provide thermal comfort in hot climates.

Where can you put the tents?

we can customize the tents to handle any environment - 100% Waterproof, Extreme Cold, Against strong wind & earthquake etc. No matter where the tent, hotel, resort or camp will be located - desert & rock, mountains & forest, tropics & beaches, grassy plain, ice field or dense rainforest - we will ensure it is built to last.