Greenhouse Domes, Geodesic Greenhouses, Geodesic Greenhouse Domes - Design & Supplier
Cover

white

PVC/PVDF Cover, clear PVC Cover

Wall

PVC Wall, ABS hard wall, tempered glass wall

Windows

clear PVC windows, mesh windows, glass windows

Doors

g

lass door, aluminum door, rolling shutter,

dtandard zip-up door

Floor

w

ooden floor

Decoration

voile ceiling lining, voile curtain

Fixing tools

ground anchors, weight plate, expandable bolts, drilling steel

Colors

beige, orange, green, yellow etc.

Delivery Time

About 30 Days after confirm deposit

Quality

ISO9001, MSDS, CE, BV, TUV, SGS

Others

Air conditioner, Table, chair, Lamp, Carpet, Bed, Bathroom

INQUIRY NOW

DOWNLOAD: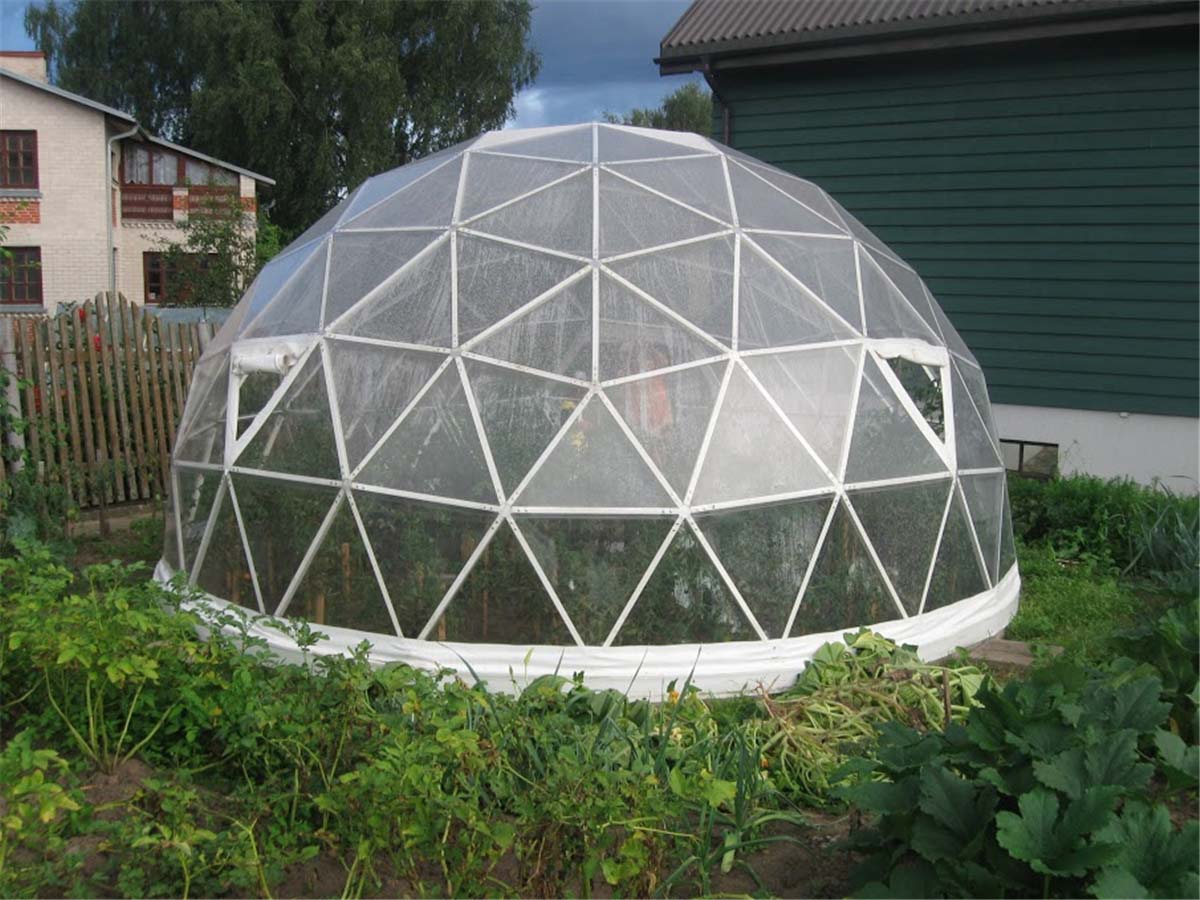 Winter gardens, oranges and zoo designers often choose dome buildings. Good airflow distribution and natural light distribution in the dome shelter tent ensure good conditions for the plants. We use greenhouse domes built with climate control systems to grow tropical plants even in the northern climatic zone. It also ensures controlled diffusion of different solar radiation into the pvc greenhouse kits and regulates temperature, humidity and airflow. The dome gazebos offers the possibility of building large spaces without columns and beams, which is very advantageous for dome buildings.
A great choice for those looking for a unique gardening experience. The dome shaped greenhouses shelters are convenient because they can turn into trees or oranges. With open windows, special doors and a ventilated room. We can build a simple tent-covered greenhouse for traditional gardening or luxury orange-glazed greenhouses so that plants can be surrounded and harmoniously relaxed.
Benefit:
• In terms of space lighting, the dome greenhouse is the best choice; the light spreads naturally and evenly.
• Compared to a rectangle, the sphere amplifies light and absorbs light. Therefore, in the large dome tent, you will get more daylight than the average greenhouse.
• The spherical greenhouse can be adapted to any landscape.
• The dome greenhouse has a uniquely stable and powerful framework.
• Perfect for all weather conditions, it can withstand the strongest winds and the strongest snow.
• High quality, reliability and versatility.
Whether you are interested in basic gardening or commercial planting, we design, produce and build greenhouse domes to meet your needs, helping you grow plants and help them thrive. When exposed to the sun, our greenhouse domes are significantly warmer than the outside environment, protecting the contents in cold weather. The size of the dome tent ranges from 5m to 100m and is an economical way to build any garden, germination facility or commercial planting business of any size.
The main body of the eco dome houses is made of special high-strength steel pipe, which is made of 6061 carbon steel, galvanized or painted on the surface, PVC tarpaulin on the roof, or tempered glass. It has good waterproof, fireproof, anti-UV and anti-aging properties, making it the largest. It has a service life of up to 30 years and is equipped with a variety of optional configurations such as glass doors, glass walls, glass doors, ground anchors, load-bearing plates, and wooden floors, so that its functions are fully expanded.
BDiR Inc. is canvas dome tent designer and manufacturer, provides 3m - 100m best quality complete dome tents for living home, glamping tent house, camping pods, greenhouse, branding, product launches, commercial receptions, outdoor concerts and business annual celebrations, festival, performance, trade show booth, corporate events and conferences, product launches and promotions, Art installations, floating domes, igloo and rooftop lounges, movies, private parties, special occasions, etc. all over worldwide.
Specifications
1. What's the specification of the geodesic dome tent?

| | |
| --- | --- |
| Size | Customizable: 6m-100m diameter |
| Structure Material | Stainless steel tube / steel coated white tube / hot-dip galvanized steel tube / aluminum alloy pipe |
| Struts Details | 25mm to 52mm diameter, according to the size of the dome |
| Fabric Material | White PVC, transparent PVC fabric, PVDF fabric |
| Fabric Weight | 650g/sqm, 850g/sqm, 900g/sqm, 1000g/sqm, 1100g/sqm |
| Fabric Feature | 100% waterproof, UV-resistance, flame retardation, Class B1 and M2 of fire resistance according to DIN4102 |
| Wind Load | 80-120 km/h (0.5KN/sqm) |
| Dome Weight & Package | 6m dome weight 300kg 0.8 cubes, 8m dome 550kg with 1.5cubes, 10m dome 650kg with 2 cubes, 12m dome 1000kg with 3cubes, 15m dome 2T with 6 cubes, 30m dome 11T with 23 cubes, 50m dome 20T with 59 cubes… |
| Dome Application | branding, product launches, commercial receptions, outdoor concerts and business annual celebrations, every festival, performance, trade show and trade show booth, corporate events and conferences, product launches and promotions, Art installations, festivals, floating domes, ice bars and rooftop lounges, movies, private parties etc. |

---

2.Do you have more domes for option?

BDiR Inc. provides tourist attractions with unique and custom designed geodesic dome tent with Dimension from 6m to 80m . Below are some standard product specification:

| | | | | | |
| --- | --- | --- | --- | --- | --- |
| Dimension(m) | Area(Square Meter) | Ridge height(m) | Structure Diameter | Capacity | Wind load(km/h) |
| 6m/20ft | 28.2 | 3.50 | Φ25*1.5mm | 28-30 | 100 |
| 8m/27ft | 50.0 | 4.80 | Φ25*1.5mm | 50-60 | 100 |
| 10m/33ft | 78.5 | 5.80 | Φ32*2.5mm | 65-100 | 100 |
| 15m/ 50ft | 176.6 | 7.80 | Φ42*2.5mm | 135-300 | 100 |
| 20m/67ft | 314.0 | 10.0 | Φ42*2.5mm | 250-550 | 100 |
| 25m/84ft | 490.6 | 12.0 | Φ48*2.5mm | 500-950 | 100 |
| 30m/100ft | 706.5 | 15.0 | Φ48*3.0mm | 650-1200 | 100 |
| 50m/167ft | 1962.5 | 25.0 | Φ60*3.0mm | 1800-3500 | 100 |

---

3.What is Main Features of Dome Tent?

√. Fast Assembly - Our domes are affordable and the assembly time is fast. The costs of purchasing and installing geodesic domes for glamping are typically recouped in as little as one season. They can be installed repeatedly and lasts 10+ years, ensuring your return-on-investment for years to come.

√. Eco Friendly - Geodesic glamping structures can be built almost any location with minimal impact to the surrounding environment.

√. Energy Efficient - With the dome-shaped design, eco-living dome allows for effective air movement and constant temperatures, maximizing the sun's light and warmth meanwhile reducing cooling and heating costs.

√. One-stop Design - You can add on a cozy bed, kitchenette, separate bathroom and an extra decking or complete the interior design your way.

√. Wide Application - Besides being a guest accommodation, our living dome tent is also applicable to school camps, remote and regional housing, garden studio, then mining and resources etc.

√. Excellent Safety - The unique geodesic tent structure provides excellent safety. The spherical dome tent can withstand the wind of 80-100km/h, even in the harsh weather such as heavy snow, wind and rain. Geodesic dome construction in such soft buliding foundation (like the grassland, desert and beach) is also quite stable.

---
Ps:

BDiR Inc. is dome designer and manufacturer, provides 3m - 100m best quality complete greenhouse dome tents.