Etfe Foil & Film Architecture | Singe Etfe Roof Construction Material
Membrane Material

PVC / PVDF / PTFE / ETFE

Material Brand

Ferrari,

Heytex

, Duraskin, SATTLER, Mehler, Sioen, etc.

Fabric Color

White or Customized

Shape

Customized (Arc, Barrel Vault, Hypar, Cone, Dome, Umbrella, etc.)

Structure

Q235 steel, Hot Dip Galvanized

Size

Customized

Warranty Time

10-35 years

Transport Package

Standard Export Sea-Worthy Packing

Delivery Time

About 30 Days after confirm deposit

Certification

ISO9001, MSDS, CE, BV, TUV, SGS

Place of Origin

Shenzhen, China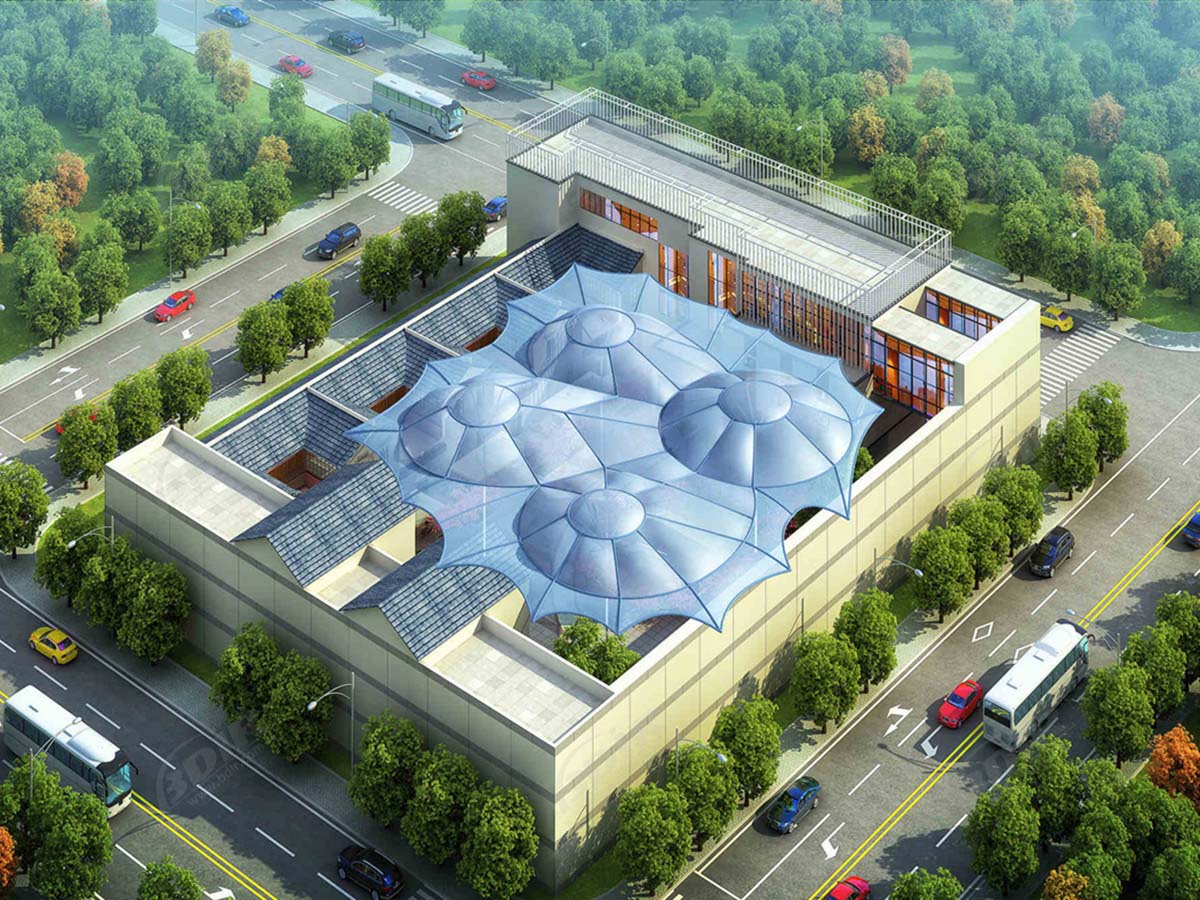 The ethylene-tetrafluoroethylene (ETFE) air pillow membrane structure has the advantages of light weight, high light transmission, and good self-cleaning performance.
Widely used in large stadiums and airport terminals, Replacement for glazing, Roofs and roofing, Outdoor-indoor spaces, Covered walkways, Windows, Skylights, Greenhouses, Agricultural centers etc.
It has higher requirements for architectural aesthetics, architectural lighting physics and structural performance.
The characteristics of the ETFE film structure are: high light transmittance, which makes the indoor temperature higher,
With modularization, standardization and factory prefabrication, it can be adapted to complex large-span spatial grid structures.
The ETFE tensile structure roof has good daylighting. The roof adopts ETFE tensile structure transparent materials, which can make the whole building very bright without adding additional lights. The light transmittance of ETFE fabric material can let the indoor environment be directly enveloped by natural light, highlighting the ETFE fabric, The sunny side of the structural roof is like our skin, and the whole person looks radiant.
It is safer to use ETFE fabric material on the roof. All buildings are safe first in terms of design and function. ETFE fabric material has light weight and high compressive strength, which solves the hidden danger of many building materials falling off and smashing people. In addition, the fire performance of the building is also very high. The roof structure of the ETFE membrane structure will automatically degrade if it encounters high temperature, and no dripping liquid will appear, which effectively forms an automatic smoke exhaust system and reduces the internal loss of the building.
The roof is designed with ETFE tensile structure to extend life, and the roof construction is originally a long-term building. The ETFE tensile structure has a service life of at least 25 years. It is a permanent building type. For roofs with large construction budget costs, the ETFE tensile structure roof is more cost-effective.
Specifications



Features of ETFE Tensile structure:

"ETFE" is an ethylene - tetrafluoroethylene copolymer. ETFE fabric material has high tensile strength, impact strength and tear resistance. The thickness of the ETFE fabric material is usually 0.05 to 0.25 mm. As the thickness increases, the hardness of the fabric will increase, and it will also be more brittle, thus increasing the difficulty of processing. The typical usage of ETFE materials is to "weld" two or three layers of membrane materials together and transport them to the construction site. Then inflate them into an air pillow.

1. The ETFE material is made of fluoroplastic, which can apply pre-tension like fabric material;

2. With resistance to temperature changes, can be directly exposed to the temperature of -200 ℃ -150 ℃;

3. The transmittance of ETFE fabric can be as high as 95%. It cannot block the transmission of ultraviolet light and other light to ensure natural light inside the building. Through surface printing, the translucency of the material can be further reduced to 50%;

4. It has the characteristics of high anti-fouling and easy to clean, usually natural rain can remove dirt;

5. The ETFE fabric meets the B1, DIN4102 fire rating standards and will not drip when burned. The thickness is usually 0.05mm to 0.25mm, and the weight of the membrane is very light, only 0.15kg to 0.35kg per square meter. Even in the case of fabric melting caused by smoke and fire, it has a strong advantage;

6. ETFE fabric materials are recyclable materials, which can be reused to produce new membrane materials, or other ETFE products can be produced after separating impurities;

7. Strong corrosion resistance, and at the same time, it has strong adhesion characteristics unique to metal, which overcomes the non-adhesion defect of PTFE to metal, and its average linear expansion coefficient is close to that of carbon steel, making ETFE (F-40) Become an ideal composite material with metal, with excellent negative pressure resistance;

8. The service life of ETFE membrane is at least 25 to 35 years, which is an ideal material for permanent multi-layer movable roof structure;

9. Generally used in the form of air cushions in buildings, the economic span of air cushions is generally 3 ~ 5 m. Multiple air cushions can be connected together by steel structure, aluminum alloy structure or cable net to form a large coverage space.

Where can you put the ETFE Roof & Facades?

ETFE Fabric materials have a wide range of applications. For example: sports and leisure (gymnasiums, stadiums, fitness centers, leiure centers, etc.), tourism and transit platforms (waiting halls, station platforms, parks, etc.), arts and culture (theater, exhibition hall, concert hall, sculpture, etc.) Business (exhibition hall, sewage plant, greenhouse, billboard, etc.).