ETFE Dome Structure For Greenhouse, Rainforest Biome, Eden Project
| | |
| --- | --- |
| Membrane Material | PVC / PVDF / PTFE / ETFE |
| Material Brand | Ferrari, Heytex, Duraskin, SATTLER, Mehler, Sioen, etc. |
| Fabric Color | White or Customized |
| Shape | Customized (Arc, Barrel Vault, Hypar, Cone, Dome, Umbrella, etc.) |
| Structure | Q235 steel, Hot Dip Galvanized |
| Size | Customized |
| Warranty Time | 10-35 years |
| Transport Package | Standard Export Sea-Worthy Packing |
| Delivery Time | About 30 Days after confirm deposit |
| Certification | ISO9001, MSDS, CE, BV, TUV, SGS |
| Place of Origin | Shenzhen, China |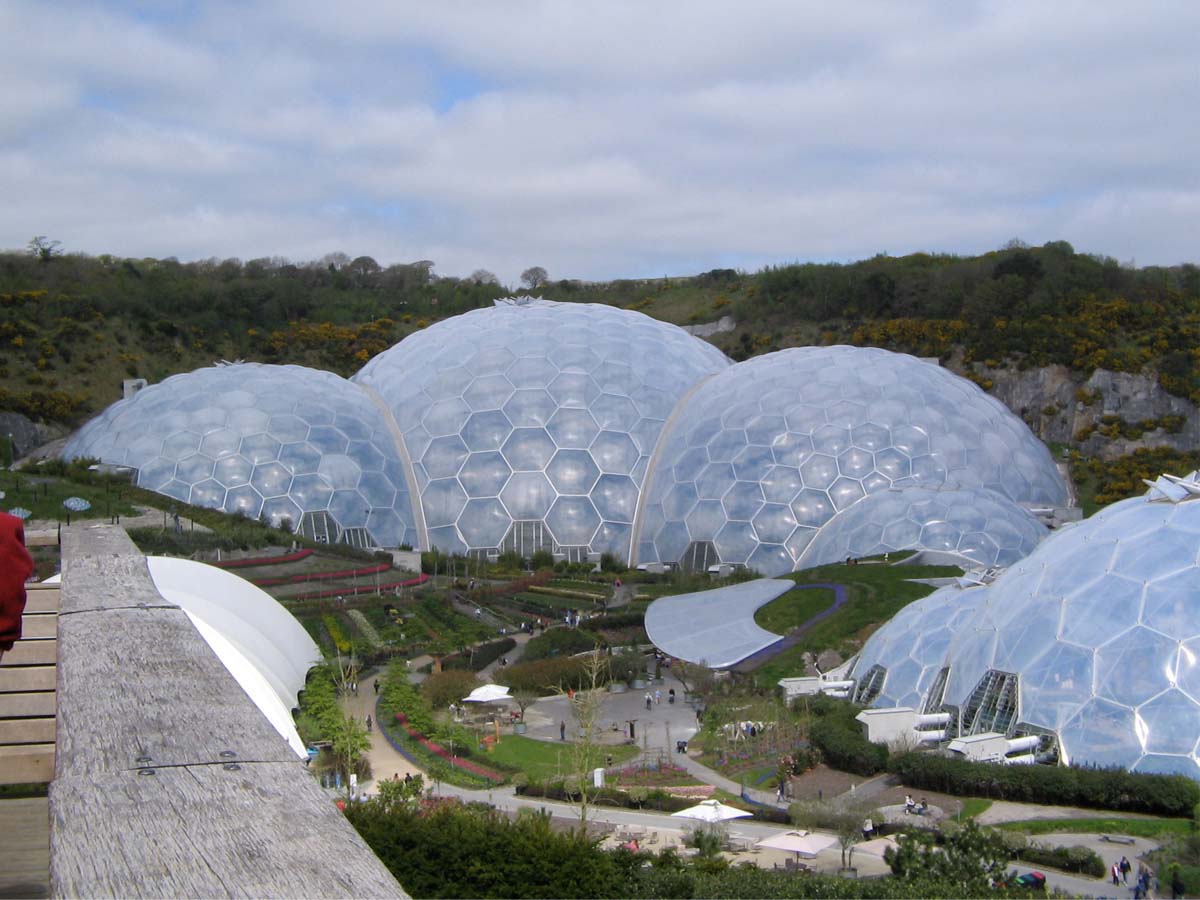 Dome structure construction is suitable for vegetable greenhouses, flower and plant greenhouses, etc.
Dome tensioned membrane structures advantages have following remarkable characteristics:
Easy installation, low cost, good sealing effect between two layers of membranes, high overall strength and sturdy quality.
Dome Tensile Structure Advantages:
* Can expand the space inside the greenhouse and improve the insulation effect.
* Land can be fully utilized, durable and cost-effective.
* Membrane has long service life and good flexibility, which can extend the life of the greenhouse and resist hail and strong wind, enhance its corrosion resistance;
* Free open doors and windows, easy access to machinery and equipment;
* Do not need to be disassembled, summer sunshade, winter insulation, efficient use throughout the year.
Specifications
Tensile Structure Basic Performance Parameters:

Material Thickness: usually 0.05mm-0.82mm

Weight (Gsm): 700 - 1100g per square meter

Gutter: Inbuilt Gutter System

Temperature: -40 to +70 (degree celsius)

Tensile Strength: 2500-4000N

Tear Strength: 520-580N

Fire rating: DIN4102 B1/SGS M2

Wind Load: 120 km/h

Tensile Structure Features:

√.

Personalized Customization

- We have different types of tensile structures available in various sizes, shapes, and colors depending on areas as per client's requirement.

√.

Versatile

- Tensile structure is the ideal solution for a wide range of applications. Can be used in a variety of occasions around the world, including sports, transportation, business, landscape, industry, agriculture, hotels and more.

√.

Aesthetical and unique designs

- Take any shape and almost any size.

√.

Coverage

- Light weight, Cover a large area with minimal disruptions, expanding outdoor living areas.

√.

Outstanding Translucency

- Provides natural lighting and reduce heat transmission.

√.

High strength and intensity

- Durable and long lasting nature, withstand the worst winds, the harshest sun and the wettest weather for very long life.

√.

Easy to clean

- Aggressive dirt can be cleaned with normal detergent soap and water.

√.

Cost Effective

- Perfect weldability. Ease of fabrication. Easy to install. Ease of maintenance.

√.

Eco friendly

- Recyclable and Easy to move relocation or renovation.

√.

Rich colors available

- Vibrant colors of membrane can create a landmark structure.

Tensile Structure Function:

√.

All Weather protection, perfect UV resistance, Waterproof, Wind proof, Snow proof, Shake proof.

√.

Completely heat and water resistant.

√.

High abrasion resistance, Anti-aging, Anti-static, high light transmission.

√.

Fireproof, Flame Resistant, Moisture proof, Smoke proof, Soundproof, Self-cleaning.

Why choose BDiR's Tensile Structure?

√.

We are the leading manufacturers, exporters, suppliers and installers of all types of tensile structures.

√.

Our products are manufactured using high quality PVC / PVDF / PTFE / ETFE membranes and steels , strictly accordance with industry standards.

√.

We offer a complete turn-key solution for all your tensile fabric structure needs.

√.

We offer a budget-friendly market price for all our clients.

√.

We ensure that your project will be delivered and installed with excellent efficiency, on time and on budget.