What are the Advantages of Landscape Tensile Membrane Structure?
November 07,2019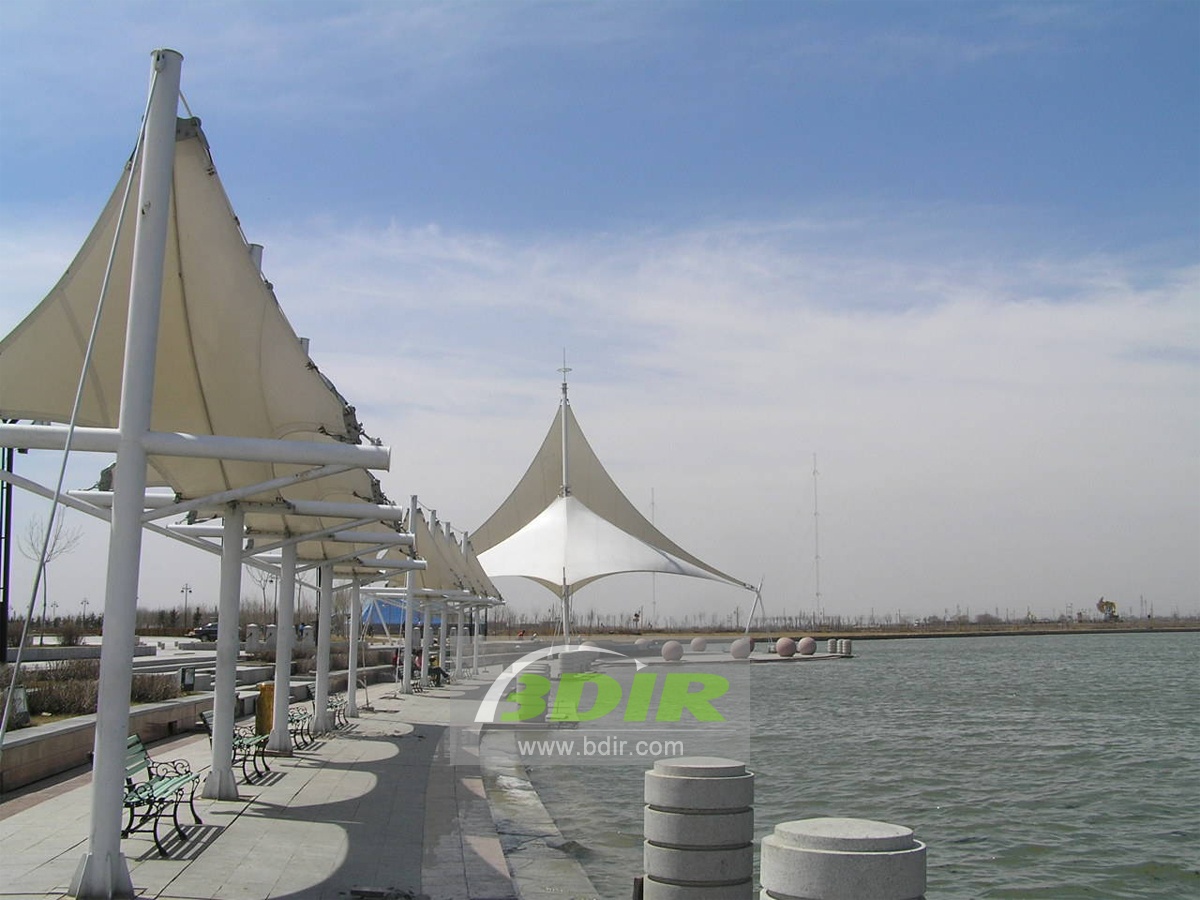 The landscape membrane structure is some membrane structure equipment in tourist attractions, including parking sheds, rest spots and so on. Then, which company is more professional in making landscape film structure? Can there be a landscape film structure with success stories to learn from? Everything you want, BDiR Space Structure Engineering Co., Ltd. can help you solve it.

BDiR membrane structure is widely used in commercial plazas, stadiums, bus stations, toll stations, sewage pool cover membrane structures, biogas tank cover membrane structures, transportation facilities, environmental protection facilities, landscape facilities, cultural facilities, parking sheds, steel structure workshops, etc. The membrane structure is designed and installed, and the membrane material is processed. But all related to the membrane structure, BDiR is able to complete the project professionally.
Sunshade membrane structure

Landscape membrane structure engineering can provide a variety of uses and integrate with the garden landscape. Create a happy space for people to enjoy. It fully demonstrates the artistic beauty of the structural members' clear force. It subtly integrates the surrounding environment and gives people a sense of elegance, romance and warmth. In addition, due to the unique color rendering of the film structure material, it can form a colorful landscape under the mapping of nighttime lanterns. Not only provide people with space for sunshade and rain. At the same time, it is popular because of its lively shape that gives people a stylish and relaxed feeling of relaxation.
The light and compact shape of the membrane structure is used to construct a variety of semi-closed, fully enclosed spaces, which make it an all-weather building space, providing weatherproof, sun-proof and other artificial environments, and has a good advertising logo effect. The landscape membrane structure is also an excellent choice for the renovation and construction of pedestrian streets.

So, how to maintain and maintain the landscape membrane structure with so many advantages?
1. General requirements for engineering maintenance
Protection and maintenance of landscape membrane structure engineering. The surface of the membrane should not be in contact with the knife or sharpener to avoid scratching and scratching the surface of the membrane. Once the film is found to be scratched and severely scratched, effective measures should be taken in time to avoid more serious damage. At the same time, the manufacturer is notified to repair it. The surface of the steel component must not be hit and scratched by hard objects, and should not be exposed to various acids. , alkaline and organic solvents.
2. When the surface of the landscape membrane structure membrane needs to be cleaned and cleaned:
a. Workers should not wear hard-soled shoes to directly contact the surface to prevent sand from grinding the surface and severely scratching the surface of the film.
b. When cleaning the surface of the membrane, use clean water or neutral detergent. It is not suitable to use acidic or alkaline materials such as gasoline, alcohol or chlorine.
c. It is not advisable to stack foreign objects such as iron parts, chemicals or other colored materials for a long time.
3. The steel structure, steel cables, splints and bolts in the structure shall not be arbitrarily adjusted or disassembled without the approval of the manufacturer.
Landscape shed item of the south bank service area of Hangzhou Bay Bridge
4. It is not allowed to pull and hang heavy objects and articles on the membrane without permission.
5. Users should regularly prevent rust and maintenance of steel structure safety (half year to one year) to ensure structural safety and prevent rust water droplets from falling on the surface of the membrane.

This is the introduction and maintenance of the landscape membrane structure. If you want to know more detailed landscape membrane structure quotation design, you can call us. We have professional engineers to answer your questions. BDiR landscape membrane structure, you deserve it!

Hot Search:
Previous: Why Should Us Build Car Parking Shade Membrane Structure?
Next: What are the Advantages of Tensile Membrane Structure Tents Lodges?
Archives
News at BDiR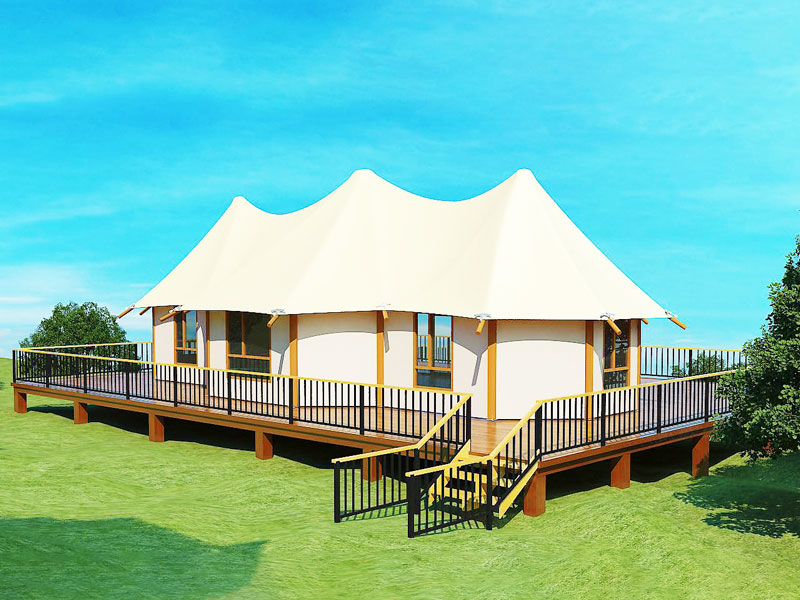 How to Customize Your Own Glamping Tent
July 29,2022
Glamping tents are available in a variety of styles, perfect for your next family vacation. Choose from beautiful, custom-designed tents or demos. Many luxury tents feature an on-site spa, full 5' sidewalls and steel D-rings at the eaves. Having 6+ foot s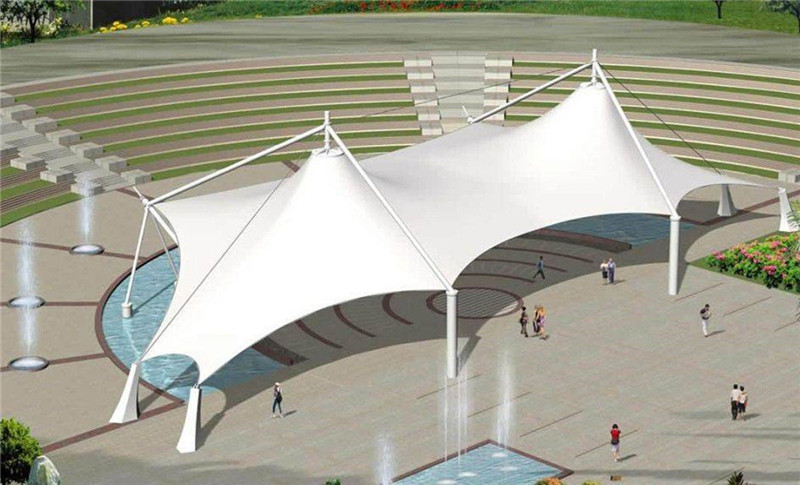 Tensile Structure Uses and Advantages
July 27,2022
A tensile structure is a lightweight fabric structure that carries loads by utilizing tension. Stretch Structures Fabric Structures describe various stretch film structures and the current state of knowledge. Tensile fabric structures are commonly used in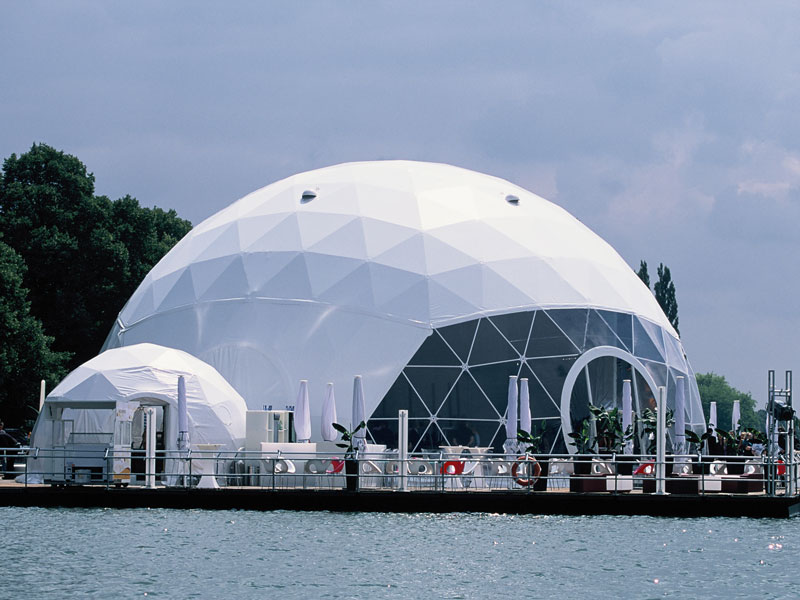 Geodesic Dome Tents Suitable for Living and all Types of Activities
July 22,2022
Geodesic domes have become popular venues for events. They are perfect for a variety of uses including exhibitions, wedding banquet halls, press product launches, makeshift classrooms, ice rinks, and even swimming pool yurts. You can even build one yourse
Watch Our Videos
Luxury Eco Friendly Tent Structures Lodges for Tea Garden Holiday Hotel
Luxury Sustainable Hospitality Eco Tent Structure Villas