Tension Membrane Structure - in The Sewage Treatment Tank
November 12,2019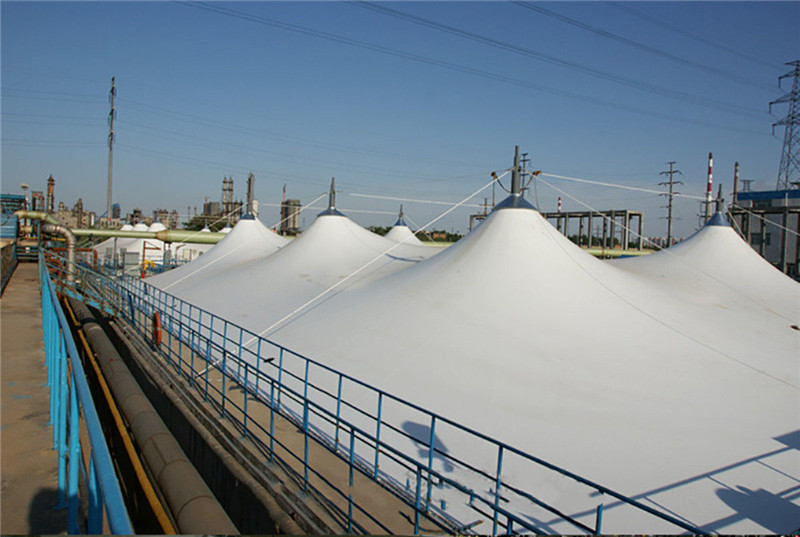 1.Tension membrane structure is suitable for pools with various spans: due to the light weight of the membrane material (less than 2kg per square), the tensile strength of the membrane is strong, and the membrane structure can be fundamentally Overcome the problem of large spans.
2. The service life of the membrane is long: the service life of the sewage tank membrane which has been specially treated is 15-20 years, and the surface coating and base fabric of the membrane have been specially treated for anti-corrosion and anti-penetration treatment. Good air tightness.

3. The service life of the steel structure with the membrane structure of the sewage pool is designed according to 50 years: the steel structure is hanged on the outside, and the fluorocarbon fiber membrane with strong anti-corrosion ability is used to cover the permanent exhaust gas, thus exerting the fluorocarbon fiber membrane. The corrosion resistance has fundamentally solved the corrosive problem caused by the steel structure due to contact with corrosive gas. Therefore, the steel structure is considered in accordance with the corrosion resistance of ordinary building steel structures, and has a service life of 50 years. The performance of the steel structure achieves a perfect combination of the structural skeleton and the material covering film material.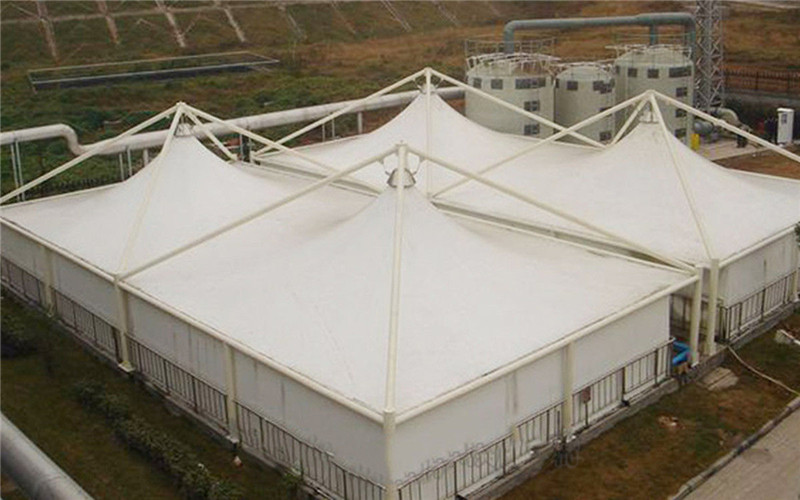 4. The sealing structure of the sewage tank with cover membrane is good: the membrane used is hot-melt welded, and the cut-off piece installed on site can ensure the sealing property of the shell and ensure the corrosion of the steel structure inside the insulator.
5, the membrane itself has
good anti-corrosion performance
, light weight, superiority to the large-span pool body, diverse shapes, beautiful and novel.
6. The structure of the sewage pool capping membrane can meet the survival needs of the deodorizing biological bacteria, and the heat preservation property is strong. The heat insulating performance of the single-layer membrane is equivalent to that of the brick wall, which can prevent the high temperature in summer and resist the low temperature in winter.
7. Since the sewage tank capping membrane structure is a closed body and the membrane structure is a smooth curved surface, the wind and carrier coefficient are low, and the wind resistance grade is high, which can be designed according to the resistance of the
12-stage typhoon
.
8. Sewage tank cover film structure is quick to install: steel structure processing and membrane processing are carried out in the factory, the quality of processing is guaranteed, the installation time on site is short, and the occupation of the site is reduced.
Hot Search:
Previous: Tent Resort - Tourism Great Development Potential in Papua New Guinea
Next: Geodesic Dome Tent Hotel Meets Nature
Archives
News at BDiR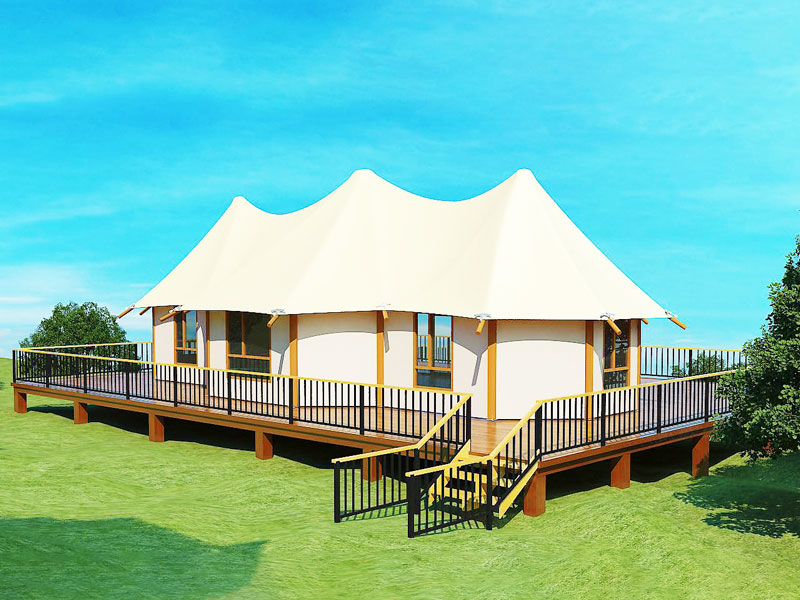 How to Customize Your Own Glamping Tent
July 29,2022
Glamping tents are available in a variety of styles, perfect for your next family vacation. Choose from beautiful, custom-designed tents or demos. Many luxury tents feature an on-site spa, full 5' sidewalls and steel D-rings at the eaves. Having 6+ foot s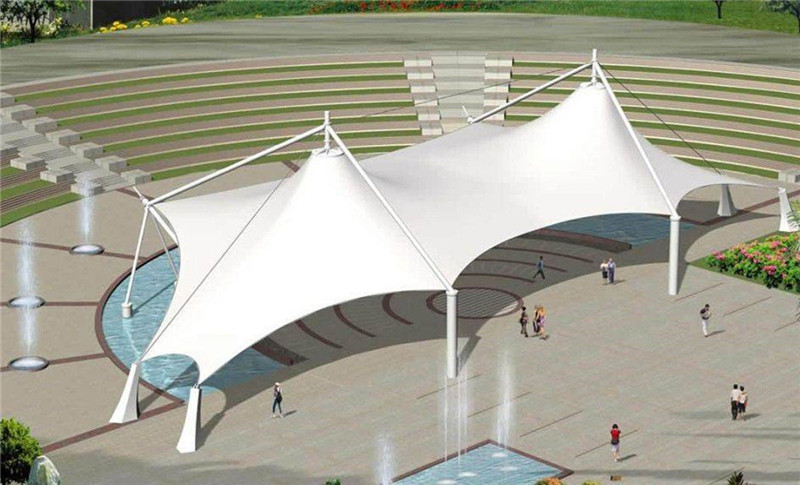 Tensile Structure Uses and Advantages
July 27,2022
A tensile structure is a lightweight fabric structure that carries loads by utilizing tension. Stretch Structures Fabric Structures describe various stretch film structures and the current state of knowledge. Tensile fabric structures are commonly used in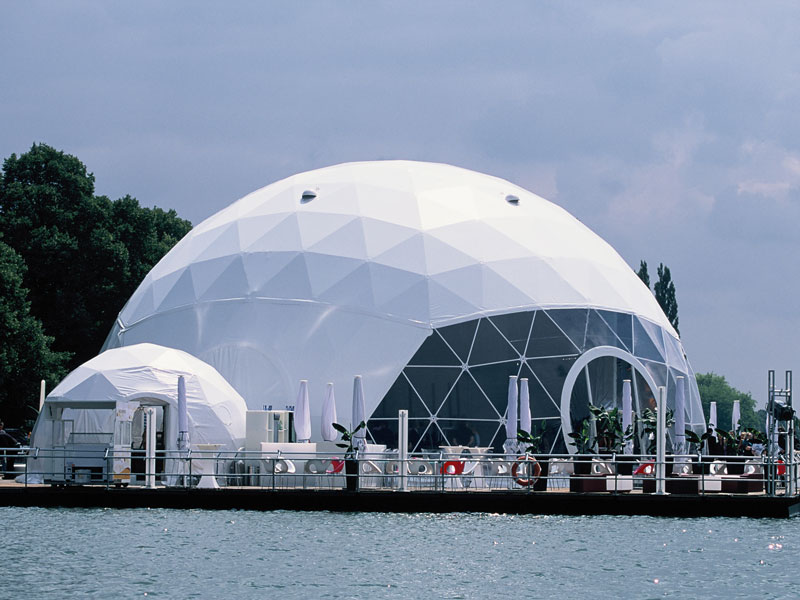 Geodesic Dome Tents Suitable for Living and all Types of Activities
July 22,2022
Geodesic domes have become popular venues for events. They are perfect for a variety of uses including exhibitions, wedding banquet halls, press product launches, makeshift classrooms, ice rinks, and even swimming pool yurts. You can even build one yourse
Watch Our Videos
Luxury Eco Friendly Tent Structures Lodges for Tea Garden Holiday Hotel
Luxury Sustainable Hospitality Eco Tent Structure Villas