Tensile Structures for Commercial Street / Retail Park / Pedestrian Street
| | |
| --- | --- |
| Membrane Material | PVC / PVDF / PTFE / ETFE |
| Material Brand | Ferrari, Heytex, Duraskin, SATTLER, Mehler, Sioen, etc. |
| Fabric Color | White or Customized |
| Shape | Customized (Arc, Barrel Vault, Hypar, Cone, Dome, Umbrella, etc.) |
| Structure | Q235 steel, Hot Dip Galvanized |
| Size | Customized |
| Warranty Time | 10-35 years |
| Transport Package | Standard Export Sea-Worthy Packing |
| Delivery Time | About 30 Days after confirm deposit |
| Certification | ISO9001, MSDS, CE, BV, TUV, SGS |
| Place of Origin | Shenzhen, China |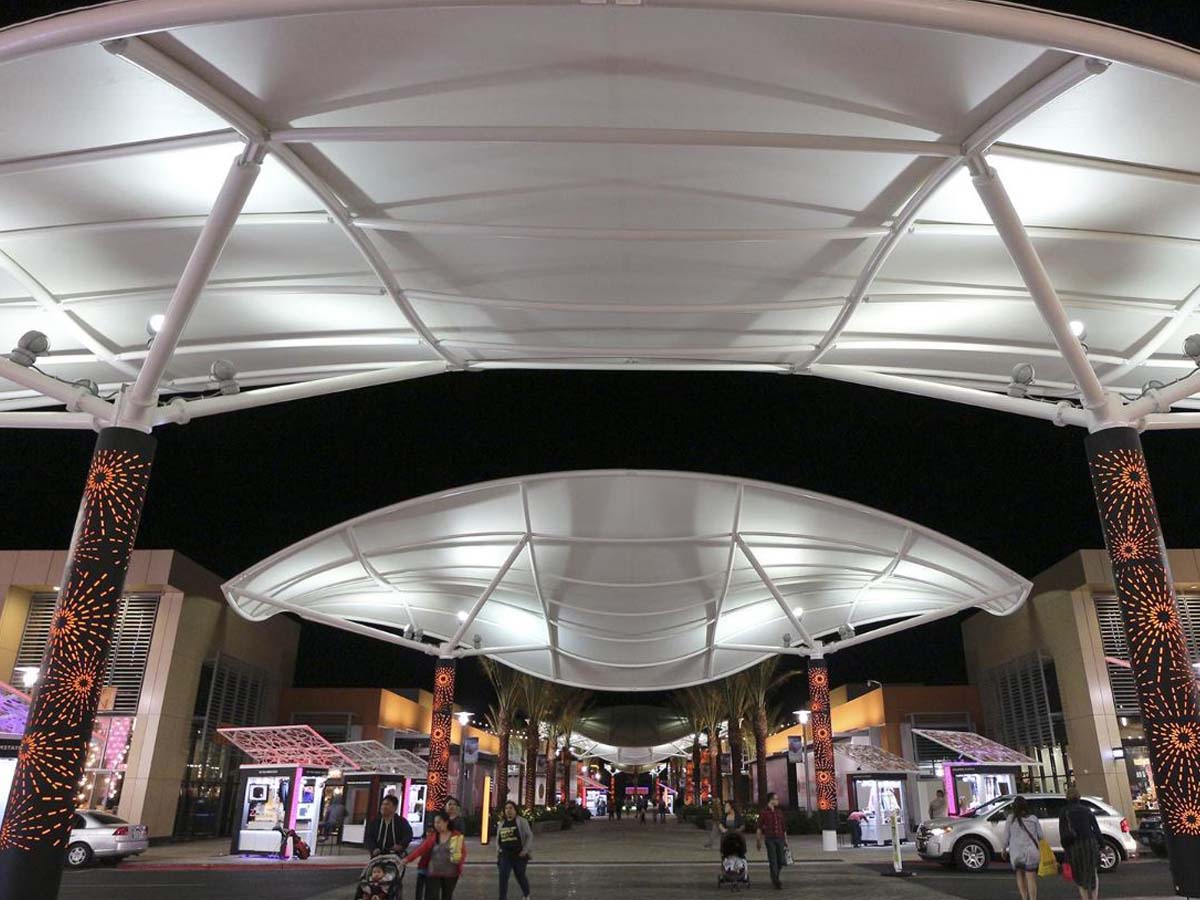 Commercial street architecture is the window of urban civilization, which represents the level of material and spiritual civilization. At the same time, the commercial sun shade is also an important part of the landscape environment.
Commercial Street Tensile Structures are rich in modern shapes, easy to install and teardown, it is widely used in commercial street.
The film structure is artistically strong, which can maximize the designer's creativity. At night, the lights in the building illuminate the night sky through the film of the roof, which creates a dreamlike effect and visual experience, and brings people a more comfortable shopping experience.
Commercial Street Tensile Structures can be divided into four categories:
1. Commercial Tensile roof structures
Installed on the top of commercial street, which plays a role in sun shading and rain protection for people during shopping.
2. Commercial tensile structures awnings
Installed in front of a store to provide shelter for those who are shopping and resting.
3. Commercial entrance and exit tensile structures
Installed in entrance and exit of the commercial areas.
4. Commercial landscape tensile structures
Irregular installed in various places on the commercial street.
Commercial Shade Structures Advantages:
Membrane can be made highly transparent by combination of fabrics coatings.
Through the comprehensive utilization of natural lighting and artificial lighting, the transparency of membrane can provide a larger aesthetic creation space for commercial streets. At night, pvc shade sail will become a sculpture of light, full of art.
Flexible features inspires the designer's architectural inspiration.
Commercial tensile architecture structures best reflects the natural beauty of the building itself. Commercial street membrane structure adds vitality to its surrounding space and complements and focuses on the surrounding environment.
Specifications
Tensile Structure Basic Performance Parameters:

Material Thickness: usually 0.05mm-0.82mm

Weight (Gsm): 700 - 1100g per square meter

Gutter: Inbuilt Gutter System

Temperature: -40 to +70 (degree celsius)

Tensile Strength: 2500-4000N

Tear Strength: 520-580N

Fire rating: DIN4102 B1/SGS M2

Wind Load: 120 km/h

Tensile Structure Features:

√.

Personalized Customization

- We have different types of tensile structures available in various sizes, shapes, and colors depending on areas as per client's requirement.

√.

Versatile

- Tensile structure is the ideal solution for a wide range of applications. Can be used in a variety of occasions around the world, including sports, transportation, business, landscape, industry, agriculture, hotels and more.

√.

Aesthetical and unique designs

- Take any shape and almost any size.

√.

Coverage

- Light weight, Cover a large area with minimal disruptions, expanding outdoor living areas.

√.

Outstanding Translucency

- Provides natural lighting and reduce heat transmission.

√.

High strength and intensity

- Durable and long lasting nature, withstand the worst winds, the harshest sun and the wettest weather for very long life.

√.

Easy to clean

- Aggressive dirt can be cleaned with normal detergent soap and water.

√.

Cost Effective

- Perfect weldability. Ease of fabrication. Easy to install. Ease of maintenance.

√.

Eco friendly

- Recyclable and Easy to move relocation or renovation.

√.

Rich colors available

- Vibrant colors of membrane can create a landmark structure.

Tensile Structure Function:

√.

All Weather protection, perfect UV resistance, Waterproof, Wind proof, Snow proof, Shake proof.

√.

Completely heat and water resistant.

√.

High abrasion resistance, Anti-aging, Anti-static, high light transmission.

√.

Fireproof, Flame Resistant, Moisture proof, Smoke proof, Soundproof, Self-cleaning.

Why choose BDiR Tensile Structure?

√.

We are the leading manufacturers, exporters, suppliers and installers of all types of tensile structures.

√.

Our products are manufactured using high quality PVC / PVDF / PTFE / ETFE membranes and steels , strictly accordance with industry standards.

√.

We offer a complete turn-key solution for all your tensile fabric structure needs.

√.

We offer a budget-friendly market price for all our clients.

√.

We ensure that your project will be delivered and installed with excellent efficiency, on time and on budget.