Custom Tensile Structures for Shopping Mall, Galleria Mall, Retail Centers, Plaza
| | |
| --- | --- |
| Membrane Material | PVC / PVDF / PTFE / ETFE |
| Material Brand | Ferrari, Heytex, Duraskin, SATTLER, Mehler, Sioen, etc. |
| Fabric Color | White or Customized |
| Shape | Customized (Arc, Barrel Vault, Hypar, Cone, Dome, Umbrella, etc.) |
| Structure | Q235 steel, Hot Dip Galvanized |
| Size | Customized |
| Warranty Time | 10-35 years |
| Transport Package | Standard Export Sea-Worthy Packing |
| Delivery Time | About 30 Days after confirm deposit |
| Certification | ISO9001, MSDS, CE, BV, TUV, SGS |
| Place of Origin | Shenzhen, China |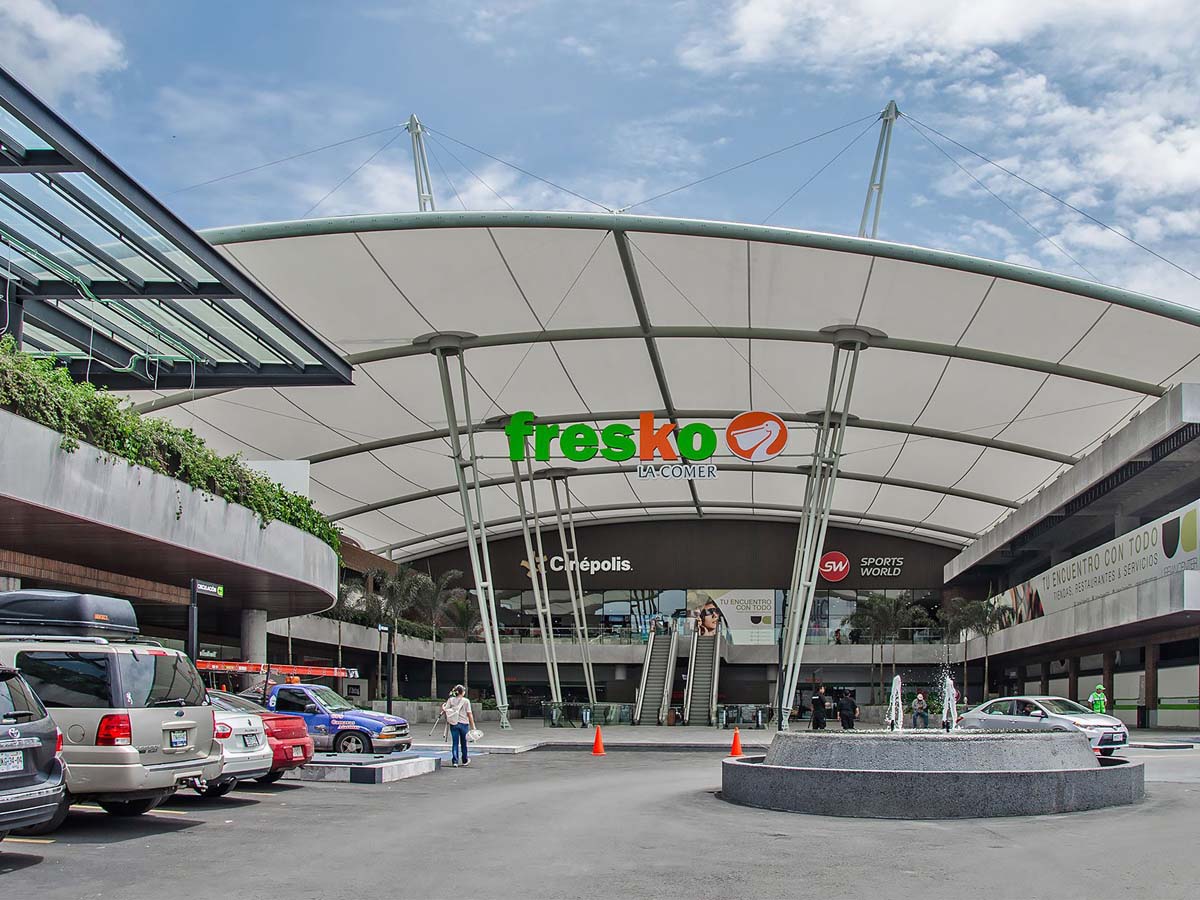 Sun Sail Awning has good commercial effects due to its novel architectural style and special night scene. The fabric canopy awning is widely used in various commercial buildings, such as large shopping malls, shopping centers, hotels, restaurants, exhibition halls, shops, pedestrian streets, etc.
Light transmission is one of the most widely recognized characteristics of modern membrane structures. The light transmission of membrane can provide the required illumination for the construction, which is very important for energy saving. It is especially important for some commercial metal canopy constructions that require more light and high brightness. Through the comprehensive utilization of natural lighting and artificial lighting, transparency of membrane can provide a larger aesthetic creation space for architectural design. During the day, under the sunlight, indoor visual environment is open and harmonious. The interior of the construction covered by membrane is filled with natural diffused light, there is no contrast between the glossy surface and the shadow. The indoor visual environment is open and harmonious. At night, lights in the construction illuminate the night sky through membrane of the roof, shape of the construction shows a dreamlike effect.
The transparency of membrane is determined by its base fiber, coating and its color. The spectral transmittance of the standard membrane is between 10% and 20%, and the spectral transmittance of some membranes can reach 40%. The light transmission of membrane and the choice of light color can be adjusted by the color of the coating or the color of the top layer.
The multilayer membrane containing the insulating layer can be made translucent by a suitable combination of membrane and the light-transmitting insulating material. Even if the spectral transmission is only a few percent, membrane roof is still shiny and translucent to the human eye, with a light roofing look.
Shopping Mall textile membrane structures is generally divided into two categories, one is an inflatable tensile structures shopping center constructed entirely of membrane structural materials, another is composed of a tensioned membrane roof and other construction materials. No matter which form, its shape, quality, price and other materials have certain advantages.
Specifications
Tensile Structure Basic Performance Parameters:

Material Thickness: usually 0.05mm-0.82mm

Weight (Gsm): 700 - 1100g per square meter

Gutter: Inbuilt Gutter System

Temperature: -40 to +70 (degree celsius)

Tensile Strength: 2500-4000N

Tear Strength: 520-580N

Fire rating: DIN4102 B1/SGS M2

Wind Load: 120 km/h

Tensile Structure Features:

√.

Personalized Customization

- We have different types of tensile structures available in various sizes, shapes, and colors depending on areas as per client's requirement.

√.

Versatile

- Tensile structure is the ideal solution for a wide range of applications. Can be used in a variety of occasions around the world, including sports, transportation, business, landscape, industry, agriculture, hotels and more.

√.

Aesthetical and unique designs

- Take any shape and almost any size.

√.

Coverage

- Light weight, Cover a large area with minimal disruptions, expanding outdoor living areas.

√.

Outstanding Translucency

- Provides natural lighting and reduce heat transmission.

√.

High strength and intensity

- Durable and long lasting nature, withstand the worst winds, the harshest sun and the wettest weather for very long life.

√.

Easy to clean

- Aggressive dirt can be cleaned with normal detergent soap and water.

√.

Cost Effective

- Perfect weldability. Ease of fabrication. Easy to install. Ease of maintenance.

√.

Eco friendly

- Recyclable and Easy to move relocation or renovation.

√.

Rich colors available

- Vibrant colors of membrane can create a landmark structure.

Tensile Structure Function:

√.

All Weather protection, perfect UV resistance, Waterproof, Wind proof, Snow proof, Shake proof.

√.

Completely heat and water resistant.

√.

High abrasion resistance, Anti-aging, Anti-static, high light transmission.

√.

Fireproof, Flame Resistant, Moisture proof, Smoke proof, Soundproof, Self-cleaning.

Why choose BDiR Tensile Structure?

√.

We are the leading manufacturers, exporters, suppliers and installers of all types of tensile structures.

√.

Our products are manufactured using high quality PVC / PVDF / PTFE / ETFE membranes and steels , strictly accordance with industry standards.

√.

We offer a complete turn-key solution for all your tensile fabric structure needs.

√.

We offer a budget-friendly market price for all our clients.

√.

We ensure that your project will be delivered and installed with excellent efficiency, on time and on budget.