Tensile Structures for Cantilever Car Parking Shade, Sheds, Canopies - Double Bay
| | |
| --- | --- |
| Membrane Material | PVC / PVDF / PTFE / ETFE |
| Material Brand | Ferrari, Heytex, Duraskin, SATTLER, Mehler, Sioen, etc. |
| Fabric Color | White or Customized |
| Shape | Customized (Arc, Barrel Vault, Hypar, Cone, Dome, Umbrella, etc.) |
| Structure | Q235 steel, Hot Dip Galvanized |
| Size | Customized |
| Warranty Time | 10-35 years |
| Transport Package | Standard Export Sea-Worthy Packing |
| Delivery Time | About 30 Days after confirm deposit |
| Certification | ISO9001, MSDS, CE, BV, TUV, SGS |
| Place of Origin | Shenzhen, China |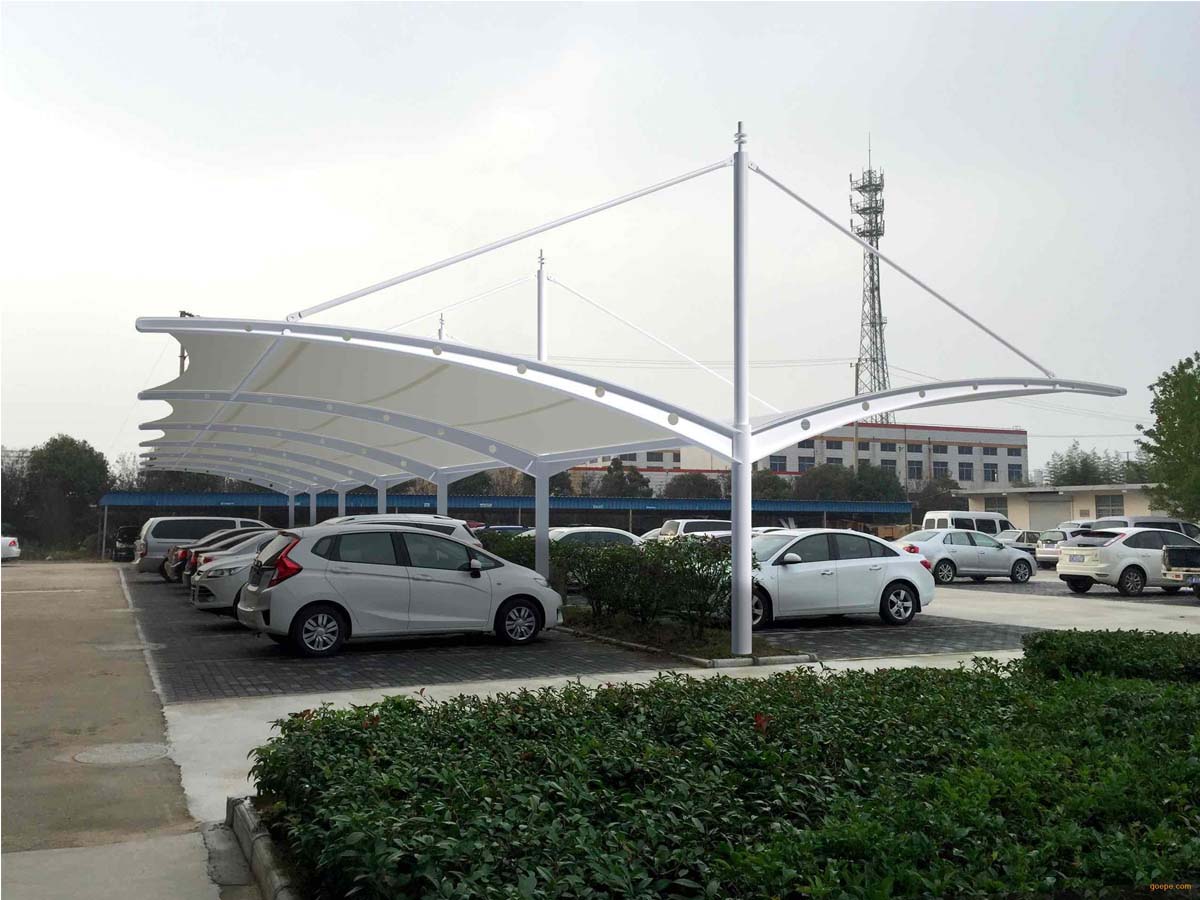 Double Bay cantilever gazebo structure design are widely created in the carport now. Less space required, Therefore, in the government, hospitals, schools, companies, factories, banks, markets, shopping malls and other places which require lots of parking, it is a good choice to create a Double Bay cantilever design custom outdoor canopy.
This kind of parking shed has the characteristics of large space, simple and attractive design, practical, strong functional, short construction period, economical, durable, etc. Architectural metal awnings is suitable for large parking lots, such as companies, factories, shopping malls.
Since membrane is a flexible fabric, tensile fabric roof structures are plastically strong, scheme can be made more diverse and more distinctive. Membrane and the paint can be designed according to the place and requirements. The transmission spectrum of the PTFE-coated glass fiber membrane is better than that of the PVC-coated polyester fiber membrane.
Double Bay Cantilever Design Tensile Structures Advantage:
1. High light extraction coefficient
The lighting coefficient in the parking shed (that is, ratio of the natural light in the room and the exterior) can be as high as 10; in the traditional construction, light can only enter the room from a limited lighting window, and It's lighting coefficient is less than 3. Even on a cloudy day, light level in membrane sunsail shade structure of the carport can meet the requirements of most people.
People have a good color perception of white or off-white membranes because these two colors exhibit a linear spectral transmission of visible light. The degree of transmission increases as the wavelength of the transmitted light increases, which makes the transmitted light more docile than the incident light.
Specifications
Tensile Structure Basic Performance Parameters:

Material Thickness: usually 0.05mm-0.82mm

Weight (Gsm): 700 - 1100g per square meter

Gutter: Inbuilt Gutter System

Temperature: -40 to +70 (degree celsius)

Tensile Strength: 2500-4000N

Tear Strength: 520-580N

Fire rating: DIN4102 B1/SGS M2

Wind Load: 120 km/h

Tensile Structure Features:

√.

Personalized Customization

- We have different types of tensile structures available in various sizes, shapes, and colors depending on areas as per client's requirement.

√.

Versatile

- Tensile structure is the ideal solution for a wide range of applications. Can be used in a variety of occasions around the world, including sports, transportation, business, landscape, industry, agriculture, hotels and more.

√.

Aesthetical and unique designs

- Take any shape and almost any size.

√.

Coverage

- Light weight, Cover a large area with minimal disruptions, expanding outdoor living areas.

√.

Outstanding Translucency

- Provides natural lighting and reduce heat transmission.

√.

High strength and intensity

- Durable and long lasting nature, withstand the worst winds, the harshest sun and the wettest weather for very long life.

√.

Easy to clean

- Aggressive dirt can be cleaned with normal detergent soap and water.

√.

Cost Effective

- Perfect weldability. Ease of fabrication. Easy to install. Ease of maintenance.

√.

Eco friendly

- Recyclable and Easy to move relocation or renovation.

√.

Rich colors available

- Vibrant colors of membrane can create a landmark structure.

Tensile Structure Function:

√.

All Weather protection, perfect UV resistance, Waterproof, Wind proof, Snow proof, Shake proof.

√.

Completely heat and water resistant.

√.

High abrasion resistance, Anti-aging, Anti-static, high light transmission.

√.

Fireproof, Flame Resistant, Moisture proof, Smoke proof, Soundproof, Self-cleaning.

Why choose BDiR Tensile Structure?

√.

We are the leading manufacturers, exporters, suppliers and installers of all types of tensile structures.

√.

Our products are manufactured using high quality PVC / PVDF / PTFE / ETFE membranes and steels , strictly accordance with industry standards.

√.

We offer a complete turn-key solution for all your tensile fabric structure needs.

√.

We offer a budget-friendly market price for all our clients.

√.

We ensure that your project will be delivered and installed with excellent efficiency, on time and on budget.