Tensile Fabric Structure for Military, Aviation, Aircraft Hangars, Helicopter Hangar
| | |
| --- | --- |
| Membrane Material | PVC / PVDF / PTFE / ETFE |
| Material Brand | Ferrari, Heytex, Duraskin, SATTLER, Mehler, Sioen, etc. |
| Fabric Color | White or Customized |
| Shape | Customized (Arc, Barrel Vault, Hypar, Cone, Dome, Umbrella, etc.) |
| Structure | Q235 steel, Hot Dip Galvanized |
| Size | Customized |
| Warranty Time | 10-35 years |
| Transport Package | Standard Export Sea-Worthy Packing |
| Delivery Time | About 30 Days after confirm deposit |
| Certification | ISO9001, MSDS, CE, BV, TUV, SGS |
| Place of Origin | Shenzhen, China |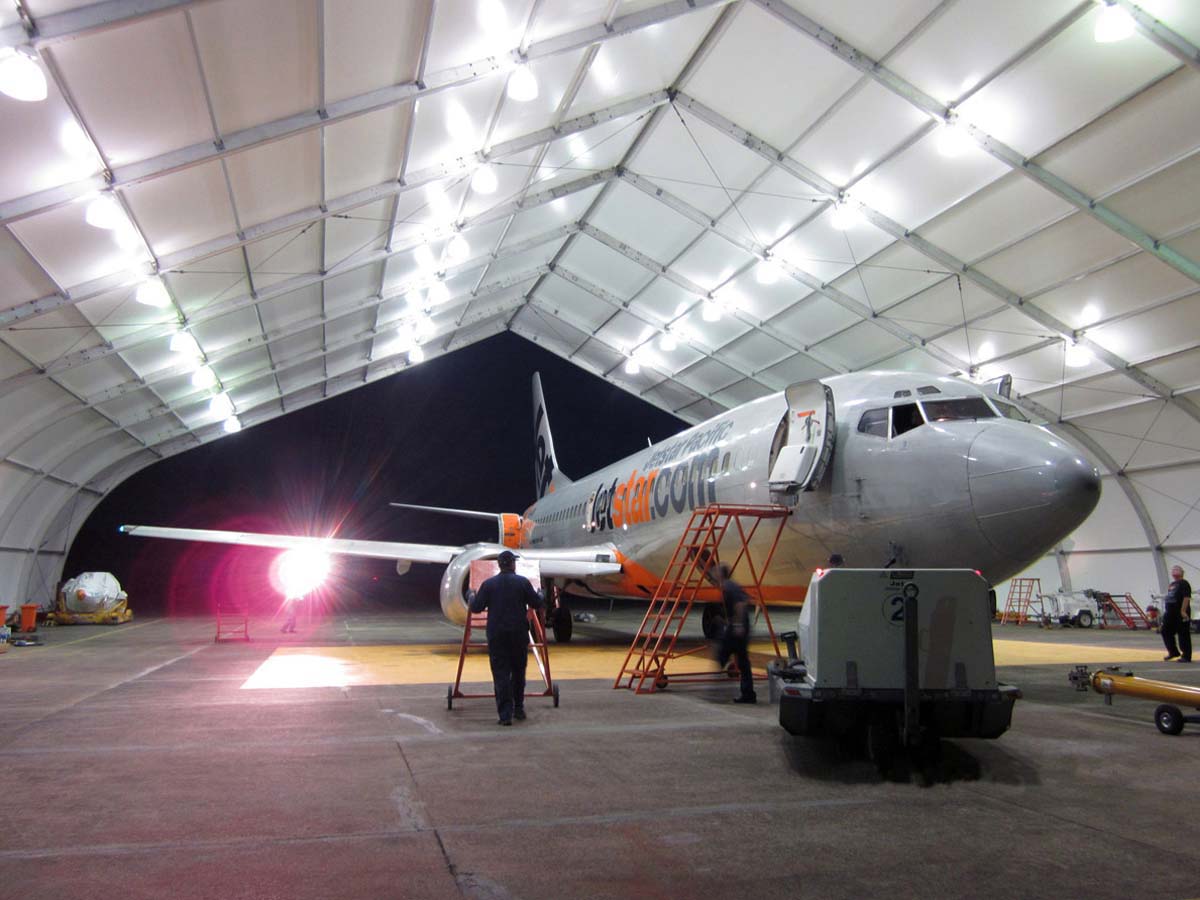 Applications: Military, Aviation, Aircraft Hangars, Helicopter Hangar, etc.
Whether it is private or commercial, demand for aircraft is growing. Quality and safety are key components of the aviation industry, and aircraft maintenance is an important part of the safety equation. This is where fabric hangars can play an important role.
It is essential to create the best working conditions for aircraft maintenance workers. Exposing workers to extreme weather factors can slow down quality work.
Fabric structure can create conditions that help improve the productive work environment while protecting aircraft, tools and equipment.
Military Canopy Shade Structures Advantages:
Our tensioning fabric construction (TFS) design allows for maximum flexibility in the placement of cargo doors and personnel. In addition, sturdy aluminum frame supports the HVAC system, fall protection system, lighting and other heavy objects suspended from the frame.
* Elements of protecting aircraft and workers
The fabric hangar can be temporary or semi-permanent, with heavy snow and strong winds, so it can be built almost anywhere. If the damaged aircraft is being repaired, it cannot move, we can build a structure around it so that no further damage is caused. Basic or asphalt aprons are usually not needed; we can build almost anywhere, including very rural areas.
Traditional hangars can be expensive, and fabric hangars are a more affordable solution. The energy cost of tensioning fabric structures are much higher, far superior to traditional sheds.
Temporary shacks cater to small and large aircraft owners. If you are the owner and renter of the aircraft, you know the cost involved. When you decide to relocate the aircraft, it is economically important to relocate the hangar. Our fabric hangars can be deconstructed and repositioned in days or weeks.
Aircraft passenger safety is of paramount importance, so it is important that the aircraft is properly maintained. Create a comfortable and safe working environment for aircraft maintenance personnel.
Specifications
Tensile Structure Basic Performance Parameters:

Material Thickness: usually 0.05mm-0.82mm

Weight (Gsm): 700 - 1100g per square meter

Gutter: Inbuilt Gutter System

Temperature: -40 to +70 (degree celsius)

Tensile Strength: 2500-4000N

Tear Strength: 520-580N

Fire rating: DIN4102 B1/SGS M2

Wind Load: 120 km/h

Tensile Structure Features:

√.

Personalized Customization

- We have different types of tensile structures available in various sizes, shapes, and colors depending on areas as per client's requirement.

√.

Versatile

- Tensile structure is the ideal solution for a wide range of applications. Can be used in a variety of occasions around the world, including sports, transportation, business, landscape, industry, agriculture, hotels and more.

√.

Aesthetical and unique designs

- Take any shape and almost any size.

√.

Coverage

- Light weight, Cover a large area with minimal disruptions, expanding outdoor living areas.

√.

Outstanding Translucency

- Provides natural lighting and reduce heat transmission.

√.

High strength and intensity

- Durable and long lasting nature, withstand the worst winds, the harshest sun and the wettest weather for very long life.

√.

Easy to clean

- Aggressive dirt can be cleaned with normal detergent soap and water.

√.

Cost Effective

- Perfect weldability. Ease of fabrication. Easy to install. Ease of maintenance.

√.

Eco friendly

- Recyclable and Easy to move relocation or renovation.

√.

Rich colors available

- Vibrant colors of membrane can create a landmark structure.

Tensile Structure Function:

√.

All Weather protection, perfect UV resistance, Waterproof, Wind proof, Snow proof, Shake proof.

√.

Completely heat and water resistant.

√.

High abrasion resistance, Anti-aging, Anti-static, high light transmission.

√.

Fireproof, Flame Resistant, Moisture proof, Smoke proof, Soundproof, Self-cleaning.

Why choose BDiR Tensile Structure?

√.

We are the leading manufacturers, exporters, suppliers and installers of all types of tensile structures.

√.

Our products are manufactured using high quality PVC / PVDF / PTFE / ETFE membranes and steels , strictly accordance with industry standards.

√.

We offer a complete turn-key solution for all your tensile fabric structure needs.

√.

We offer a budget-friendly market price for all our clients.

√.

We ensure that your project will be delivered and installed with excellent efficiency, on time and on budget.