Eco Luxury Tent- in Bali
November 18,2019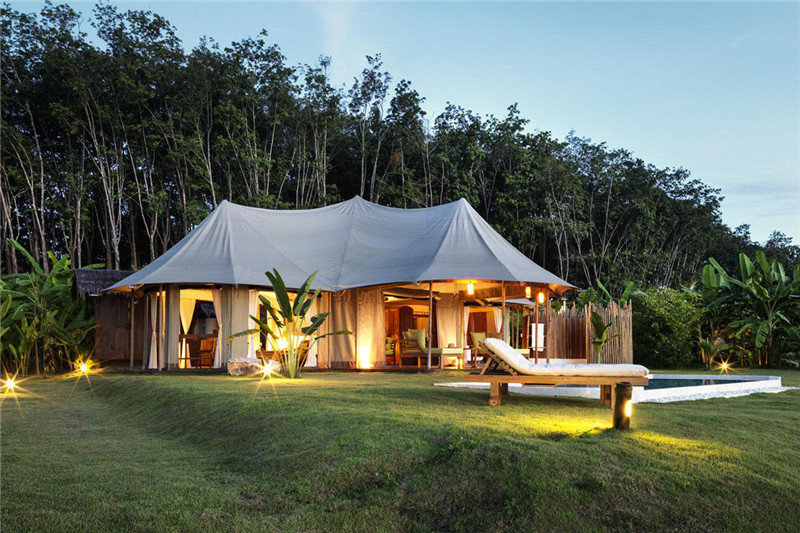 Tent between the forest, rice fields and rivers, the fascinating history of Bali's depression is brought into reality, bringing you a hidden and mysterious luxury resort. Traditional wood carvings, exquisite four-poster beds, colorfully-coloured retro furniture, decorative paintings depicting Balinese gods and life scenes are all beautiful and exotic. The interior is inspired by the 19th century European explorers' obsession with East Asian culture.
Here you can feel the cool outdoor living area and see the beautiful forest landscape, combined with a salt water massage pool, a soft and comfortable big bed, a quiet air conditioning system, a full set of Aesop toiletries, and a warm floor... let You can enjoy the modern leisure life while you are close to nature.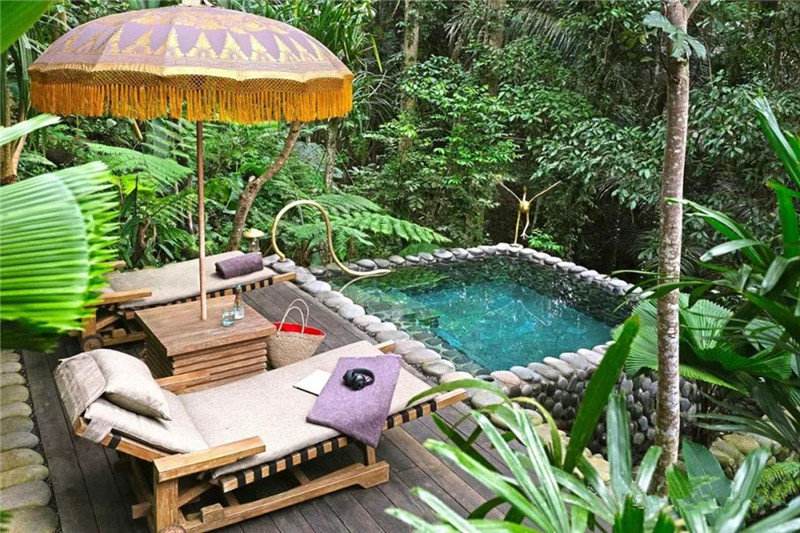 What is the tent material for the hotel?
1. Frame - high strength steel: Q235 steel, high strength, anti-earthquake and typhoon, corrosion resistance and cracking deformation.
2. Wall-Ecological Wallboard: Light weight, 60% energy saving than concrete wall, American Class A fireproof standard, soundproofing and moisture proof, strong load bearing capacity and high seismic performance, all of which are environmentally friendly building materials.
3. Roof-PVC/PVDF membrane, fire-insulated rock wool board, OSB board, waterproof membrane glass fiber tile, all made of new environmentally friendly materials, in line with international standard fire rating, full-featured moisture-proof and soundproof.
4. Wall-environmental plastic wood: a combination of solid wood and plastic, with good moisture, acid and alkali, anti-fungal, anti-static, insect and UV resistance.
5. Floor - PVC ecological floor / solid wood floor. It has the characteristics of strong decoration, quick construction, environmental protection, non-toxic regeneration, comfort, wear resistance, non-slip, fireproof, waterproof, moisture-proof, sound-absorbing and antibacterial.
6. Form - low-emissivity glass and broken bridge aluminum alloy (plastic) composite window, high-intensity explosion-proof, shockproof and radiation protection, greatly reducing indoor and outdoor heat transfer, achieving high standards of energy saving.
7. Others - fire insulation cotton, waterproof coating, galvanized sheet, fluorocarbon coating, etc., using green and high standard building materials.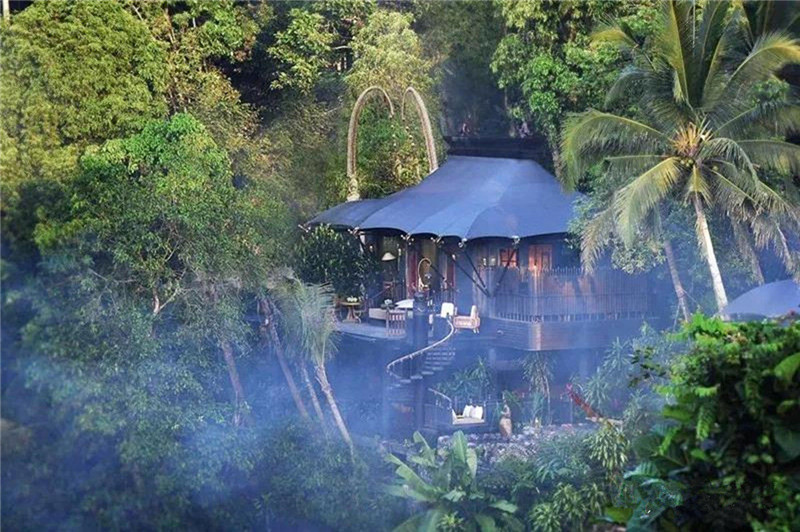 BDiR Inc. offers a variety of luxury tented villas, luxury tents, eco-lodges and holiday tents at very reasonable prices. We ship canvas tents worldwide for all purposes. No matter where your tent, hotel, resort or camp is located – whether it's in water, rocks, deserts, beaches, plains in the grass, tropical beaches, ice fields or lush rainforests – we'll make sure it's sturdy and durable .

Hot Search:
Previous: Luxury Fabric & Canvas Tent for Ecotourism, Health Resort, Advanture Campground
Next: Membrane Shade Carports Plays an Important Role in Parking lots
Archives
NEWS
Supporting Facilities for Residential Areas with Modern Shade Structures in Gambia
March 27,2020
In terms of the shelter structures itself, in addition to its unique decorative effect, it can be more difficult to meet the requirements of other architectural forms through its rich and convenient form.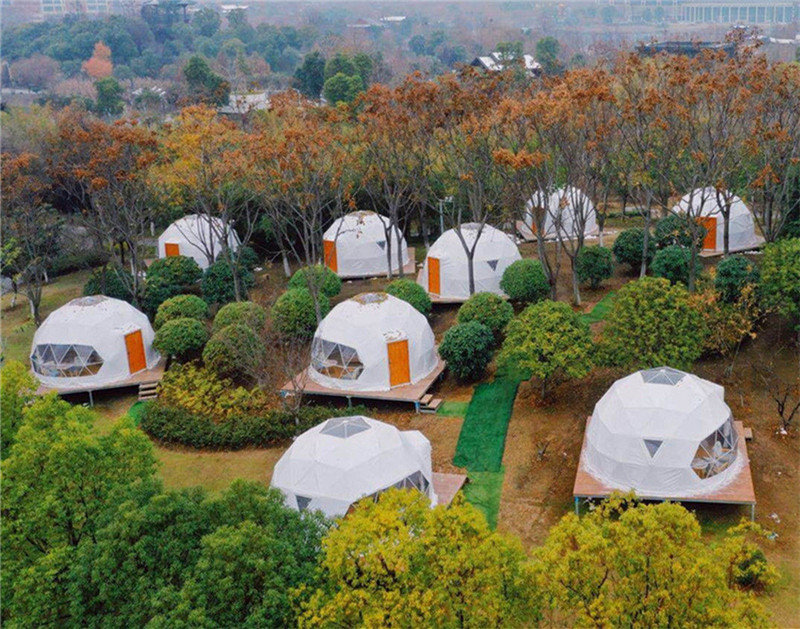 The Features of Camping Dome Tents,Tourist Hotels Resort
March 25,2020
The spherical tent has the advantages of simple structure, light material, small amount of engineering, and can be quickly set up on site using customized accessories, thereby shortening the construction period.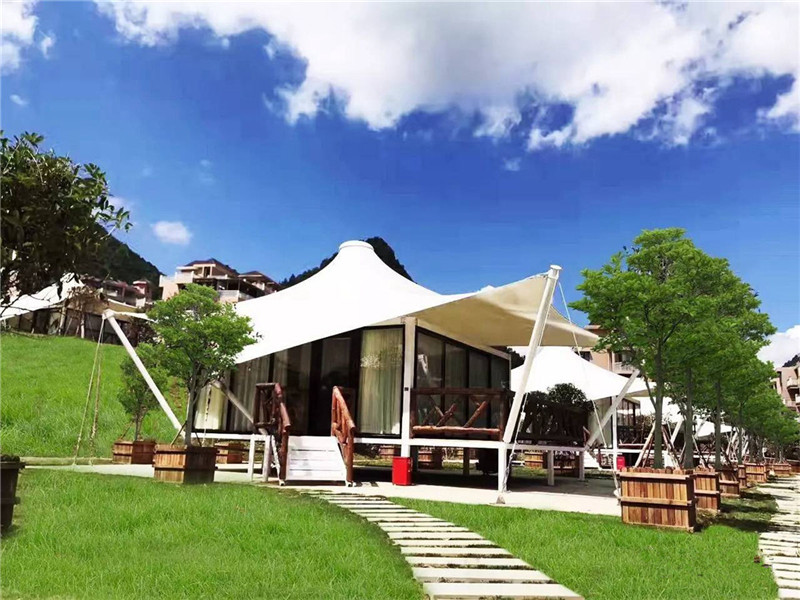 A Hotel Tent Can Lets You Release Stress, Have You Tried It?
March 23,2020
The hotel tents we used to call are relatively popular nowadays, and their foreign definitions have long been wild luxury. In popular terms, they are superior in atmosphere and have significant advantages.
VIDEOS
Luxury Eco Friendly Tent Structures Lodges for Tea Garden Holiday Hotel
Luxury Sustainable Hospitality Eco Tent Structure Villas
News Hot Search