Tensile Fabric Structure for Ferry Terminal, Pier, Waterfront Marina - Maldives
| | |
| --- | --- |
| Date Completed | January, 2018 |
| Location | Maldives |
| Project Area | 1200 square meters |
| Membrane Material | PVDF |
| Fabric Color | White |
| Shape | Arc, Wave |
| Structure | Q235 Steel, Hot Dip Galvanized |
| Warranty | 20 Years |
| Delivery Time | About 30 Days after confirm deposit |
| Payment | T/T, LC |
| Brand | BDiR |
| Place of Origin | Shenzhen, China |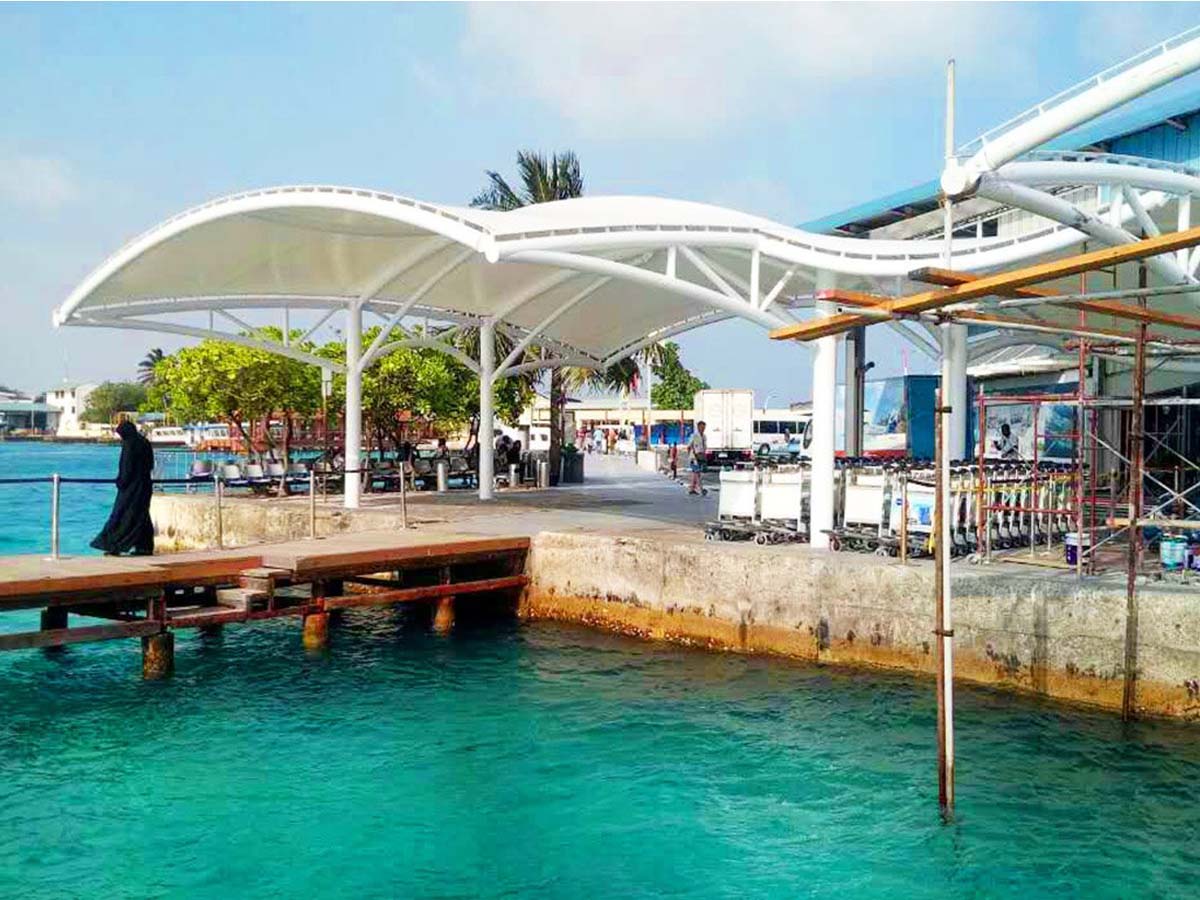 Maldives, an archipelago in the Indian Ocean, which is the world's largest coral island nation. More than a thousand islands are caused by the eruption of ancient submarine volcanoes. Some of them are raised into sand dunes, and some of them are sunken into a ring of coral reefs. They are dotted in the green-blue Indian Ocean, like a string of gems, which is very beautiful. This is a paradise for divers.
In January 2018, BDiR built a pier shade shelter for in Maldives. Mainly used for tourists to take a rest pavilion before the ship. The project is located in the seaside tourist attraction area of Maldives. The shape is unique and beautiful.
Since some of the awnings in the project extend to the surface of the sea, workers need to stand on the ship to install the material membrane. Therefore, it is very difficult during the installation process, but our construction team is still completed on time in such a difficult situation.
The white fabric structure is very harmonious with the local tent hotels. When people are playing in the local area, they can enjoy the beauty of Maldives without worrying about the refraction of ultraviolet rays.
Fabric lightweight structures has been widely used in the world, especially for island countries, tourist cities, and coastal cities. The towering mast, the special-shaped cable structure system, and the tension membrane structure create an artistic appeal and technical mystery, which fully demonstrating the fusion of the natural landscape and the human landscape, and bringing people visual enjoyment.
Specifications
√. Large Span: Tensile Structures can create an expansive covered area, exceed to 200m.

√. Unique Design: Tensile fabric Structure gives architects, designers, and engineers the opportunity to experiment with form and create visually exciting and iconic structures.

√. Various Shape: Changeful supporting structure can make lots of different shapes of tensioned structure with flexible membrane.

√. Cost-effective: About 1/3 to 1/2 lower than conventional structures on costs.

√. Easy to Install: Faster and more cost-effective in comparison to traditional construction projects.

√. Weatherproof: Durable and designed to withstand even the most severe weather conditions. Provide protection from both the rain and sun.

√. Excellent Durability: Fabric tensile Structure is characterized by durability and longevity, can be built in different areas around the world, from the frigid arctic pole to the scorching desert heat.

√. ECO Friendly: Have high sun reflectivity and low solar absorption. As a result, less energy is used in the building, ultimately reducing the cost of electricity.

√. Low maintenance Needs: Tensile membrane Structures require minimal maintenance for clients, whether use of PVC, PVDF, PTFE or ETFE.

√. Outstanding Natural Daylighting: Membrane is translucent, In daylight, tension structures could offer rich soft diffused naturally daylight space, and at night, artificial lighting can make it bright and colorful.

Step 1: Design





BDiR use the latest tensile structural design software to produce




detailed tensile structural designs.





Including:




BIM model design (building information modeling),




finding and load analysis, integrated building design,




joint force analysis, membrane cutting analysis,




construction process simulation, numerical wind tunnel simulation.

Step 2: Membrane Fabrication





Membrane fabrication plays an important role in the tensile structure.





There are many fabrics (PVC, PVDF, PTFE, ETFE) in the market, they come from all over the world, they have different characteristics and prices, different welding or joining techniques. We will make the best choices from structural design, project location and our customer budget.

Step 3. Steel Fabrication





Tensile structure are made of steel structural members that are welded




and painted in our factory.





We will conduct the following procedures with high standards:




Paint thickness detection, ultrasonic testing,




magnetic particle testing,

high-strength bolt torque testing,




cable pre-tensioning, rust removal ,




pre-assembly inspectio

n,

painting, etc.




Step 4: Cable Fabrication





Cable and hardware fittings are procured from the most reliable and certified vendors of the industry in compliance with the international quality standards.





Cable fabrication are proceed under guidance of our skilled and experienced experts.

Step 5: Installation





The installation of the tension structure is critical to the overall success




of the project.





We will provide on site installation service. Our project manager will work




with the client to coordinate the structure installation on site. Including




steel structure installation, membrane lifting and measure tension. If you




prefer self-installation, we'll send you detailed instructions so it can be




easily installed.




Step 6: The Future





Our service will not end at the time of delivery and installation!





Because we only use the highest quality membrane materials and steel frames, cables and parts. You can rest assured that your new tensile structure is built to last. Besides, Tensile structure does not require much maintenance and we offer a up to 35 year warranty.
Reviews
Shetterly Kerchner, Tour Guide

"

These fabric structures provide the perfect shade for local visitors. People enjoy every day in Maldives. We welcome tourists from all over the world to Maldives.

"