Large Camping Tents, Luxury Camping Tent, Canvas Camping Tent - New Zealand
Projects Name
56 m2 glamping tent lodges
Project Area

6*56 square meters

Date Completed

May, 2015

Project's Address

New Zealand

Structural Frame Material

Q235 steel tube & pipe, wood deck

Fabric Roof Material

White, 650g/m

2

PVC & 1050 g/m

2

PVDF

Wall Material

PVC fabric wall

Floor Material

wood floor, wood deck

Door & Window

standard zip-up PVC fabric windows and doors

Warranty

15 years

Brand

BDiR

Delivery Time

Within 45 Days after confirm deposit

INQUIRY NOW

DOWNLOAD :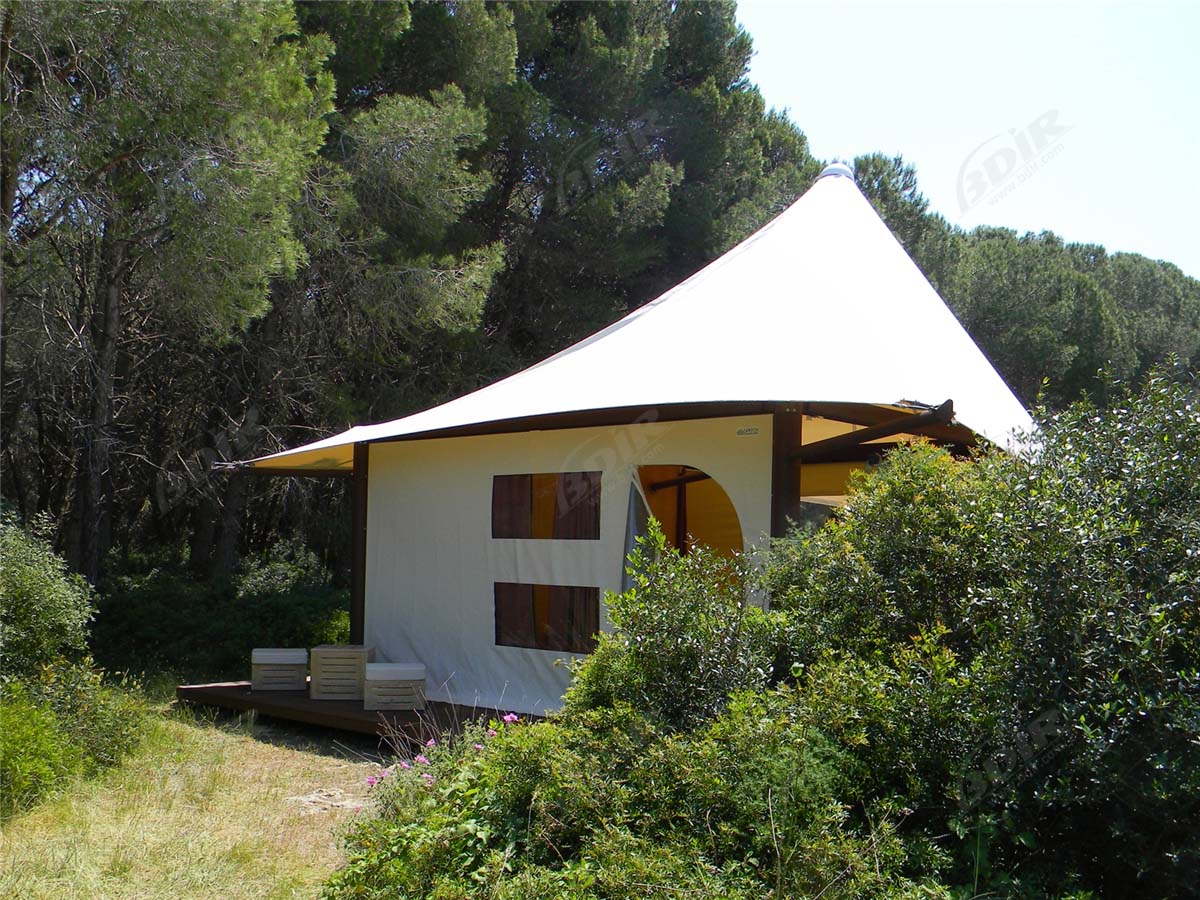 In August 2012, Rajib Roy found us through Google search and wanted to build a unique campsite on his farm. Based on Roy's requirements and its local geography, BDiR is designed to replace simple forest eco lodge with semi-permanent tent house. All canvas safari tents are finished with high quality steel and special fabric membrane. The cottage style tents is 56 square meters and is divided into 26 square meters of outdoor space and 30 square meters of indoor space, including 1 bedroom, 1 bathroom with shower and 1 dining area. Modules can be converted in different ways, adding interior furniture (bed, furniture, sofa bed, table, chair, wardrobe, kitchen furniture, bunk beds, bedside tables...)
The main structure of the yurt accommodation is galvanized steel with heat-painted epoxy resin powder. The floor is assembled from solid wood and serrated outer surface plates with a smooth internal surface. The top cover is made of 1000g/m2 flame retardant M2 PVDF fabric, and the inner layer is waterproof pvc fabric cream beige. Wire tension cable is used. The exterior walls are beige PVC and transparent pvc windows and mosquito nets as well as zipper openings. The walls of the main façade are vertical sliding shutters made of clear crystal with an electric on/off system, and the side rails and upper cabinet are made of heat-painted aluminum. The interior walls are made of natural wood. The total area of the tented cottage is 7m x 8m and the internal area is 5m x 6m.
Technical advantages:
Roy wants to build at the fastest speed and meet the campers before the summer?
The materials required for the construction of the eco lodge cabins are steel components, aluminum alloy, PVC waterproof tarpaulin, glass wall, etc. These are manufactured in advance at the factory and then processed and transported to the scenic spot for direct installation, according to the construction structure and local geography. The environment can usually be completed within a few days.
Specifications
Fabric Membrane technology Specifications:

Fabric Membrane Material: PVC/PVDF/PTFE/ETFE

Fabric Tensile Strength:2500-4400N

Fabric Tear Strength:520-580N

Thickness: usually 0.18mm-0.82mm

Lightweight: 900g~1050g per square meter

Fire rating: DIN4102 B1/SGS M2

Temperature Resistance:-30 degree Celsius~+70 degree Celsius

Why choose the Eco Tented Lodges for this sustainable hospitality resort?

1. Flexible and convenient, ecological and environmentally friendly

In some terrains where permanent buildings are not easy to build, such as on hillsides, in jungles, in sea beach, in rivers and lakes. Because the hotel tents use modular assembly structure, it can be built easily and quickly in most natural environmentally sensitive areas. During the construction process, the surrounding natural environment is rarely excavated and destroyed, and it can be better integrated into the ecological environment.

2. Rapid construction, safe and stable

The hotel tents are made of modular steel-wood frame, which can be safely and stably used in different terrains. The tents can adapt to the temperature range of -30° to 70°, and can withstand 8-10km/h winds in the outdoor environment, carrying rain and snow. The eco lodges roof is made of ultra-light PVC, PVDF, PTFE and other materials, with good waterproof, UV-resistant, tear-resistant properties, as well as B1/M2 fire resistance. Most of the hotel tent Manufactured process is completed at the factory, which can reduce construction time.

3. Artful, luxurious and comfortable

The tent hotel uses the membrane structures as the roof. The membrane structures is based on styling and color science. Combining the natural environment, ethnic customs and human geography, according to the architect's creativity, the curve and shape that are difficult to achieve by traditional construction are built. The tent hotel with its beautiful and unique shape is full of fashion charm and blends with nature. The interior of tent is decorated with bedrooms, bathrooms, rest area and other areas. The tent cottages offers luxurious furniture, comfortable flooring, smart lighting and other facilities. You can experience the comfort of a five-star hotel in the wild.

4. Durable life and low maintenance cost

The tent lodge is constructed of high-strength aluminum alloy, stainless steel and carbon steel. It is matched with high-strength, fully waterproof PVC or PVDF fabric membrane to ensure product life and reduce maintenance intervals.

Hotel tent installation 1 --

infrastructure and steel frane construction;

√.Complete the construction of the hotel tent foundation project,

√.Install the main support structure of the roof of the tent house,

√.Complete the anti-rust and fire-proof spraying.

Hotel tent installation 2 --

I

nstallation

the Roof of membrane structure

tent tent,

√. Fabric film unwinding:

lay a temporary cushion to protect the membrane from contamination.

√. Accessories fixation:

Use the alloy splint to connect the cable to the fabric membrane.

√.Hoisting in place:

Control the rising speed to ensure uniform transmission of the fabric.

√.Tension forming:

It can adjust the prestress of the cable in batches to reach the planned value;

Hotel tent installation 3 --

Interior Decoration

√.Exterior wall installation,

√.Window and door installation,

√.Tent interior area division;

Hotel tent installation 4

--

Furniture installation

√.Bathroom installation,

√.Circuit installation;

√.Furniture installation.



Reviews
Roy, Farm Owen, New Zealand

" BDiR designed the perfect Glamping Tent Hotel for us. They completed the design-Manufacturing-building work in the quickest way, and completed the renovation before the summer season, which gave me more summer business hours. Thank you BDIR for your full cooperation! "