RV Camping Site with Geodesic Dome Cabins & Eco Tent Structure Villas - Guangxi
Projects Name

Guangxi Xishanquan Recreational Vehicle (RV) Camping Base

Project Area

3500 square meters (17 tent Villas + 1 reception room + 1 restaurant bar)

Date Completed

July, 2016

Project's Address

ChengDu, China

Structural Frame Material

Q235 Steel Tube & Pipe, Wood Deck

Fabric Roof Material

White, 650g/m

2

PVC & 1050 g/m

2

PVDF

Wall Material

Glass Wall

Floor Material

Wooden Floor, Wood Deck

Door & Window

Glass Windows and Doors with Voile curtain

Warranty

15 years

Brand

BDiR

Delivery Time

Within 45 Days after confirm deposit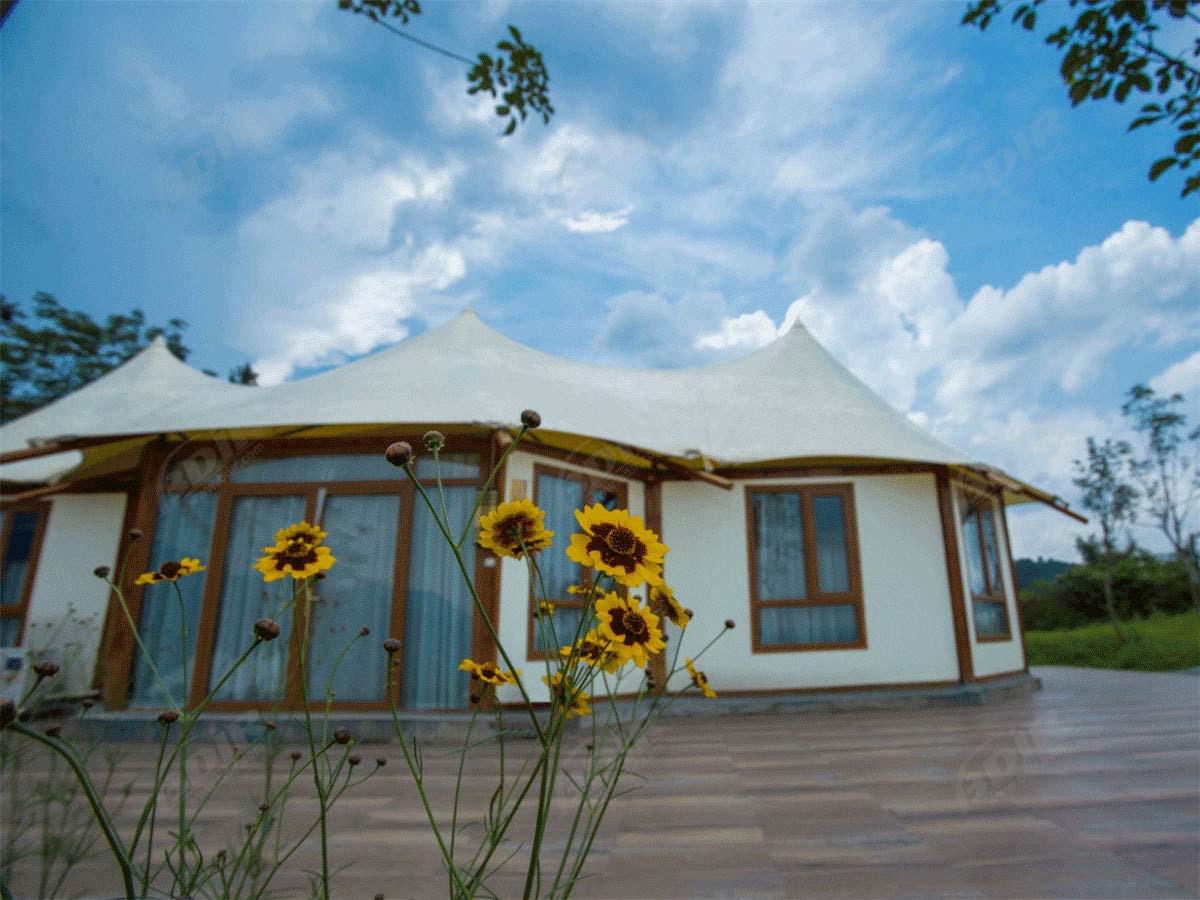 Guangxi Xishanquan recreational vehicle (RV) camping base is located in Bailan Development Zone, Xishan Town, Guiping City, Guigang City, Guangxi Province.
It has 88 personal RV camps, 21 motels, 13 creek log cabins, 5 stargazing tents, 5 luxury glamping tents, 16 dome camps and many other personalized accommodation products.
Xishanquan recreational vehicle (RV) camping base is Guangxi's first sports and leisure theme campsite, it integrates youth development training, outdoor sports, sightseeing, leisure and health, vacation and residence in accordance with the standards of a five-star car camping site. The sports and leisure camp will continue to provide tourists with a spiritual escape from the hustle and bustle of city life, and experience the fun and passion of life, and establish a second living space for the fashionable and casual urban population in the camp.
The Xishanquan recreational vehicle (RV) camping base covers an area of about 500 acres and has a main venue of 9927 square meters, which can accommodate more than 6000 people at the same time, it has 88 RV campsites, 21 motels, 13 creek cabins, and 5 stargazing tent, 5 luxury glamping tents, 16 dome tents and many other personalized accommodation products. The camp also has the theme of freedom, openness, and challenge, creating a variety of games such as jungle crossing, high and low altitude arrays, attack and defense arrows, bubble football, live-action CS field combat, water bikes, unpowered paradise, venue bicycles, rock climbing, etc The project also has places such as container bars and campfire squares to release passion and taste life.
Geodesic dome tent: built on the mountainside, in here, you can sleep among the mountains and the streamlets, there is no reinforced concrete wall, you can get away from the hustle and bustle. Only a few tents scatter in the mountains, you can see green trees everywhere, the sky seems as clean as a new mirror. Here, you see the stars' glow in the tent with the closest people, and the stars seem to be touch by hand.
Luxury glamping tent : Located at the top of the mountain, they have both the appearance of a tent and the comfort of a five-star hotel. With a tent over the ground, here you can see the green and fresh thousands of acres of forests, and occasionally can hear a few tweets; at night, you can also whisper to the starry sky. For everyone who yearns for freedom, nature, and the world, it's worth staying once.
Mars tent : its design is like a mysterious alien collective dormitory, it brings a new accommodation experience to every friend. When the hustle and bust of the night recedes, nature restores its true tranquility, it's the most comfortable way to embrace nature to take sky as canopy and earth as mattress.
Specifications



Fabric Membrane technology Specifications:

Fabric Membrane Material: PVC/PVDF/PTFE/ETFE

Fabric Tensile Strength:2500-4400N

Fabric Tear Strength:520-580N

Thickness: usually 0.18mm-0.82mm

Lightweight: 900g~1050g per square meter

Fire rating: DIN4102 B1/SGS M2

Temperature Resistance:-30 degree Celsius~+70 degree Celsius

Why choose the Eco Tented Lodges for this sustainable hospitality resort?

1. Flexible and convenient, ecological and environmentally friendly

In some terrains where permanent buildings are not easy to build, such as on hillsides, in jungles, in sea beach, in rivers and lakes. Because the hotel tents use modular assembly structure, it can be built easily and quickly in most natural environmentally sensitive areas. During the construction process, the surrounding natural environment is rarely excavated and destroyed, and it can be better integrated into the ecological environment.

2. Rapid construction, safe and stable

The hotel tents are made of modular steel-wood frame, which can be safely and stably used in different terrains. The tents can adapt to the temperature range of -30° to 70°, and can withstand 8-10km/h winds in the outdoor environment, carrying rain and snow. The eco lodges roof is made of ultra-light PVC, PVDF, PTFE and other materials, with good waterproof, UV-resistant, tear-resistant properties, as well as B1/M2 fire resistance. Most of the hotel tent Manufactured process is completed at the factory, which can reduce construction time.

3. Artful, luxurious and comfortable

The tent hotel uses the membrane structures as the roof. The membrane structures is based on styling and color science. Combining the natural environment, ethnic customs and human geography, according to the architect's creativity, the curve and shape that are difficult to achieve by traditional construction are built. The tent hotel with its beautiful and unique shape is full of fashion charm and blends with nature. The interior of tent is decorated with bedrooms, bathrooms, rest area and other areas. The tent cottages offers luxurious furniture, comfortable flooring, smart lighting and other facilities. You can experience the comfort of a five-star hotel in the wild.

4. Durable life and low maintenance cost

The tent lodge is constructed of high-strength aluminum alloy, stainless steel and carbon steel. It is matched with high-strength, fully waterproof PVC or PVDF fabric membrane to ensure product life and reduce maintenance intervals.






Hotel tent installation 1 --

infrastructure and steel frane construction;




√.Complete the construction of the hotel tent foundation project,

√.Install the main support structure of the roof of the tent house,

√.Complete the anti-rust and fire-proof spraying.

Hotel tent installation 2 --

I

nstallation

the Roof of membrane structure

tent tent,




√. Fabric film unwinding:

lay a temporary cushion to protect the membrane from contamination.




√. Accessories fixation:

Use the alloy splint to connect the cable to the fabric membrane.




√.Hoisting in place:

Control the rising speed to ensure uniform transmission of the fabric.




√.Tension forming:

It can adjust the prestress of the cable in batches to reach the planned value;






Hotel tent installation 3 --

Interior Decoration




√.Exterior wall installation,

√.Window and door installation,

√.Tent interior area division;

Hotel tent installation 4 --

Furniture installation




√.Bathroom installation,

√.Circuit installation;

√.Furniture installation.