Tensile Structures for Ferry Terminal, Pier, Waterfront Marina, Port and Harbor
| | |
| --- | --- |
| Membrane Material | PVC / PVDF / PTFE / ETFE |
| Material Brand | Ferrari, Heytex, Duraskin, SATTLER, Mehler, Sioen, etc. |
| Fabric Color | White or Customized |
| Shape | Customized (Arc, Barrel Vault, Hypar, Cone, Dome, Umbrella, etc.) |
| Structure | Q235 steel, Hot Dip Galvanized |
| Size | Customized |
| Warranty Time | 10-35 years |
| Transport Package | Standard Export Sea-Worthy Packing |
| Delivery Time | About 30 Days after confirm deposit |
| Certification | ISO9001, MSDS, CE, BV, TUV, SGS |
| Place of Origin | Shenzhen, China |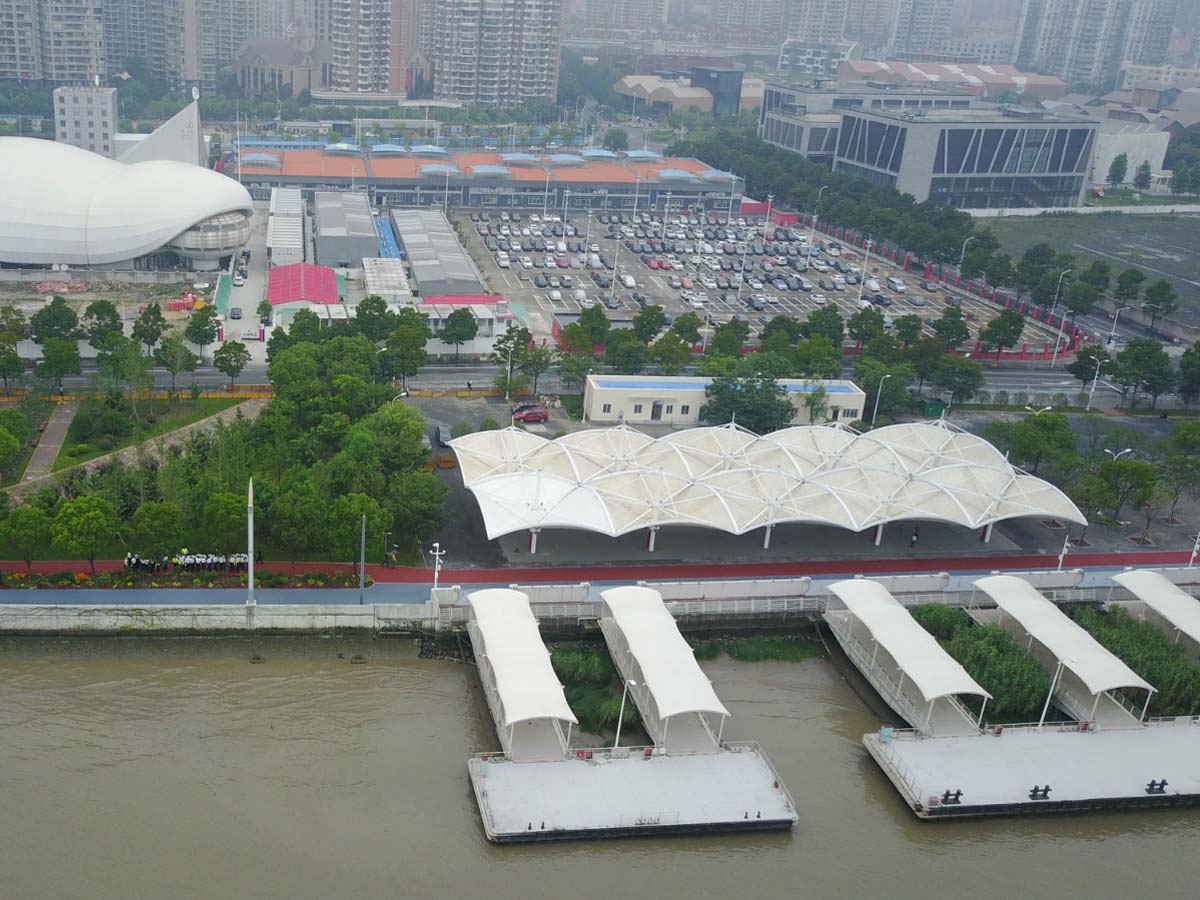 Pier, also known as the ferry terminal. It is a long levee that extends from the shore to the water. It may also be just a row of stairs that extend into the water. Most of them are man-made civil engineering constructions. According to the purpose classification, terminals can be divided into four types:
Mainly for passengers to board the ship, small passenger terminals can only be used for small vessels such as street crossings and speedboats, while large passenger terminals, such as cruise terminals, can be used for large cruise ships.
It is mainly used for loading and unloading goods. It can be classified into public cargo terminals, container terminals, oil terminals, mineral terminals, river trade terminals and general cargo terminals.
It is for some special ship berths (mostly large special ships) to allow the cars on the land to get on the ship and the cars on the ship to disembark.
Dedicated to container loading and unloading.
With the development of the modern construction industry, tensile shade sails and awnings has been applied to more and more places, and it is also widely loved by enterprises and consumers. Of course, terminal is also one of them. Whether it is a passenger terminal or a cargo terminal, or a car terminal, as long as there is a place to transport the transfer station, there is a possibility to apply outdoor roof structures. In particular, passenger terminal uses a membrane structure roof in the rest area, which can play the role of sunshade and rain, basically the same as the function of the bus station and the parking shed membrane structure.
An open-air plaza on the quayside, where small concerts and art exhibitions can be held in the future. Tensile exterior canopy can not only shelter from the rain, but also people can play and display the movie screen. Using the effect of the movie curtain on the construction, it is also possible to increase interaction with the public. Using voice control equipment, audience can clap a hand, a drop of water droplets is projected on the construction. People clap their hands together and countless drops of water converge into the river. Effects, exhibitions, interactions give the citizens a rich and vivid cultural and artistic experience.
The wharf outdoor fabric shade structures has good environmental protection, light transmission and self-cleaning. Membrane material is coated with PVDF (Polyvinylidene fluoride) or titanium dioxide, which has good heat insulation function, fire resistance and shock resistance, flame retardancy and high temperature resistance.
Another advantage of Ferry Terminal coverall fabric buildings is quick installation. Membrane cutting, Steel cutting and Steel spray paint are all processed in our factory. It only requires on-site assembly and it is easy to construct, so the construction period is shorter than that of traditional buildings.
Specifications
Tensile Structure Basic Performance Parameters:

Material Thickness: usually 0.05mm-0.82mm

Weight (Gsm): 700 - 1100g per square meter

Gutter: Inbuilt Gutter System

Temperature: -40 to +70 (degree celsius)

Tensile Strength: 2500-4000N

Tear Strength: 520-580N

Fire rating: DIN4102 B1/SGS M2

Wind Load: 120 km/h

Tensile Structure Features:

√.

Personalized Customization

- We have different types of tensile structures available in various sizes, shapes, and colors depending on areas as per client's requirement.

√.

Versatile

- Tensile structure is the ideal solution for a wide range of applications. Can be used in a variety of occasions around the world, including sports, transportation, business, landscape, industry, agriculture, hotels and more.

√.

Aesthetical and unique designs

- Take any shape and almost any size.

√.

Coverage

- Light weight, Cover a large area with minimal disruptions, expanding outdoor living areas.

√.

Outstanding Translucency

- Provides natural lighting and reduce heat transmission.

√.

High strength and intensity

- Durable and long lasting nature, withstand the worst winds, the harshest sun and the wettest weather for very long life.

√.

Easy to clean

- Aggressive dirt can be cleaned with normal detergent soap and water.

√.

Cost Effective

- Perfect weldability. Ease of fabrication. Easy to install. Ease of maintenance.

√.

Eco friendly

- Recyclable and Easy to move relocation or renovation.

√.

Rich colors available

- Vibrant colors of membrane can create a landmark structure.

Tensile Structure Function:

√.

All Weather protection, perfect UV resistance, Waterproof, Wind proof, Snow proof, Shake proof.

√.

Completely heat and water resistant.

√.

High abrasion resistance, Anti-aging, Anti-static, high light transmission.

√.

Fireproof, Flame Resistant, Moisture proof, Smoke proof, Soundproof, Self-cleaning.

Why choose BDiR Tensile Structure?

√.

We are the leading manufacturers, exporters, suppliers and installers of all types of tensile structures.

√.

Our products are manufactured using high quality PVC / PVDF / PTFE / ETFE membranes and steels , strictly accordance with industry standards.

√.

We offer a complete turn-key solution for all your tensile fabric structure needs.

√.

We offer a budget-friendly market price for all our clients.

√.

We ensure that your project will be delivered and installed with excellent efficiency, on time and on budget.