ETFE Membrane Structure Art Landscape Project
| | |
| --- | --- |
| Diameter | 7 meters |
| Domes Quantity | 2 PCS Dome Tents |
| Date Completed | May, 2020 |
| Project's Address | Shaanxi, China |
| Structural Frame Material | Galvanized steel pipe Q235, diameter 20*1.5mm |
| Fabric Roof Material | Transparent |
| Wall Material | ETFE |
| Floor Material | Wooden Floor |
| Door & Window | Clear PVC windows & Standard PVC Zip-up Door |
| Others | Air conditioner, Table, chair, Lamp, Carpet, Bed, Bathroom |
| Brand | BDiR |
| Delivery Time | Within 45 Days after confirm deposit |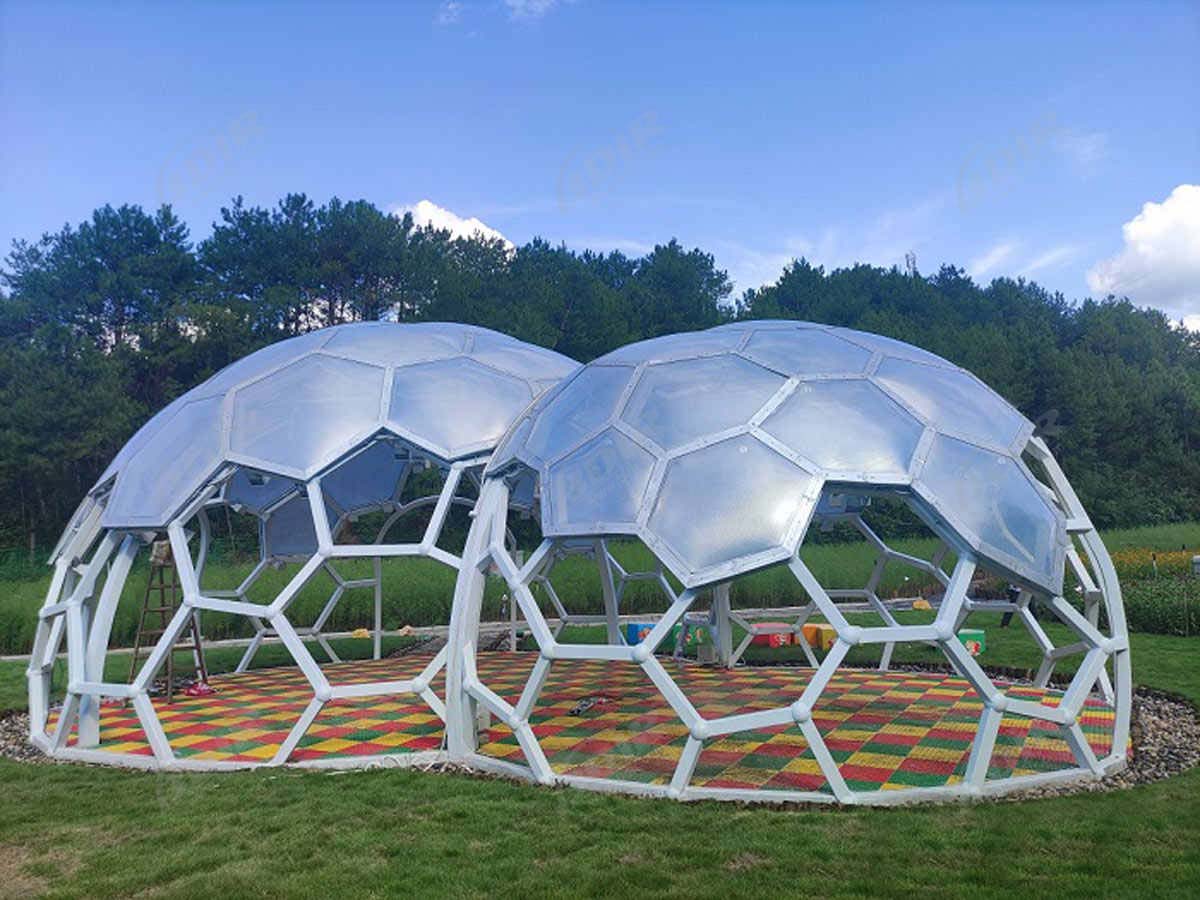 This project is an ETFE membrane structure art landscape project in the Huashan Flower Sea Theme Park of Huashan Mystery Grottoes in Huangshan Scenic Spot. The overall artistic landscape of the Huashan Mystery Grottoes in Huangshan is two large bubbles of hemispherical steel structure. The two steel structure shells are divided into several units with artistic vision by Tyson polygons. Half-covered to form a semi-open steel structure pavilion landscape that gives a strong sense of air bubbles.
This "tiny" ETFE membrane structure landscape, from the steel structure skeleton to the ETFE air pillow fixed by the aluminum alloy bracket, all materials are exquisitely processed and produced, and tourists are attracted to stop and punch in whether they are viewed from a distance or a close distance. beautiful artwork. We also equipped this ETFE membrane structure landscape with a laser lantern rendering system, a music system, and an automatic foaming system. With the surrounding flowers and lawns, it can create a dreamy and beautiful romantic experience for tourists.
Specifications
What is Main Features of Dome Tent?

√. Fast Assembly - Our domes are affordable and the assembly time is fast. The costs of purchasing and installing geodesic domes for glamping are typically recouped in as little as one season. They can be installed repeatedly and lasts 10+ years, ensuring your return-on-investment for years to come.

√. Eco Friendly - Geodesic glamping structures can be built almost any location with minimal impact to the surrounding environment.

√. Energy Efficient - With the dome-shaped design, eco-living dome allows for effective air movement and constant temperatures, maximizing the sun's light and warmth meanwhile reducing cooling and heating costs.

√. One-stop Design - You can add on a cozy bed, kitchenette, separate bathroom and an extra decking or complete the interior design your way.

√. Wide Application - Besides being a guest accommodation, our living dome tent is also applicable to school camps, remote and regional housing, garden studio, then mining and resources etc.

√. Excellent Safety - The unique geodesic tent structure provides excellent safety. The spherical dome tent can withstand the wind of 80-100km/h, even in the harsh weather such as heavy snow, wind and rain. Geodesic dome construction in such soft buliding foundation (like the grassland, desert and beach) is also quite stable.