Eco Sustainable Hospitality Camping Resort with Fabric Roof Cottages - Sichuan, China
Projects Name

Eco Sustainable Hospitality Camping Resort - Mount Emei

Project Area

10

00 square meters ( 7 Tented Houses + 1 reception room + 1 restaurant bar Canopy)

Date Completed

April, 2017

Project's Address

Mount Eme

i,

Sichuan, China

Structural Frame Material

Q235 Steel Tube & Pipe, Wood Deck

Fabric Roof Material

White, 650g/m

2

PVC & 1050 g/m

2

PVDF

Wall Material

Glass Wall

Floor Material

Wooden Floor, Wood Deck

Door & Window

Glass Windows and Doors with

Voile curtain

Warranty

15 years

Brand

BDiR

Delivery Time

Within 45 Days after confirm deposit

INQUIRY NOW

DOWNLOAD :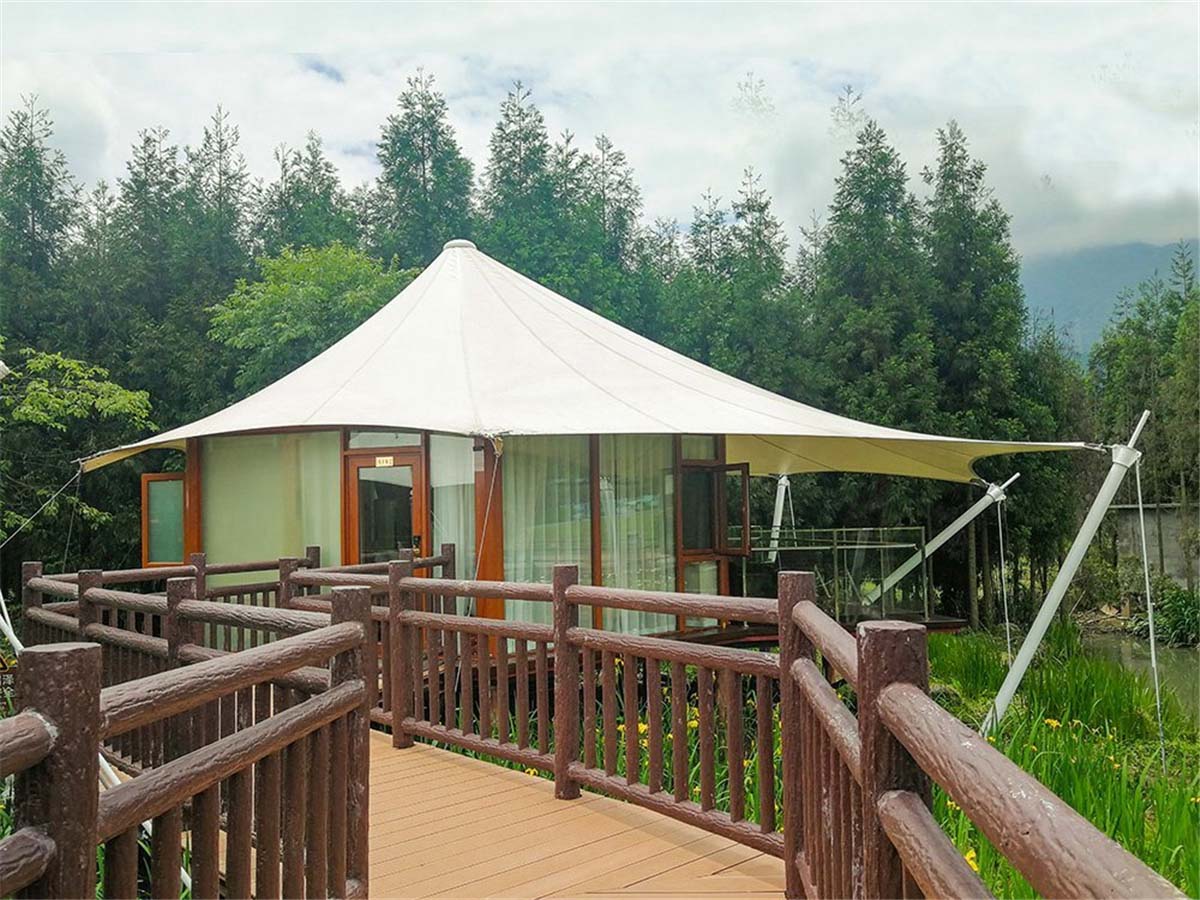 EmeiBanshan QIliping Resort is about 1,300 meters above sea level, surrounded by 300 square kilometers forests. The forest coverage rate is as high as 90%. The PM2.5 of Qiliping is less than 20 long-time, and the negative oxygen ion content is 200-400 times higher than that of neighboring cities such as Chengdu. The Qiliping Hot Spring has long been famous, especially in the winter, and more than 60 steaming spring pools are bustling every day. It is a rare mountain resort with comprehensive tourism, recreation and leisure. Qiliping Tent Camp is located in the core area of Qiliping International Tourism Resort. the tent building blends the prairie style and the rustic style into an ecological friendly building that blends in nature. The eco green hotel has a tent accommodation area, a five-person football field, a self-service barbecue area, a self-service kitchen, a public bath, a public shower, a children's playground, tents house, and an area of over 1,000 m2 sunny lawn is available for large outdoor activities.
During the camp planning phase, the camp designer found BDiR Inc.. the eco forest resort stated build some tent structures architecture for the camper after such a rich outdoor activity, having a unique and comfortable hotel room. In the original harmonious environment, BDiR Inc. built 7 sets of safari tent accommodation, adding a Unique holiday style to the camp. The tented camp features seven separate 360° viewing tents house, each with a large viewing and relaxing terrace. The interior facilities of the tent construction design are equipped according to the standards of high-star hotels, and the floor heating is installed to provide 24-hour hot water. There is also a luxurious bath in the luxury tent. Equipped with solid wood bed, 360° floor-to-ceiling windows, oversized viewing terrace; through the 360° floor-to-ceiling windows overlooking the forest bamboo sea; overlooking the golden dome on the viewing terrace. The jungle eco resort support: free parking Five-a-side football field; self-service kitchen; children's playground; forest meditation trail.
In order not to damage the environment of the camp, the green building and eco friendly structures were scattered throughout the camp. BDiR Inc. tent villa frame is steel, two-layer insulation and sealing PVDF top film, new exterior wall insulation composite hard wall board, foreground hollow tempered glass board, indoor 16mmE1 grade composite floor, aluminum alloy glass door and window, internal fabric Decorating, using ecological laminate flooring to enhance platforms and passages, plants, flowers and animals can coexist unrestricted under each structure.
Specifications
Fabric Membrane technology Specifications:

Fabric Membrane Material: PVC/PVDF/PTFE/ETFE

Fabric Tensile Strength:2500-4400N

Fabric Tear Strength:520-580N

Thickness: usually 0.18mm-0.82mm

Lightweight: 900g~1050g per square meter

Fire rating: DIN4102 B1/SGS M2

Temperature Resistance:-30 degree Celsius~+70 degree Celsius

Why choose the Eco Tented Lodges for this sustainable hospitality resort?

1. Flexible and convenient, ecological and environmentally friendly

In some terrains where permanent buildings are not easy to build, such as on hillsides, in jungles, in sea beach, in rivers and lakes. Because the hotel tents use modular assembly structure, it can be built easily and quickly in most natural environmentally sensitive areas. During the construction process, the surrounding natural environment is rarely excavated and destroyed, and it can be better integrated into the ecological environment.

2. Rapid construction, safe and stable

The hotel tents are made of modular steel-wood frame, which can be safely and stably used in different terrains. The tents can adapt to the temperature range of -30° to 70°, and can withstand 8-10km/h winds in the outdoor environment, carrying rain and snow. The eco lodges roof is made of ultra-light PVC, PVDF, PTFE and other materials, with good waterproof, UV-resistant, tear-resistant properties, as well as B1/M2 fire resistance. Most of the hotel tent Manufactured process is completed at the factory, which can reduce construction time.

3. Artful, luxurious and comfortable

The tent hotel uses the membrane structures as the roof. The membrane structures is based on styling and color science. Combining the natural environment, ethnic customs and human geography, according to the architect's creativity, the curve and shape that are difficult to achieve by traditional construction are built. The tent hotel with its beautiful and unique shape is full of fashion charm and blends with nature. The interior of tent is decorated with bedrooms, bathrooms, rest area and other areas. The tent cottages offers luxurious furniture, comfortable flooring, smart lighting and other facilities. You can experience the comfort of a five-star hotel in the wild.

4. Durable life and low maintenance cost

The tent lodge is constructed of high-strength aluminum alloy, stainless steel and carbon steel. It is matched with high-strength, fully waterproof PVC or PVDF fabric membrane to ensure product life and reduce maintenance intervals.

Hotel tent installation 1 --

infrastructure and steel frane construction;

√.Complete the construction of the hotel tent foundation project,

√.Install the main support structure of the roof of the tent house,

√.Complete the anti-rust and fire-proof spraying.

Hotel tent installation 2 --

I

nstallation

the Roof of membrane structure

tent tent,

√. Fabric film unwinding:

lay a temporary cushion to protect the membrane from contamination.

√. Accessories fixation:

Use the alloy splint to connect the cable to the fabric membrane.

√.Hoisting in place:

Control the rising speed to ensure uniform transmission of the fabric.

√.Tension forming:

It can adjust the prestress of the cable in batches to reach the planned value;

Hotel tent installation 3 --

Interior Decoration

√.Exterior wall installation,

√.Window and door installation,

√.Tent interior area division;

Hotel tent installation 4 --

Furniture installation

√.Bathroom installation,

√.Circuit installation;

√.Furniture installation.



Reviews
Jerry Wu, Resort Boss, China

" The successful construction of the BDiR Inc. hotel room adds a touch of holiday to the camp. Let the guest door enjoy the beautiful outdoor environment and experience the unique luxury accommodation. Thank you BDiR Inc. for your hard work on this project! "